ARCHIVE PHOTO OF THE DAY
Wounded Marines at Hue, 1968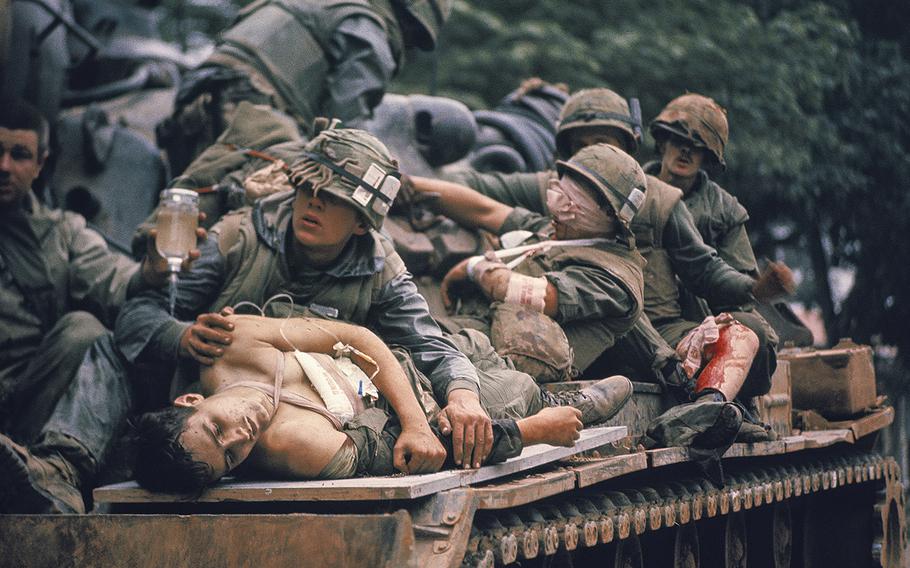 John Olson ©Stars and StripesHue, South Vietnam, February, 1968: Pfc. A.B. Grantham, foreground, and other wounded Marines receive medical attention as they are evacuated on a tank during the fierce fighting of the Tet offensive. Grantham, an 18-year-old from Mobile, Ala., was unconscious and struggling to breathe after being shot in the chest; another Marine took cellophane from cigarette packs and stuffed it in his wound before wrapping it in bandages.
"When we got back to the triage, someone said, 'This one's not dead yet,' Grantham recalled in a 2016 interview. "I remember thinking, 'That poor son of a bitch must be hit bad' ... I didn't know they were talking about me." Stars and Stripes staffer John Olson's photos of the battle appeared in Life magazine in March, 1968, and earned him the prestigious Robert Capa Award; they are part of a major exhibit of his work at the Newseum in Washington, D.C. through the end of 2018.
RELATED MATERIAL: Stars and Stripes' "Vietnam at 50" page on 1968, featuring interviews with Olson and several Hue veterans.