WWII heroism, Cold War weirdness, love lost and found: Long-forgotten Oregon photo brings it all back
By
oregonlive.com
March 1, 2022
---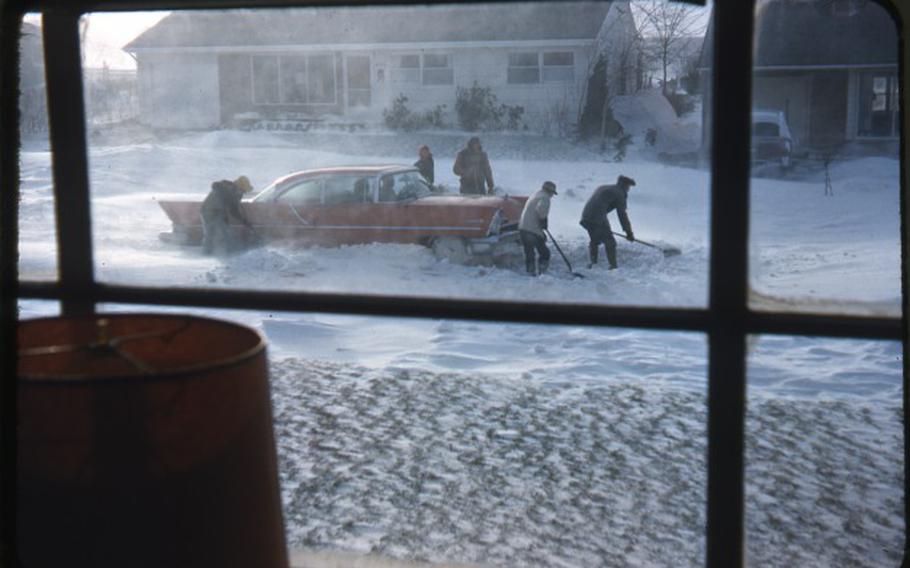 GRESHAM, Ore. (Tribune News Service) — This all started because of an abandoned roll of film.
Back in 1960, someone took the roll to Zimmerman's 12-Mile Store to be developed — and then forgot to pick it up. The prints remained at the Gresham retailer for decades, hidden away on a back shelf, until finally the store closed and, in 2005, the building was torn down. The photographs, along with the unclaimed snapshots from other Zim's customers, ended up being donated to the Gresham Historical Society & Museum.
Silvie Andrews, the director of the small museum, recently put a handful of the images online, a preview for an exhibit showcasing everyday local moments.
One of the photos shows a wintry scene, with shovel-wielding neighbors digging out a red 1957 Lincoln Premiere that's stuck in a snow-clogged road.
The big vehicle, an Eisenhower-era classic with spiky fishtails, was ordinary enough for its time. The couple inside it, however, was anything but.
Family memories
Chris Gattman, scrolling through social media, immediately recognized the car and the street.
The Lincoln belonged to the local flight instructor's grandparents, Charles and Lillian Gattman. The car was spinning its wheels on the street where the couple lived — 220th, near Ash.
The Gattman family was a little stunned at the appearance online of the 60-year-old photograph they'd never seen before. It was as if Charlie and Lil had suddenly walked back into their lives.
Not that they'd ever really left. Charlie died in 1995 at 74, his wife 14 years later at 85, but their impact on the family continues to resonate.
Chris started going through boxes he had in storage, pulling out photos and documents from a world so alien to today's that it could be Mars — a world where heroes lived quietly, almost secretly, in small suburban houses and drove big, fishtailed cars.
Charlie Gattman worked for Meier & Frank for 35 years, refinishing furniture. The company's nondescript workshop on Northwest Irving Street looked out at warehouses and the old viaduct in what is now the upscale Pearl District.
"He loved it," Chris says. "That's all he did."
But there was more to Charlie's story than the job he loved and the close family he headed. He was a member of the Greatest Generation, the one where almost every Tom, Dick and Harry had tales to tell of Great Depression deprivation or World War II courage — or both. Not that they ever felt comfortable telling them.
Charlie was one of those guys. He was a middle-school student in Dallas, Texas, when a 19-year-old Bonnie Parker was waiting tables in the small city, preparing to embark on her short but sensational crime spree with boyfriend Clyde Barrow. Charlie, for his part, stayed on the straight and narrow — until the war, that is. Then everything went sideways.
He served as a waist gunner on a B-17 bomber, flying through antiaircraft fire time and again, deep into Nazi Germany. In one impromptu crew photo, he and his colleagues all look a bit dazed. The reason, he told his grandson decades later: Only minutes before, they'd returned to the base without landing gear, bullet holes everywhere. They'd pulled the ball-turret gunner out of the plane's belly at the last possible moment before impact.
Just another day at the office.
Inevitably, Charlie's luck ran out. The crew's plane burst into flames over the industrial city of Schweinfurst in October 1943. Badly injured by flak, Charlie ended up imprisoned at Stalag 17, the Nazi-run POW camp later made famous by the Billy Wilder movie of the same name.
He emerged from the camp nearly two years later weighing about 90 pounds.
For decades, the only memory Charlie shared from this period of his life was that of seeing the Statue of Liberty come into view when he returned to the U.S. on a convalescent ship. Unless you've lost your freedom, you just don't know what it means, he told his children and grandchildren.
Of course, his wife Lillian was a member of the Greatest Generation too. She didn't go overseas during the war, but she had her own extreme experiences.
"She was a force of freakin' nature," her grandson Chris says.
Lillian grew up in New Mexico, Montana and other western states during the Depression. Her father, a silver miner, moved the family around a lot. That was fine with Lillian — she didn't mind being on her own, always the new girl in town. She loved to hunt and, by the age of 13, had become an expert poacher.
"You got one shot," Chris recalls her telling him, because the echoing boom of the rifle might alert the property owner or game warden. When she'd get home with her prize, her parents would share it with every family on the block, to ensure no one turned them in.
Lillian never gave up hunting, even when she no longer needed to do it to survive. It was always her favorite activity.
"Oh, she was a crack shot," her son, Charles III — Chris' father — says. "She was like a legend."
During the war, Lillian moved to Portland to work in the shipyards. After landing a job as a welder, she moved into a room on Victory Boulevard in Vanport City, the massive, thrown-together housing development built for war workers on what is now North Portland parkland.
Charles C. Gattman Jr. and Lillian Smith Busch met in Vanport shortly after Charlie returned from Europe.
A photo captures the new couple with Charlie's brother Bob. Charlie looks older than his years, his eyes weighted down by what he'd seen and experienced overseas. Lillian looks younger than hers, with a child's playground smile.
That smile probably hurt her face. She hadn't done it in months.
A love lost
The war was hard on everybody, so Lillian didn't complain.
She wasn't a complainer anyway. The young wife would rather take action, and she did.
Her husband, David Lester Busch, who'd been her high-school sweetheart in Montana, was a B-24 gunner — and news from him had suddenly stopped arriving. Lillian wrote to the wives of the other men in the bomber crew, trying to make sense of the bits of information that each of them had revealed in their letters home, hoping to figure out where they might be.
One note Lillian wrote, to the wife of the crew's nose gunner, prompted a distraught, apologetic response, for, being on the East Coast, the woman had seen David more recently than Lillian had — and had failed to write to Lillian about it.
"I can imagine what your opinion of me must be, and believe me, you are perfectly justified in harboring such an opinion," the woman, who called herself simply "Mrs. Bourne," wrote.
Mrs. Bourne did her best to make up for it. She recounted how David L. Busch, who Lillian called Les, had talked endlessly about the love of his life.
"His main topic of conversation was you, and he considers himself rather lucky to have a girl like you," Mrs. Bourne wrote. "He is certainly tops with me and my Jim."
Early in 1945, the War Department reported that David Lester Busch was "missing in action over Germany."
For weeks, Lillian peppered various soldiers and their wives with letters, and she wrote to the war department as well, pleading for information and giving the department her own intelligence.
Finally, in late summer, a telegram brought Lillian the news: her husband was dead.
A card later arrived from Gen. George C. Marshall, the Army's chief of staff (and later U.S. secretary of state), stating that Les had "fought valiantly in a supreme hour of his country's need. His memory will live in the grateful heart of our nation."
Decades later, with her grandson, Lillian would go through these letters, telegrams and photographs, tears in her eyes. She hadn't been able to look at them since learning of Les' death.
A new beginning
Charlie Gattman arrived in Portland to start a new life, finding a place to live near Victory Boulevard. He and Lillian Busch soon met.
The injured former POW and the mourning widow fell in love almost instantly. They laughed together. Despite all they'd been through, they each managed to keep their sense of humor about the world.
Charlie wasn't jealous of Lillian's late husband. He honored Les' memory, his son and grandson say, and encouraged Lillian to hold onto personal mementos from her time as Mrs. David L. Busch.
He and Lil soon married, had a baby and, after the Vanport flood forced them to flee inland, settled in Gresham.
With the war behind him, Charlie wanted to become a sheriff's deputy, but because of his mistreatment at Stalag 17B, he couldn't pass the physical. He became a reserve officer instead and went to work at Meier & Frank.
Charlie's physical limitations included severe headaches that came on "every day of his life," his son says. "I'd see the pain in his eyes. But he never missed a day of work. He never complained."
Those headaches likely were the result of shrapnel that hit him in the head when his B-17 went down. His captors used sizzling road tar to seal up his wound, he recalled.
Charlie endured relentless suffering at the POW camp, and it was exceeded only by what happened after the Germans abandoned the prison as Allied forces were advancing on it. Charlie and other dying prisoners of war ended up at the Mauthausen concentration camp. There, Charlie witnessed random executions every day, certain his turn was coming.
The U.S. Army liberated Mauthausen in May 1945.
After this ordeal, Charlie just wanted a normal, peaceful life with his beautiful new wife. But he lived in increasingly weird times.
In the early 1960s, a fellow former Stalag 17B prisoner, the illustrator and photographer Ben Phelper, got in touch.
Charlie hadn't known the man during their captivity, but Phelper was reaching out to as many survivors of the camp as he could, figuring these were the men most likely to believe him and help him.
Phelper worked as a bouncer for Jack Ruby, the Dallas nightclub owner who would secure a place in history by murdering President John F. Kennedy's accused assassin, Lee Harvey Oswald, on live TV.
The reporter Shelby Scates would recall being there when Ruby offered Phelper the bouncer position, followed by instructions on the "art of 'handlin' rowdy broads.' The trick was to cinch the lady's upper lip between your thumb and index finger and then pull."
Later that night, Scates told Phelper: "You can't take a job with that creep. He's bad news. He's a gangster. For the sake of your kids, forget Ruby. Find another job."
Phelper took the job, and at some point in the months that followed he started informing select acquaintances that he knew all about a plot to kill the president.
A decade later, Charlie came upon an article in an obscure publication in which Phelper said he thought he was safe from being murdered himself because he had "written everything down that I know of and distributed it to many people for safekeeping."
Charlie wrote in the margin: "He gave me a copy of this. Kennedy was to be killed in Dallas, Texas. I was told this sometime before [he was] killed."
Charlie did receive such a letter from Phelper, his son says. Charlie III read it himself when he was a teenager; he recalls it being rambling and impossible to understand. After reading it, he asked his father what it was all about.
"My dad said he thought the poor guy had lost it, he was going crazy," he says.
Lillian read it too. She told her husband to stop communicating with Phelper, that the man was nothing but trouble.
After his father's death, Charlie III remembered the letter but couldn't find it among his father's possessions. "I tore the house apart," he says.
He did, however, find something else. Charlie liked to make use of hidey-holes around the house. It was a personality quirk, maybe a holdover from his POW days. In the months after Charlie's death, his son found various documents — as well as photos Charlie had remembered to pick up from Zimmerman's 12-Mile Store — hidden away here and there.
And so when Charlie III happened to notice a loose wood panel in his father's "gun room," he pulled it off the wall.
A pile of cash tumbled out, he recalls. He scooped up some of it and rushed into the kitchen, breathing hard, excited.
He would be disappointed. The money, it turned out, was fake. His dad's idea of a joke.
Lillian thought it was pretty funny.
©2022 Advance Local Media LLC.
Visit oregonlive.com.
Distributed by Tribune Content Agency, LLC.
---
---
---
---