Ghani tells Afghans peace deal with Taliban will not compromise basic rights
---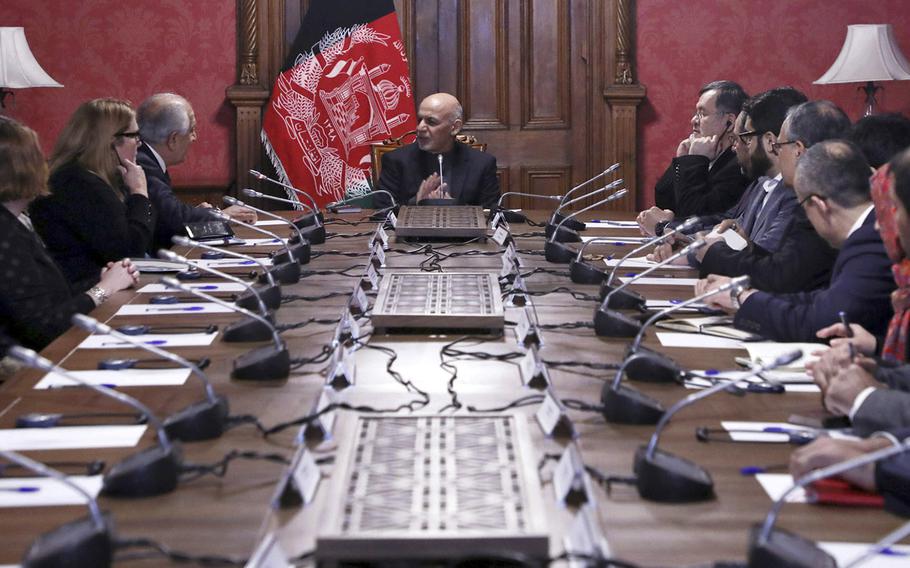 KABUL, Afghanistan — President Ashraf Ghani told Afghans on Monday that the rights they've gained since the U.S. invaded the country more than 17 years ago would not be jeopardized in any peace deal with the Taliban, as he urged insurgents to hold direct talks with his government.
Ghani spoke in a televised address that followed six days of negotiations between U.S. and Taliban officials in Qatar, during which officials said "significant progress" was made at finding a peaceful solution to end America's longest war.
The Afghan government, which the Taliban has said it considers Washington's "puppet," has so far been excluded from the discussions that started last year. And news of a possible breakthrough has left some Afghans worried that their future was being decided without their input.
Ghani's address appeared to be aimed at assuring his country that this was not the case. In addition to promising their rights would be secured, he insisted there would be no final agreement without the full participation of his government.
"Our commitment is to provide peace and to prevent any possible disaster," Ghani said. "There are values that are not disputable, such as national unity, national sovereignty and territorial integrity."
He went on to say the Taliban had two choices: to stand with the people of Afghanistan or be used as a tool by other countries who profit from the ongoing conflict.
The address followed a meeting between Ghani and Zalmay Khalilzad, the top U.S. negotiator at the Qatar talks.
On Monday, Khalilzad acknowledged Afghans' worries while speaking with the media.
"The Afghan people are understandably concerned about their security," Khalilzad said. "We are working together to get a comprehensive cease-fire. We are working with the Afghan government, with international partners, to find implementing mechanisms to reach these goals."
Khalilzad also told the New York Times that his team had agreed in principle to a framework for a peace deal that would include withdrawal of U.S. troops, a cease-fire and talks between the insurgents and the Afghan government.
"The Taliban have committed, to our satisfaction, to do what is necessary that would prevent Afghanistan from ever becoming a platform for international terrorist groups or individuals," Khalilzad told the New York Times.
The Taliban have in the past refused to negotiate directly with the Afghan government — a position that does not appear to have changed. They have maintained that they are prepared to talk with U.S. officials only and only about the pullout of foreign forces from Afghanistan
Khalilzad's statement emphasized the inclusion of the Afghan government in the peace process.
"There is a false narrative that Afghans are not included. That is not true. The Afghan voice is there," he said. "We are working together to get to a comprehensive cease-fire. We are working with the Afghan government, with international partners, to find implementing mechanisms to reach these goals."
Preventing extremist groups — particularly al-Qaida, which the Taliban has harbored — from using Afghanistan as a base to launch attacks on the United States has been a key demand for Washington.
Meanwhile, the Taliban has always insisted on the withdrawal of all foreign troops from the country as a precondition for opening talks with Kabul.
Part of the draft agreement between the U.S. and the Taliban includes an 18-month timeline for the withdrawal of foreign troops once the deal is officially agreed to, according to a Reuters report last week, which quoted unnamed Taliban officials. The Taliban is also seeking inclusion in an interim government after any cease-fire.
A Taliban spokesman was unable to confirm the troop drawdown timeline when asked by Stars and Stripes on Monday, saying only that no final deal had been reached.
Some 14,000 U.S. troops remain in Afghanistan. Most of them support a NATO-led training and advising mission. A smaller number are devoted to counterterrorism operations against al-Qaida, the Islamic State group and other extremists.
There are also about 8,000 additional troops from NATO and other partner nations.
The next round of discussions is due to take place Feb. 25.
wellman.phillip@stripes.com Twitter: @pwwellman
---
---
---
---