'FUBAR on steroids': Congressmen blast VA about construction debacles
by
Heath Druzin
January 21, 2015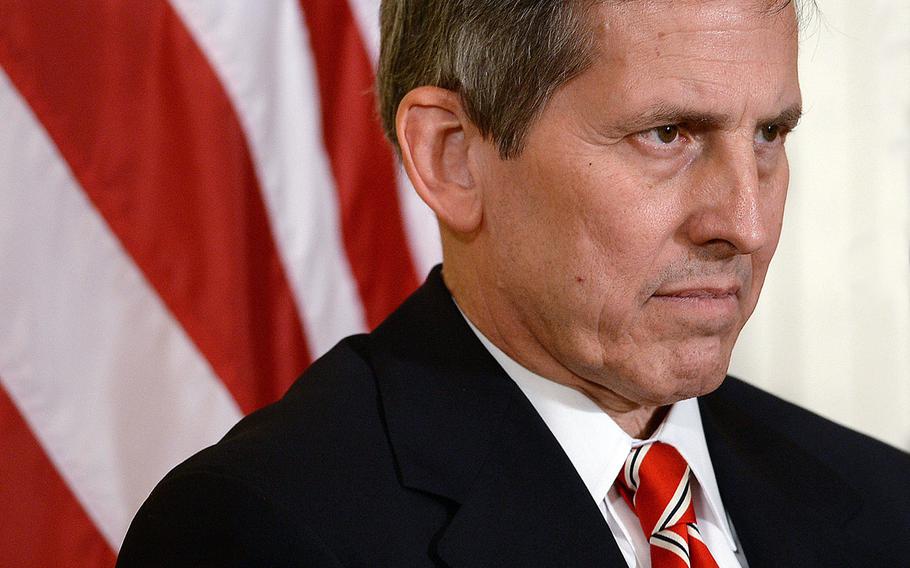 In the latest black eye for the Department of Veterans Affairs, congressmen grilled officials Wednesday over construction mismanagement that has cost the department hundreds of millions of dollars in overruns and delayed major projects by years.
"It's long past time for these projects, marred by bureaucratic ineptitude, to be complete," House Committee on Veterans Affairs Chairman Rep. Jeff Miller (R-Fla.) said during a hearing on VA construction problems.
The hearing was prompted by several recent flaps over major projects, including a new VA medical center in the Denver suburb of Aurora, Colo., where a contractor walked off the project after major delays and hundreds of millions in cost overruns. A recent Government Accountability Office report found that, on average, the largest VA projects were three years late and $376 million over budget.
Speaking in front of the House Committee on Veterans Affairs, Deputy VA Secretary Sloan Gibson said the department is overhauling the way they do construction and that "veterans and taxpayers are right to expect more and they deserve much better from their VA."
"The situation in Denver is unacceptable and I apologize," he said.
The Colorado medical center, originally expected to cost $328 million and serve nearly 400,000 veterans, could end up costing more than $1 billion -- more than the sprawling, heavily fortified U.S. Embassy in Baghdad. After the project's contractor Kiewit-Turner walked off the job two weeks ago, the VA had to negotiate with the company to get them to return to the site. The Army Corps of Engineers assumed oversight of the project.
Gibson said Congress will likely need to authorize hundreds of millions more before June to keep construction going.
"This is a FUBAR on steroids if I've ever seen one. …I feel like I'm in the Twilight Zone when I listen to this," Rep. Phil Roe (R-Tenn.) said, using a military slang acronym that includes an obscenity. "I'm not sure the VA should ever build a hospital."
Gibson agreed that the Colorado situation was "embarrassing" and said everything is on the table as the VA reviews its facility planning, including getting out of the construction business.
"It may be well that the best outcome for veterans and taxpayers is we turn to the Corps and say, 'Corps, you build our hospitals,'" he said.
The Colorado is one of several huge projects that have faced serious problems. A VA medical center in Las Vegas expected to cost $325 million could now cost nearly $600 million and be completed seven years late. A center in Orlando, Fla., is expected to be completed nearly five years late -- and 10 years after construction began -- at 2.5 times the original cost estimate.
Earlier this month a federal judge ordered a halt to construction on a project in Los Angeles, planned as an amphitheater to host alternative therapy sessions for veterans and their families, after he ruled it was being built on "contested property."
The latest flap comes as the VA is mired in a national health-care scandal that cost former VA Secretary Eric Shinseki his job after veterans were found languishing for months on secret wait lists designed to make patient wait times appear artificially short. Some of those veterans died while waiting.
Gibson laid out an eight-point plan to improve VA construction management, which aims to strengthen project planning and oversight, including mandatory pre-construction reviews by a private firm.
"This does not excuse our failure to have these measures in place years ago, but it does mean that — as they are relevant to particular phases of construction — these and other measures are being applied now to our 53 ongoing major projects," he said. "Notwithstanding these changes already in place, I am confident that our current construction management practices can be further improved."
That wasn't enough for some on the committee, who asked why these changes had taken so long when VA's construction practices have been under scrutiny for years. The Government Accountability Office has warned about problems, and VA officials testified in front of the same committee less than a year ago saying they had reformed construction practices.
"Why ignore repeated warnings of VA mismanagement?" Rep. Mike Coffman (R-Colorado) asked.
Gibson, who took his post after most of the problems had surfaced, said he could not speak to what happened before he took his job but that the department is committed to holding accountable those responsible for the construction debacles.
"The project executive and contractor officer [for Aurora] were removed from those particular positions -- a more complete look at what happened in Denver will be looked at by the [VA Inspector General]," he said. "The issue is being able to document the individual accountability with evidence."
druzin.heath@stripes.com Twitter: @Druzin_Stripes
---
---
---
---