Former Air Force tech sergeant who served 10 years charged with spying for Iran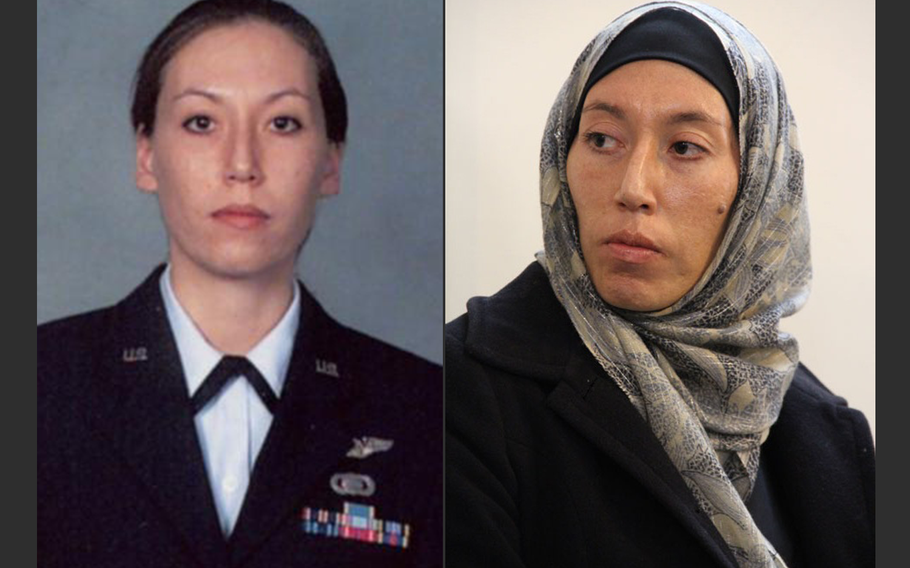 WASHINGTON — Monica Elfriede Witt, the former Air Force technical sergeant and Defense Department intelligence contractor indicted on federal espionage charges unsealed Tuesday, spent more than a decade in the service before her eventual defection to Iran, according to the Air Force and Justice Department.
Witt, 39, is from El Paso, Texas and served in the Air Force from December 1997 until June 2008, according to records provided by the service and the FBI. She initially served as an airborne cryptologic language analyst, which is a specialist responsible for translating intelligence communication often intercepted via airborne assets. Witt later reclassified as a special investigations officer.
She left the Air Force in 2008 as a special agent assigned to the 2nd Field Investigations Squadron at Joint Base Andrews in Maryland just outside of Washington D.C., according to military records.
In her first specialty, Witt served aboard an RC-135 Rivet Joint air reconnaissance aircraft out of Offutt Air Force Base in Nebraska, focusing on Persian-Farsi language communications, according to a resume on the website Indeed that was attributed to Witt and matched much of the information in her service records.
She moved into special investigations in 2003, focusing on criminal, fraud and counterintelligence investigations, according to the resume.
After leaving the Air Force, she worked as an intelligence analyst with major defense contractor Booze Allen Hamilton in 2008 supporting the Army as an Iranian subject matter expert. Witt later moved to Chenega Federal Systems, another Virginia-based contracting agency as a Middle East desk officer, providing guidance to the Air Force.
According to her resume, Witt received a master's degree in Middle East studies from George Washington University in Washington in 2012. She earned a bachelor's degree in social sciences in 2008 from the University of Maryland University College.
She claimed to have "extensive experience living and working" in locations that included Iraq, Qatar, Jordan, Turkey, the United Arab Emirates, Tajikistan and Iran.
The Justice Department said Tuesday that Witt, who remains at large, held high-level security clearances before she defected to Iran in 2013. The department charged she traveled in 2012 to Iran to attend a conference run by the Islamic Revolutionary Guard Corps, a faction of the Iranian military known to support terrorism and sanctioned by the United States.
About one year later, she re-entered Iran, where she was provided housing and computer equipment. In exchange, she disclosed classified information, including detailed information about U.S. intelligence officials, using information to draft "target packages" against those intelligence community individuals, the indictment charges.
It is not clear what led Witt to defect. In Iran, she has appeared to work at times to publish anti-American articles for the state-owned Press TV. In one publication, she chastised the U.S. military as a "boys' club" in which female servicemembers suffer from pervasive sexual harassment.
"The majority of men simply do not take the idea of harassment seriously," she wrote. "They make comments about a woman's appearance, or make generalized sexual remarks openly at work. Often times, they do not view these comments as inappropriate."
The FBI on Tuesday included Witt among its "Most Wanted" individuals. The bureau wrote Witt is believed to be in Iran and might be known there as Fatemah Zahra or Narges Witt.
The FBI seeks her arrest on the charges of conspiracy to deliver national defense information to representatives of a foreign government and delivering national defense information to representatives of a foreign government, specifically the government of Iran.
dickstein.corey@stripes.com Twitter: @CDicksteinDC