DOD downplays South China Sea incident involving USS Cowpens and Chinese warship
By
Jon Harper harper.jon@stripes.com
December 16, 2013
---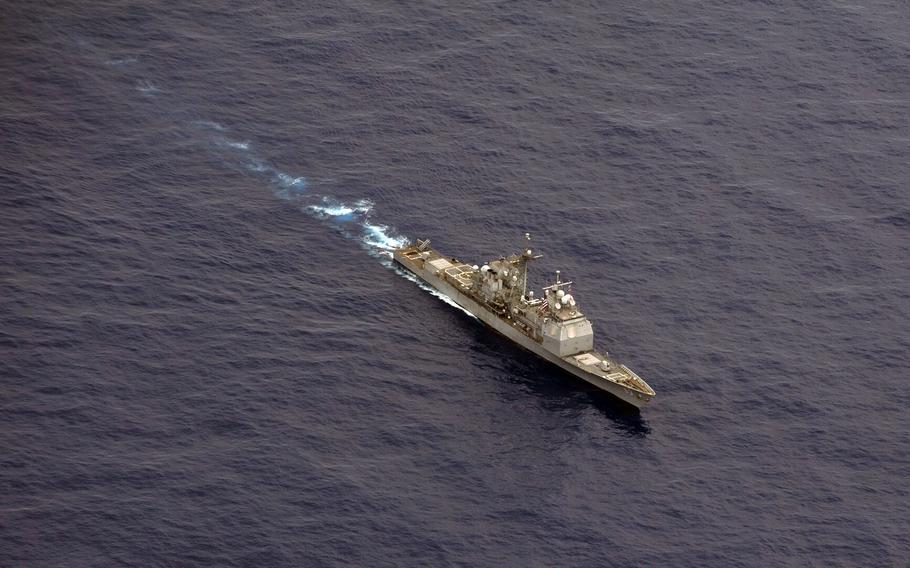 WASHINGTON — The Defense Department on Monday sought to downplay a recent near-collision of a Chinese warship and the USS Cowpens in the South China Sea.
The incident occurred Dec. 5 when a Chinese vessel forced the Cowpens, which was operating in international waters, to maneuver in order to avoid hitting the PLA Navy ship, according to U.S. Pacific Fleet. PACFLT didn't provide any information about the close call until the evening of Dec. 12, when it issued a short statement acknowledging that the encounter had taken place.
The State Department raised the issue at a high level with the Chinese government, a State Department spokesperson told Stars and Stripes. The spokesperson refused to characterize how Beijing responded to the U.S. complaint.
On Monday, an official Chinese newspaper reported that the Cowpens had been tailing the Chinese aircraft carrier Liaoning the day the incident occurred.
When asked if the Cowpens had been conducting surveillance on the Liaoning, a defense official told said the U.S. military would not comment on specific operations.
An American military official, speaking on condition of anonymity, said the Chinese warship involved in the incident was trying to "impede and harass" the Cowpens before the U.S. guided missile cruiser had to take evasive action.
A defense official later identified the Chinese vessel as an amphibious transport ship.
On Monday, Pentagon spokesman Col. Steve Warren said that the Chinese ship came within 500 yards of the Cowpens. But Warren said the near-miss won't affect U.S.-China military to military relations.
"I don't think it was a crisis-level incident by any stretch … I don't believe tensions have heightened," he told reporters at the Pentagon.
When asked why the near-miss wasn't publicly disclosed shortly after it occurred, Warren said DOD didn't view it as an incident that warranted making an announcement.
Warren described the peaceful resolution of the encounter as "a testament to the mil-to-mil relationships that we've begun to develop with the Chinese over the last several years."
The situation was ultimately resolved through bridge-to-bridge communications between the Chinese carrier and the Cowpens.
The captain of the carrier visited the Pentagon in September as part of a PLA Navy delegation, according to a DOD spokesperson.
Senior U.S. military leaders have tried to engage their PLA counterparts in recent years with a desire to improve communication channels so that crises don't escalate.
"Whether it is a tactical at-sea encounter, or strategic dialogue, sustained and reliable communication mitigate risks of mishaps, which is in the interest of both the U.S. and China," a defense official told Stars and Stripes in an email.
Warren said that the Pentagon wasn't contacted by the Chinese military during the incident, and he was unaware of any subsequent communications between the PLA and DOD regarding the encounter. An official with the Joint Staff was also unaware of any such contact.
harper.jon@stripes.com Twitter: @JHarperStripes
---
---
---
---