Va. Supreme Court dismisses lawsuit against governor's mask-optional order
By
Hannah Natanson and Justin Jouvenal
The Washington Post
February 7, 2022
---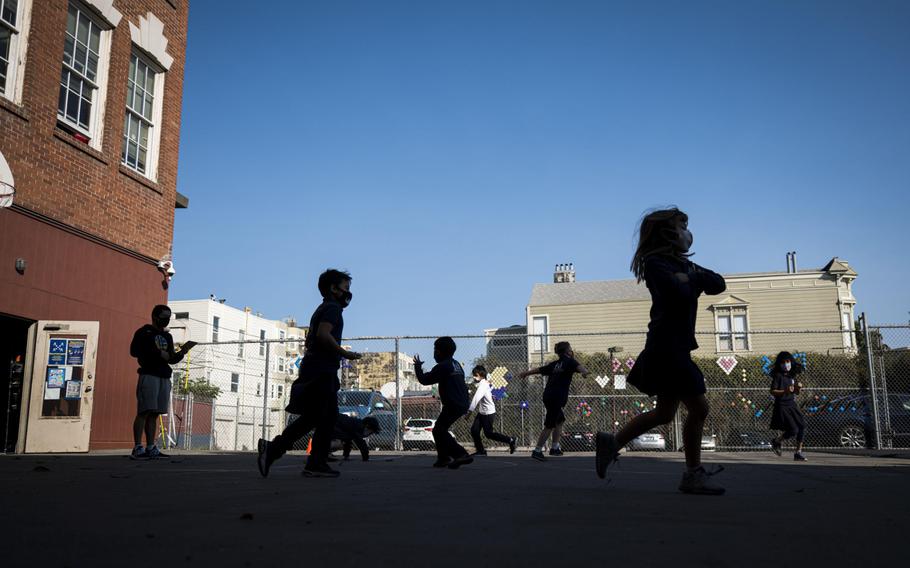 Stars and Stripes is making stories on the coronavirus pandemic available free of charge. See more stories here. Sign up for our daily coronavirus newsletter here. Please support our journalism with a subscription.
The Virginia Supreme Court has dismissed a parent lawsuit challenging Gov. Glenn Youngkin's controversial mask-optional executive order — but the dismissal was on highly technical and procedural grounds and did not touch the merits of the case, leaving open questions about the order's legality.
A ruling by an Arlington judge last week has put the order on hold in at least seven school districts, as part of a separate lawsuit filed by the school boards for those districts that also aims to reverse the Republican governor's mask-optional order. The order will remain on hold until that case is decided.
The seven justices on the state Supreme Court dismissed the suit Monday, writing in a three-page opinion that it was impossible to request the relief the parent plaintiffs had sought - writs of mandamus and prohibition that would have prevented Youngkin and the Chesapeake School Board from declaring masks optional in school - because such writs were not applicable or issuable in this case.
But the justices took pains to make clear they were not ruling on the legality or viability of Youngkin's mask-optional order.
"By this dismissal," they wrote in a footnote, "we offer no opinion on the legality of EO 2 [Youngkin's mask-optional order] or any other issue pertaining to petitioners' claims."
The Youngkin administration celebrated the ruling Monday, with Republican Attorney General Jason S. Miyares writing in a statement that the court's ruling was "a victory for Virginia families."
Youngkin said in a statement that he was pleased by the dismissal.
"We will continue to protect the rights of parents to make decisions regarding their child's health, education, upbringing, and care," he said.
The attorney for the parents in Chesapeake wrote in an emailed statement that - as the seven justices had declared in their footnote - the court's ruling was clearly not meant to decide the legality of Youngkin's mask-optional order.
"So while the [Supreme Court of Virginia] has rejected the Chesapeake parents' case on procedural grounds," attorney Kevin E. Martingayle wrote, "it has not decided whether EO2 is legal. This is far from over."
Legal experts essentially agreed with Martingayle. Carl Tobias, a law professor at the University of Richmond, said the court's ruling is "completely procedural," declaring only that the legal remedies sought by the Chesapeake parents cannot be given on technical grounds. He said the ruling leaves intact a previous ruling from the Arlington judge, Louise DiMatteo, who last week held that Youngkin's mask-optional order goes against the Virginia Constitution and state law.
"That's still an open question on whether Executive Order Two is legal, the [Supreme Court of Virginia] is saying," Tobias said. "So the next thing is really for Judge DiMatteo to go forward or for her ruling to be appealed."
Youngkin announced his mask-optional order on his first day in office. It is designed to give parents the choice whether to mask their children in school, and is in keeping with Youngkin's campaign promise to grant parents greater say over what and how their children learn in schools.
But almost immediately, the order drew a wealth of opposing lawsuits in state and district courts.
Three days after Youngkin debuted the order, the Chesapeake parents sued to stop it in the Virginia Supreme Court, arguing that the order violates the state constitution, which gives school boards the authority to oversee the school systems in their localities. The Chesapeake parents also contended that Youngkin's order violates a state law, passed over the summer, that requires school districts to comply with federal health guidance - including the Centers for Disease Control and Prevention's current recommendation that everyone over the age of 2 inside schools wear masks, regardless of vaccination status.
In late January, seven school boards also sued Youngkin over his order in Arlington Circuit Court, making essentially the same argument as the Chesapeake parents.
Youngkin is also facing a lawsuit from the American Civil Liberties Union of Virginia, which sued in U.S. District Court alleging that the mask-optional order deprives students with disabilities of their federally guaranteed right to a free, fair and appropriate public education.
And finally, a group of parents in Loudoun County Public Schools - a wealthy and politically divided suburb that has seen significant furor over education in recent years - have sued their school board for failing to comply with Youngkin's executive order. The Loudoun school district, which enrolls about 82,000 students, has decided to keep requiring masks - joining 69 other school districts in Virginia, out of a total of 131, that have also defied Youngkin's order, according to a Washington Post analysis.
The three plaintiffs in Loudoun charge in their lawsuit that the school district is violating the law by continuing to mandate universal masking. A hearing was scheduled in the Loudoun suit for Monday afternoon.
---
---
---
---