GALLERY
Cold-weather training ramps up as Afghan combat mission wraps up
---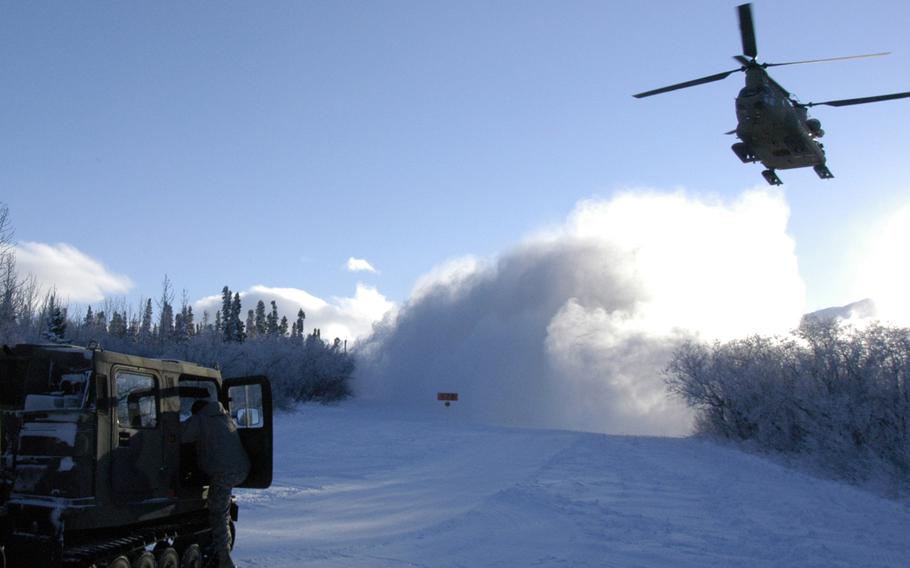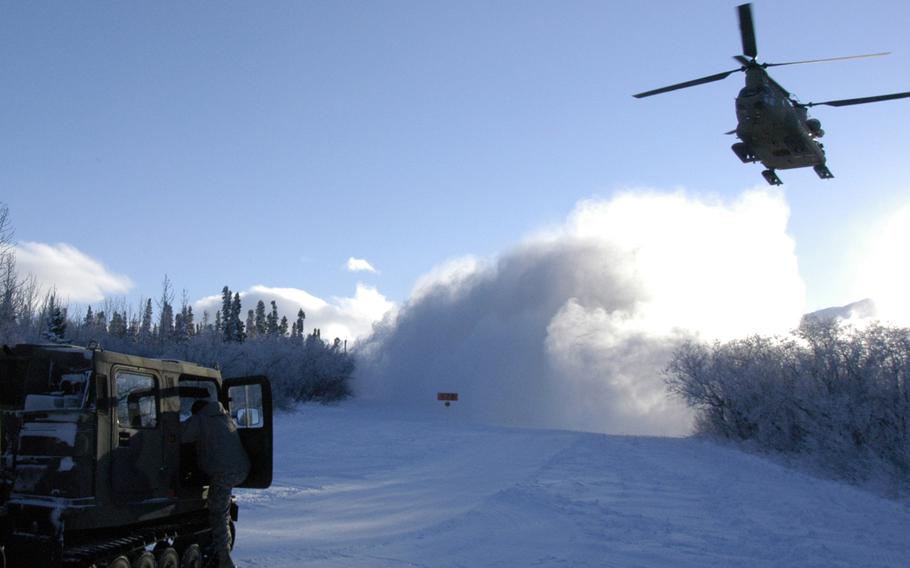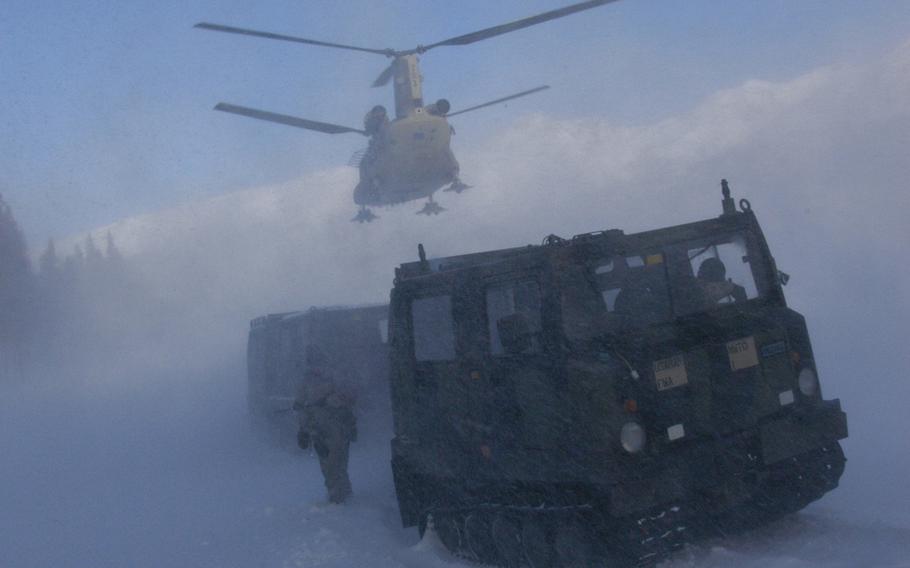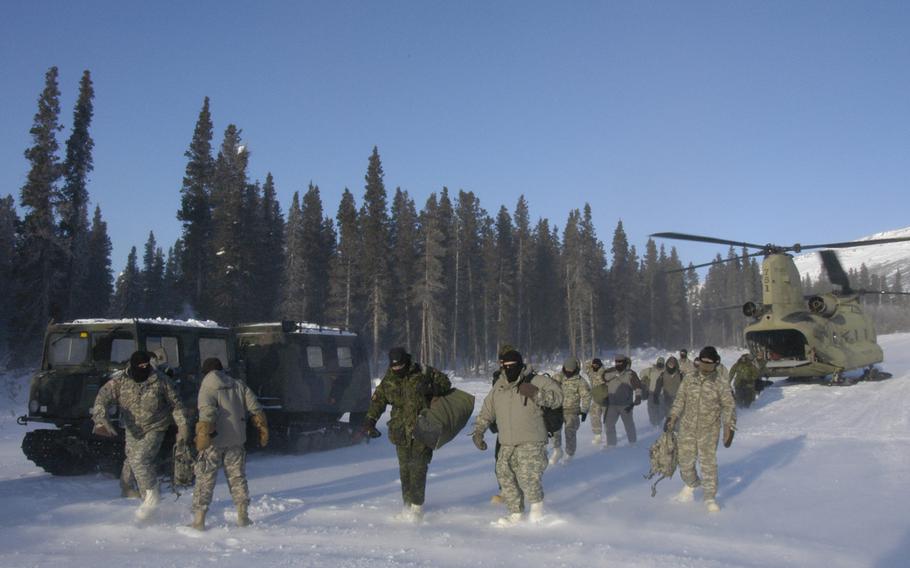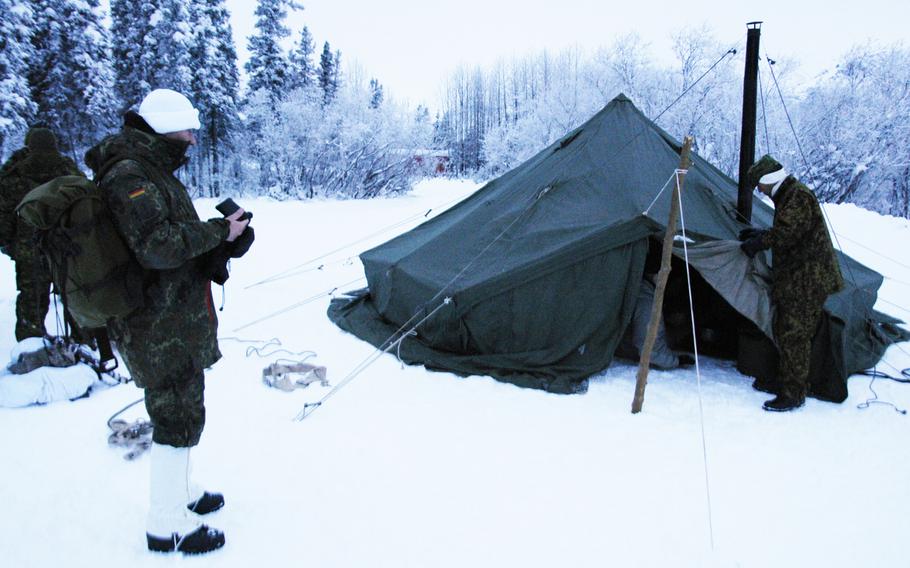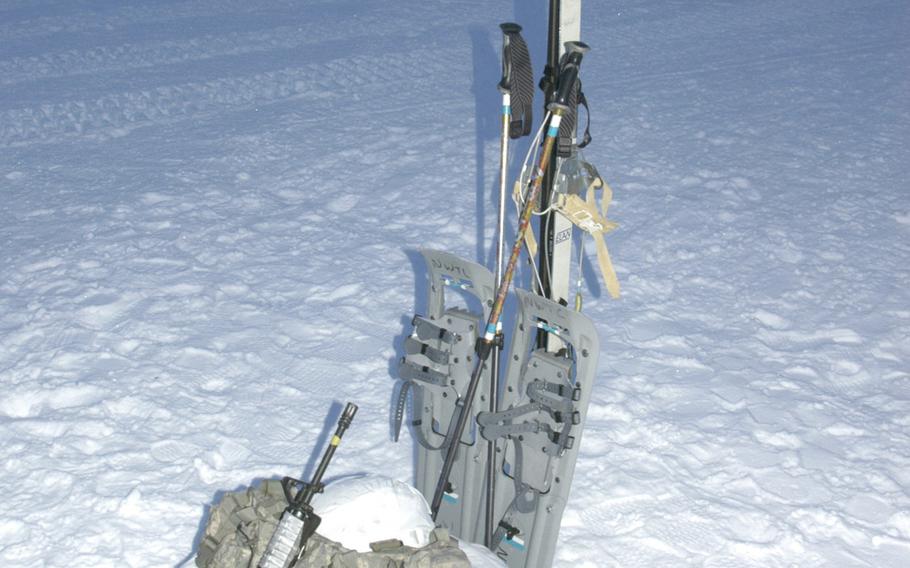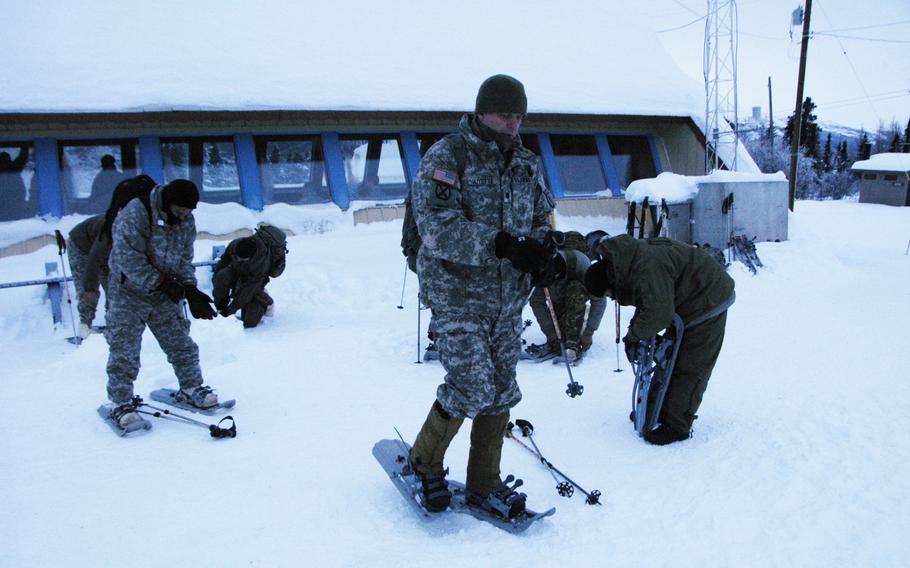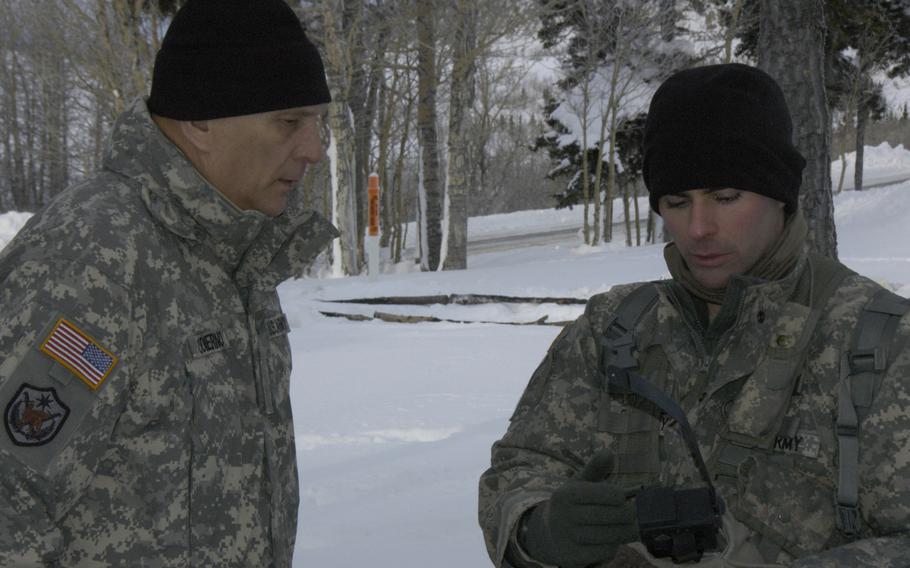 BLACK RAPIDS, Alaska — The U.S. military is putting a renewed emphasis on cold weather warfare amid tensions in Eastern Europe and disputes over Arctic resources.
Army and Marine Corps trainers — working to hone skills in winter fighting that have atrophied during more than a decade of counterinsurgency in Iraq and Afghanistan — are meeting with foreign counterparts here this week.
The U.S. personnel swapped ideas with troops from Canada, Australia, Denmark, Finland, Norway, Sweden, Germany, Japan, Mongolia, Nepal and Britain at the Black Rapids Training Site — a remote complex operated by the Northern Warfare Training Center in the Alaskan interior.
As U.S. forces draw down from central Asia, the military is refocusing on skills that were at a premium during the Cold War: things such as military mountaineering, rough terrain medevac, mountain rifle skills, cold weather survival and Arctic aviation.
The need to regain these valuable skills was driven home by Army Chief of Staff Gen. Ray Odierno, who traveled to the Black Rapids Training Site to feel the harsh conditions the training firsthand.
Donning a pair of white snow boots, gloves and a black beanie, Odierno watched soldiers make fires from dry grass and checked out a snow shelter. He didn't linger for long in the cold.
"The human spirit can overcome incredible odds and circumstances especially when we work together," he told the cold weather warfare experts.
The training in Alaska is about developing the skills to climb mountains in a harsh environment, he said.
"It is important that we develop these capabilities together," he said. "We want to make sure that … our adversaries [know] … no matter where you are or how harsh it is, we can get to you."
The push for cold weather readiness is being spurred in part by Russian efforts to militarize the Arctic and stake mineral claims in international waters, said Steve Gardner, academic director at the Marine Corps Mountain Warfare Training Center in California.
Russia, along with other northern hemisphere nations including the U.S., are interested in vast oil and gas reserves beneath Arctic. Melting sea ice is opening up new northern shipping routes that also have strategic importance.
The U.S. doesn't have a military presence in the far north these days, Gardner said, noting that Marine units cycle through cold weather training every four years, but that training has been greatly reduced because of the focus on counter-insurgency. But the end of combat operations in Afghanistan means the Marines are refocusing on cold weather operations, along with jungle and amphibious warfare, he said.
"The Secretary of Defense has talked about Arctic policy," Gardner said. "It is a matter of not waiting until something happens. It's about planning ahead, identifying what we need and training and equipping."
But that doesn't mean that he expects full combat operations above the Arctic circle, Gardner said.
"It is more about mineral claims and crisis response," he said. "You are going to have cruise ships going up there… fishing problems."
One of the foreign soldiers visiting Alaska, Col. Yuji Hirata of the Japan Ground Self Defense Force's Northern Army, said Japan's cold-weather training — conducted on the northern island of Hokkaido — was originally geared toward Russia.
Japan has been asking the Russians to return islands just north of Hokkaido that the Soviet Union has occupied since the end of World War II.
"For defensive purposes, we believe cold weather training is very important," Hirata said.
The training also focused on swapping information about the latest cold weather gear such as cross-country skis, protective clothing, snow shoes and climbing gear.
U.S. Army Maj. Philip Johnson, the 10th Mountain Division chief of training, said he was interested to see what kind of gear foreign troops use to operate in cold environments. His troops train with a type of ski that is decades old.
"It's about ensuring our equipment lines up with the tactics we are utilizing," he said.
The Small Unit Support Vehicles that troops use to haul supplies around Black Rapids are 20 to 30 years old, Gardner said.
"The last few are dying, and we have no replacements," he said. "That is a critical shortfall for both the Army and Marine Corps."
For Staff Sgt. Stephen Flynn, one of the instructors at Black Rapids, the most critical items the troops need are new boots and gloves. The white rubber boots that U.S. troops wear in snow are relatively comfortable to walk in but they are a lot looser than commercial ski boots and troops say it takes a lot of skill to ski downhill in them, he said.
"We have VB (vapor barrier) boots that are great and have been working for us for years, but we are trying to get with the times and get updated skis and great boot to go with them," he said.
Some of the foreign troops visiting Black Rapids had articulated plastic boots that look like they would clip into crampons or ski bindings easily. However Flynn said those types of boots aren't great for charging at enemy positions on foot.
"With those stiff boots it's very difficult to move," he said, adding that the army is considering boots similar to the ones they already have but upgrading ski bindings to make it easier to ski with them.
robson.seth@stripes.com Twitter: @SethRobson1
---
---
---
---