CNO nominee backs Navy plan to scrap USS Truman as White House vows to keep the ship
by
Corey Dickstein
April 30, 2019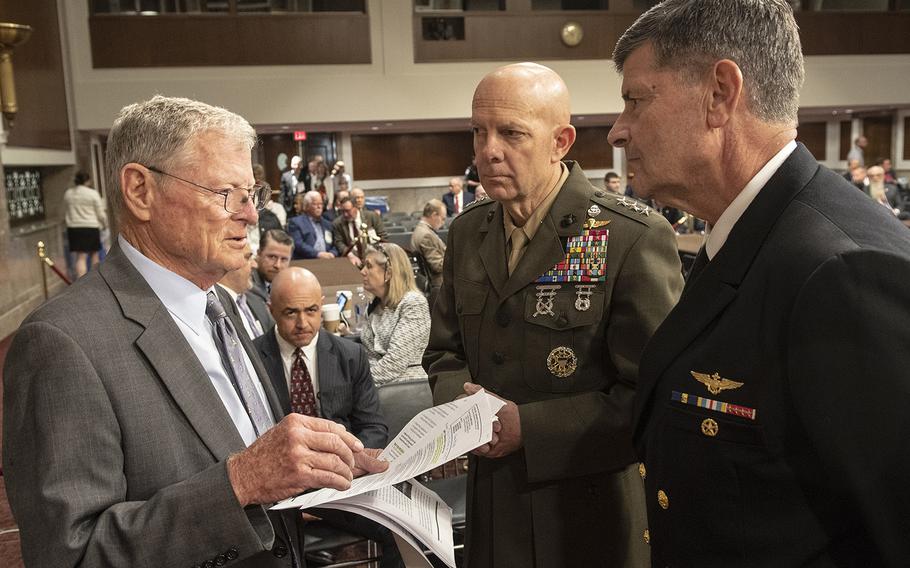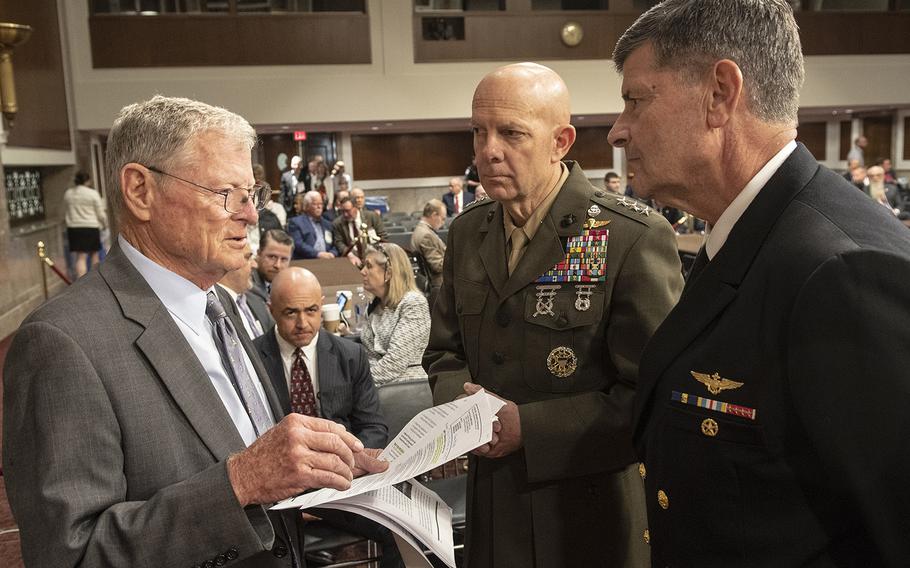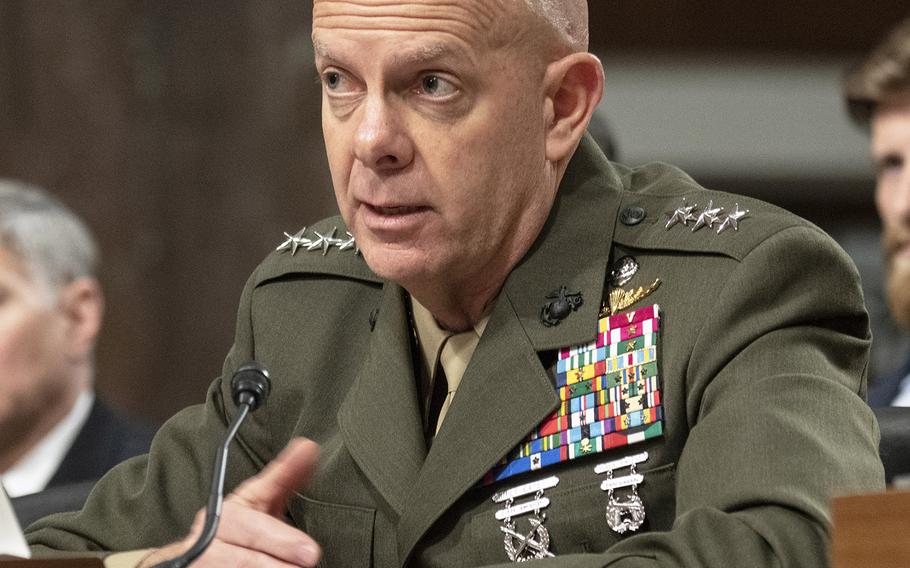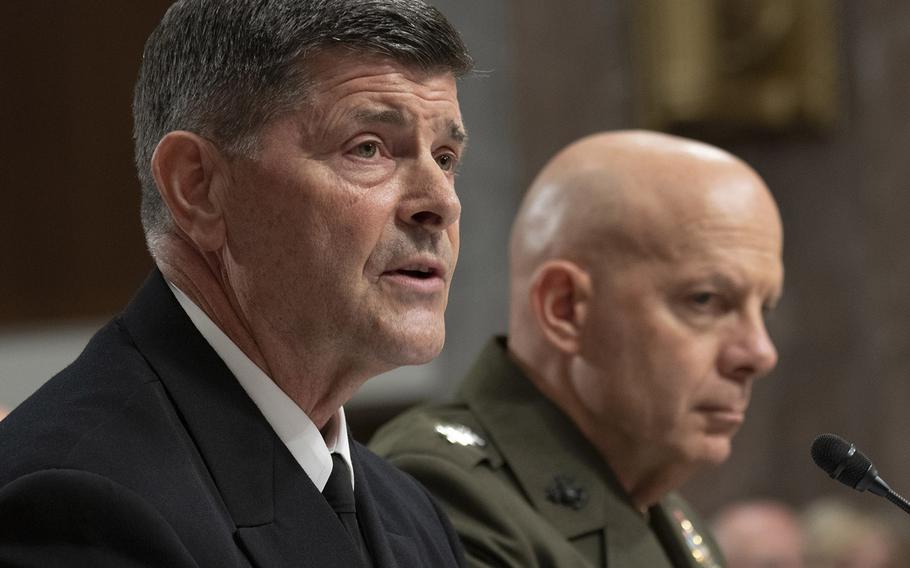 WASHINGTON — The admiral nominated as the Navy's next top officer told senators Tuesday that he backed a controversial plan to scrap one of the service's aircraft carriers halfway through its lifespan to fund newer technology, including unmanned warships.
Adm. Bill Moran, President Donald Trump's selection for the next chief of naval operations, said he supported the plan unveiled in the service's fiscal year 2020 budget request to forgo a $3.5 billion midlife overhaul of the USS Truman scheduled for 2024. The admiral's comments came during a confirmation hearing before the Senate Armed Services Committee to consider his nomination and that of Lt. Gen. David Berger, Trump's pick for the next commandant of the Marine Corps.
If confirmed, the two senior officers would take their positions on the Joint Chiefs of Staff later in the summer when their predecessors are set to retire.
The Navy's plan to decommission the Truman early has been met with skepticism from Democratic and Republican lawmakers. Sen. Tim Kaine, D-Va., on Tuesday called the plan "just kind of a head-scratcher for us."
Others including Sen. Jim Inhofe, R-Okla., the committee chairman, and Rep. Mac Thornberry of Texas, the ranking Republican on House Armed Services Committee, have also previously criticized the request.
Later Tuesday, Vice President Mike Pence told sailors aboard the Truman that the White House actually would keep the ship, a reversal of the administration's earlier position, according to a statement sent out by his office.
Pence told the crew their ship would continue as the Navy long had planned. He seemed to attempt to blame Congress for the retirement decision, though lawmakers largely had vowed not to support retiring the aircraft carrier.
"As we continue to fight Congress to give you the resources you need to accomplish your mission, President Trump asked me to deliver a message to each and every one of you on this deck: We are keeping the best carrier in the world in the fight," Pence said, according to the statement. "We are not retiring the Truman."
The Navy's plan calls for the Truman to be decommissioned in 2024 when it would otherwise receive its midlife refueling, a three-year process to replace the ship's expended nuclear fuel and conduct other needed upgrades that would allow it to remain in commission through at least 2048.
Moran, a 1981 U.S. Naval Academy graduate and career pilot, said the move was part of a strategic shift that would require new technology deemed more critical than the loss of one carrier. The decision was made, he added, as Navy leaders shift their focus to great-power competition with potential rivals Russia and China and also worry sequestration-mandated budget cuts could return in the coming years.
"We believe we're going to need to modernize our force in a way we haven't thought of in the past — especially in the unmanned arena," Moran said Tuesday in response to a question about the plan from another of its critics, Sen. Tom Cotton, R-Ark. "We clearly believe that unmanned undersea and unmanned surface [vessels] will help us expand those threat factors in the future at a lower cost because of the requirement not to man them."
The Navy intends to build two drone ships each year, beginning in fiscal year 2020, to have 10 ships by 2024 at a cost of about $2.7 billion, according to its budget request.
Moran said the Navy needed to begin those programs immediately to test them properly.
"Down the road, if these capabilities prove out to be just as effective as some of the current manned [ship's] capabilities, they start to add to and complement the manned platforms we have and become part of our battle force," the admiral said. "We have to look at this carefully. We are long ways from understanding just how effectively we can operate unmanned surface vessels in a very congested ocean."
Moran has served as the Navy's No. 2 officer since May 2016 and appeared likely to be confirmed as many senators lauded his service. He would serve as the Navy's 32nd chief of naval operations, replacing Adm. John Richardson, who has held that post since September 2015.
Berger, the nominee for Marine commandant, also appeared to be favored by Senate committee members. A career infantry officer, Berger was commission into the Marines in 1981 after graduating from Tulane University in New Orleans. He serves as the commanding general of Marine Corps Combat Development Command and the deputy commandant for Combat Development and Integration, titles he has held since August. Prior to that job, Berger commanded U.S. Marine forces in the Pacific.
Berger would become the 38th Marine Corps commandant, replacing Gen. Robert Neller who has served in that job since September 2015.
On Tuesday, Berger and Moran committed to continuing to place a focus on their troop's combat preparedness, which they said has increased in recent years with larger Pentagon budgets and fewer servicemembers committed to fighting in places such as Afghanistan and Iraq.
Berger also committed to ensuring women continue to receive the opportunity to serve in any Marine positions for which they meet the standards.
He said a recently graduated company of female recruits from Marine Corps Recruit Depot, Parris Island in South Carolina who trained in an integrated battalion with male recruits for the first time performed as well as any past recruit company. He said he would consider including integrated battalions at the East Coast recruit depot in the future.
Berger also said the Marine Corps has improved its efforts to integrate women into its formerly all-male units and jobs because of pressure from Congress.
"We have almost 500 women in units they could not have been in five years ago. That will only grow," the general said. "We have 200 [female] Marines in specialties that they could not have been in five years ago, and that will only grow.
"The more Marines see females in that — as that goes on, at the end of the day, Marines just care, can you get the job done?…Can you carry the load? That's all that matters."
dickstein.corey@stripes.com Twitter: @CDicksteinDC