Zip code change for ship-bound mail part of cost-saving measures
by
Hendrick Simoes simoes.hendrick@stripes.com
July 17, 2013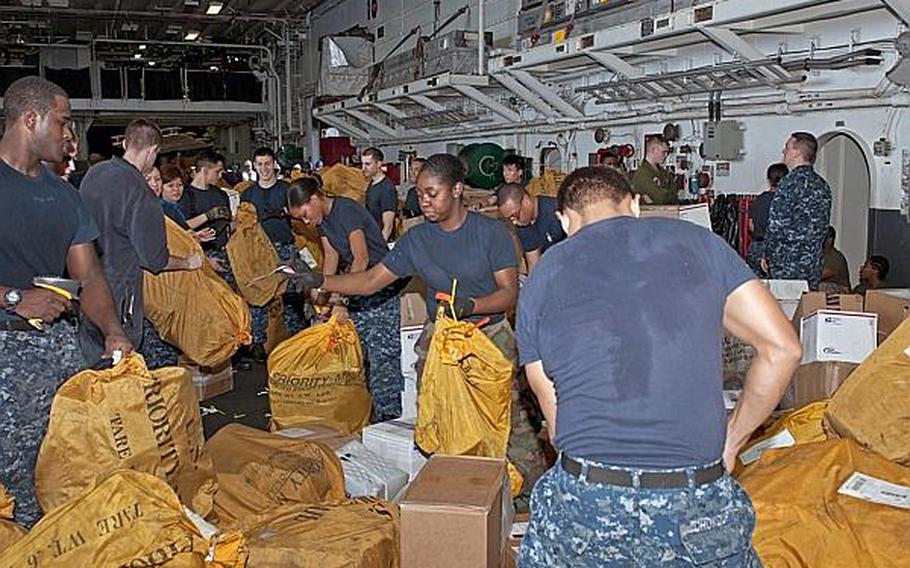 MANAMA, Bahrain — Some servicembers were surprised to learn their mail will be returned to sender if it does not include the full nine-digit zip code the U.S. Postal Service has now made mandatory for letters and parcels bound to ships, squadrons and mobile units belonging to the Navy, Marines and Coast Guard.
Stephen McElroy, who manages military mail for the U.S. Postal Service, said in a memo that the mandate to add the last four digits to the five-digit zip code was necessary due to "unprecedented losses" of revenue and the pressure to reduce costs and improve efficiency. "The postal service can no longer afford to expend unnecessary costly work hours to look up zip+4 units that are missing the +4," he said.
USPS automated equipment is configured to read the commonly known five digit zip code separated by a dash from the additional 4 digits. Often the additional 4 digits are what distinguishes mail going to one ship or another — without it a postal worker would have to manually ensure the mail goes to the right destination.
Since 2006, the postal service has reduced its workforce by 28 percent — 193,000 people — and has consolidated more than 200 processing locations. Now, military mail operations are being unified as well by combining the AP and AE first-class and priority mail operations into one facility. Also, automated processing will largely replace manual sorting.
Petty Officer 3rd Class Joel Rahberger, a sailor on the USS Carter Hall, currently deployed in the Persian Gulf, said, previously, it was common for mail to end up on the wrong ship. He therefore would always make sure his wife and others used the additional 4 digits. But he and other sailors did not expect this to be a mandatory requirement.
"On our ship it was big surprise" when senior leaders informed the crew about the requirement, he said. There was not much advance notice about the policy.
Navy Secretary Ray Mabus issued a Navy-wide memo on Saturday encouraging commands to get the word out to deployed sailors by any means available, so that in turn the Sailors can get the word out to their family, friends, and billing departments. He also tasked commands to make sure sailors know what the full nine-digit zip code is.
Some friends and family members who have caught on to the requirement have even turned to the ship's Facebook pages to request the full nine-digit zip code.
simoes.hendrick@stripes.com Twitter: @hendricksimoes