USS Warrior to replace grounded Guardian
---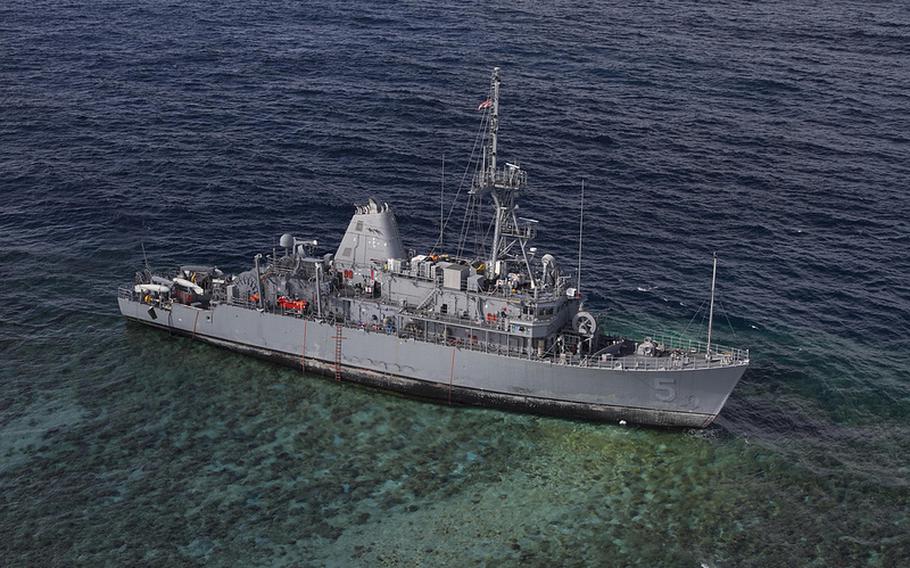 SASEBO NAVAL BASE, Japan — The USS Warrior will depart Bahrain for Sasebo on Saturday to replace the grounded USS Guardian.
The Guardian, which is being cut up and removed from a protected reef off the coast of the Philippines, is being replaced because contingency plans call for four mine countermeasure ships in theater, CTF-76 commander Rear Admiral Jeffrey Harley told Stars and Stripes on Tuesday.
The San Diego-based Warrior recently completed a deployment to the Navy's 5th Fleet area of operations and had been scheduled to return to its homeport, according to a Navy statement. Instead, it will be rerouted to Sasebo on a heavy-lift transport ship and is expected to arrive in late March.
"The Guardian's crew will become the Warrior's crew," Harley said.
The news ends speculation on the status of the Guardian's crew, which has been without a ship since the incident last month. Harley expected they would be relieved to hear they will stay together in Sasebo and will once again find themselves patrolling the seas of the 7th Fleet's area of operations.
Most of the Warrior's crew will travel directly from Bahrain to San Diego, the statement said. A skeleton crew will accompany the ship to Sasebo to relinquish command.
Navy officials did not speculate on what will happen to the Warrior's crew after they return to San Diego.
No one was injured when the Guardian ran aground around 2:25 a.m. on Jan. 17 while transiting the Sulu Sea. The 79 crewmembers were removed the next day as a safety precaution.
For more than a month, the 224-foot ship has slid around on Tubbataha Reef, damaging the World Heritage Site and causing hull breaches.
The grounding sparked protests outside the U.S. Embassy, and Philippine officials have called for the U.S. Navy and government to pay stiff fines. Navy officials have said the ship is a complete loss and removing it will cost nearly $25 million.
The Guardian was administratively decommissioned and stricken from the naval registry on Feb. 15. Work to dismantle and remove the ship from the reef began Friday.
Harley said there may be some minor differences between the Warrior and the Guardian, but both are Avenger-class minesweepers. The Warrior was commissioned on April 4, 1993, and is roughly three years newer than the Guardian.
A decommissioning ceremony to honor the Guardian will be held in Sasebo at a later date, Harley said. The investigation into the cause of the grounding is ongoing.
---
---
---
---