USS Porter enters Black Sea as Navy continues to boost patrols in tense region
---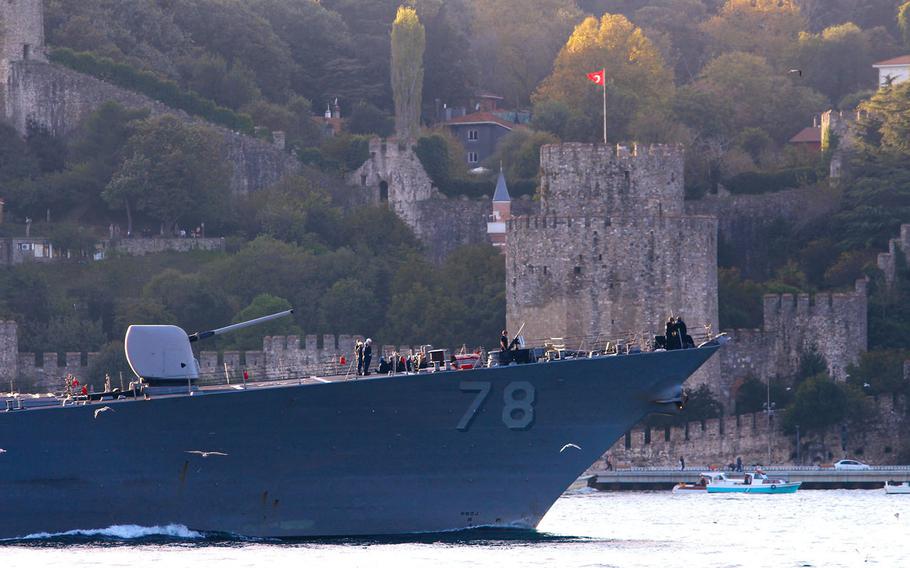 The guided-missile destroyer USS Porter entered the Black Sea on Saturday, the seventh time the Navy has sent a warship into the region this year as a response to a more assertive Russia.
It is the second time in as many months that the Porter has operated in the Black Sea.
Before that, six warships conducted Black Sea operations between January and July, including the USS Carney during the multinational naval exercise Sea Breeze.
"This routine deployment … demonstrates our dedication to freedom of navigation and our commitment to NATO allies and partners in the Black Sea," said Vice Adm. Lisa Franchetti, 6th Fleet commander, in a statement.
Last year, a total of five U.S. warships operated in the region.
The Navy and NATO increased their naval presence in the Black Sea after Russia invaded Crimea and annexed it from Ukraine in 2014.
They boosted security patrols even more after the Russian navy seized three Ukrainian vessels in the Kerch Strait last year and imprisoned 24 sailors. Those sailors were released in September — after being jailed almost nine months — as part of a prisoner swap between Russia and Ukraine.
Nearly all countries bordering the Black Sea are U.S. allies or partner nations, but Russia maintains a territorial attitude toward the sea partly because the former Soviet Union controlled most of those countries during the Cold War.
The Russian navy typically monitors American warships in the Black Sea while Moscow condemns the ships' activities as a provocation.
Russia always chafes at the presence of U.S. destroyers in the Black Sea because they are armed with long-range cruise missiles and strong missile defense, said Michael Kofman, director of Russian studies at CNA, a defense think tank in Virginia.
"Russians perceive such capabilities to be strategic, and will never casually accept this type of arsenal being brought so close to its population centers or critical infrastructure," Kofman said.
wyland.scott@stripes.com Twitter: @wylandstripes
---
---
---
---