USS Nimitz spooks drug runners into dumping 18,600 pounds of pot
---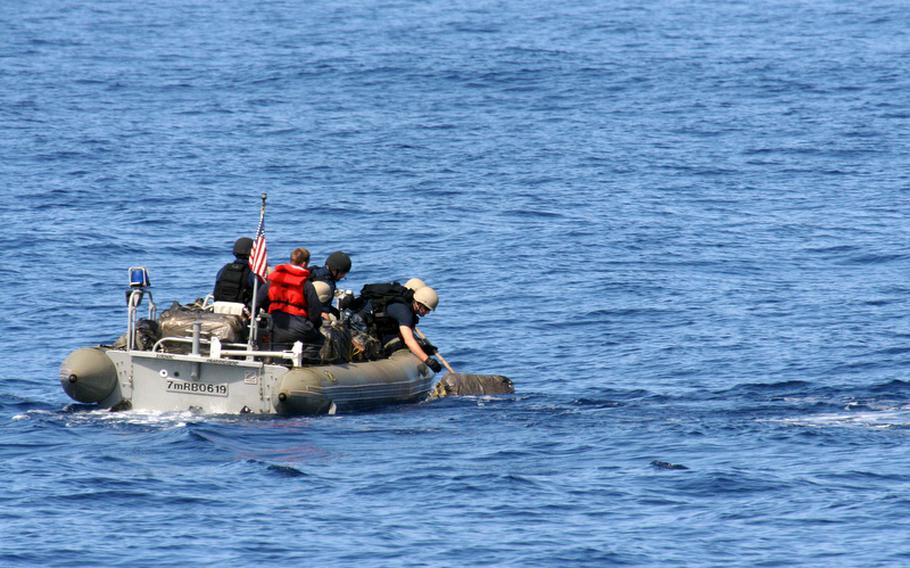 The aircraft carrier USS Nimitz coordinated a Pacific Ocean drug seizure that netted approximately 18,600 pounds of bailed marijuana over the weekend, the Navy announced.
Nimitz was conducting carrier flight qualifications off the California coast Saturday at 1:53 p.m., when sailors spotted two vessels about four miles away, according to a Navy news release Tuesday.
When a Seahawk helicopter already in the air went for a closer look, two 25-foot vessels sped toward the coast and began dumping large, black trash bags, which were found later to contain 100-pound bales of marijuana.
About three hours later, the Nimitz's officer of the deck spotted another small craft, which began dumping its cargo after realizing it had been spotted by air, the release said.
The nearby cruiser USS Princeton sent sailors in rigid hull inflatable boats to retrieve several dozen bales; a Mexican navy ship arrived and helped secure the remainder of the 186 bales of marijuana recovered that day.
The marijuana was subsequently transferred to the Coast Guard cutter Edisto, according to the Navy news release.
None of the drug runners was apprehended, Lt. Aaron Kakiel, spokesman with Naval Air Forces Pacific, told the U-T San Diego newspaper Tuesday.
---
---
---
---