USS Fitzgerald, on recovery path, goes to sea for trial run of repairs and updates in Mississippi
by
Joseph Ditzler
February 4, 2020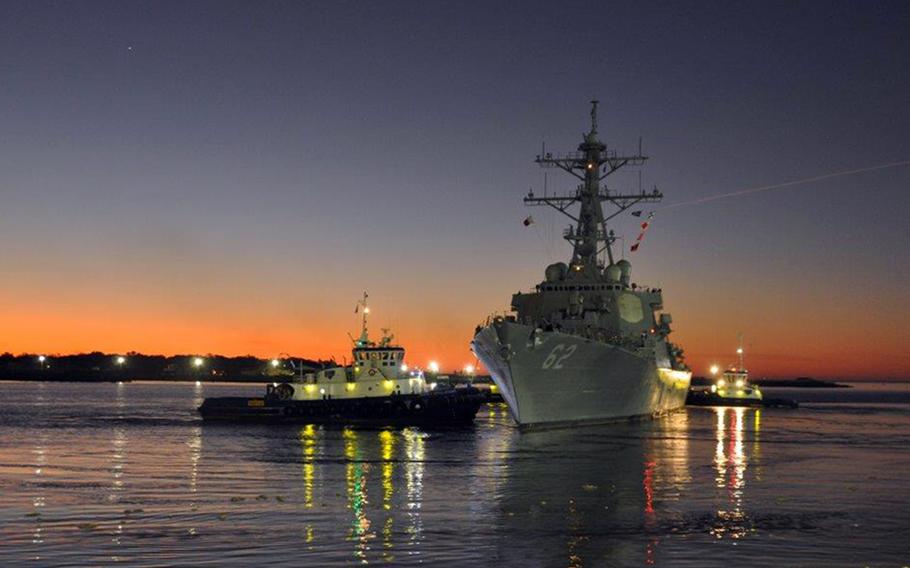 The USS Fitzgerald passed another waypoint Monday in its journey back to active service following a fatal collision off Japan 2 ½ years ago, according to the Navy.
The guided-missile destroyer has undergone two years' worth of modernizing and restoration at the Huntington Ingalls Industries-Ingalls Shipbuilding's Pascagoula shipyard in Mississippi. Systems aboard the Fitzgerald, including navigation, damage control, combat and propulsion, will be evaluated while the vessel is underway, according to a Navy statement Monday.
"Since we launched the ship this past April our efforts have focused on restoring ship systems, conducting pier side tests and readying the ship for sea," said Rear Adm. Tom Anderson, Naval Sea Systems Command director of surface ship maintenance and modernization and commander of the Navy Regional Maintenance Center.
Seven sailors died June 17, 2017, when the Fitzgerald collided with a container ship, the ACX Crystal, about 60 nautical miles southwest of Yokosuka Naval Base, where the warship was based.
Blame fell on the commanding officer at the time, Cmdr. Bryce Benson, and Lt. Natalie Combs, a tactical action officer, who were initially charged with negligent dereliction of duty resulting in death and negligent hazarding of a vessel. The charges were dropped last year and the two were instead censured by the Navy. Benson retired in December; a Navy panel in January ruled Combs could do the same.
A Navy report in late 2017 cited crew exhaustion, skipped certifications, poor watch-standing and training and manning problems among the causes of the collision, which the report concluded was preventable.
Two months after the Fitzgerald incident, the guided-missile destroyer USS John S. McCain collided near Singapore with a commercial tanker, the Alnic MC, killing 10 sailors.
Like the Fitzgerald, the McCain underwent extensive repairs. It emerged from Yokosuka in October for six days of sea trials. The warship is back in service, according to its official Facebook page.
The Fitzgerald is expected back on the line in the spring, according to its commanding officer, Cmdr. Scott Wilbur. Once the shakedown cruise concludes, the ship's crew will undergo training and certification, according to the Navy.
"We are excited to take the next step to get Fitzgerald back out to sea where the ship belongs," Wilbur was quoted as saying. "My crew is looking forward to moving onboard the ship and continuing our training to ensure we are ready to return to the fleet."
ditzler.joseph@stripes.com Twitter: @JosephDitzler