USS Cole's top enlisted sailor relieved of duty
by
Audrea Huff huff.audrea@stripes.com
January 17, 2014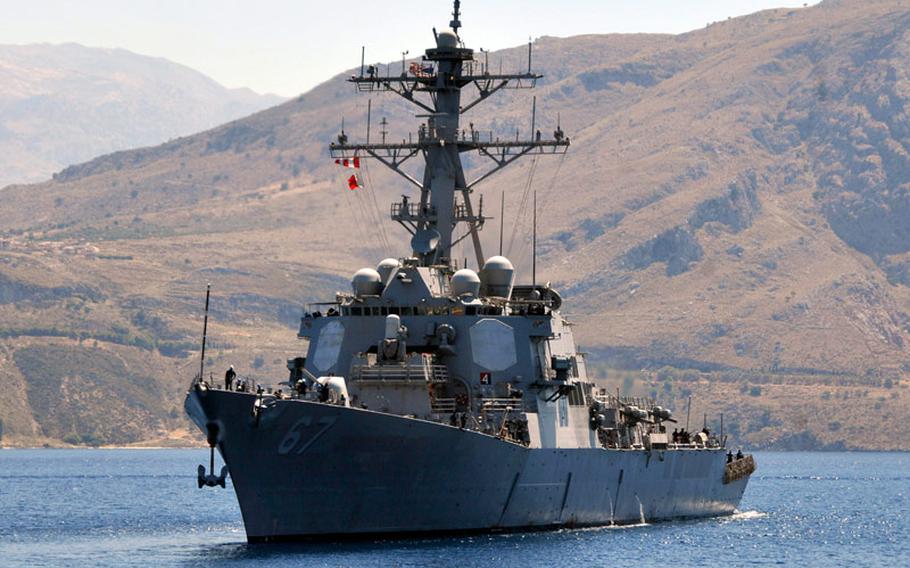 The top enlisted crew member of the USS Cole was relieved of his duties Thursday following a command investigation into an inappropriate relationship with a junior sailor, the Navy said.
Command Master Chief Larry H. Dean was found guilty at captain's mast proceedings Thursday by Cmdr. Dennis Farrell, the Cole's commanding officer, the Navy said in a news release. The investigation determined Dean had an "unduly familiar relationship" with a junior enlisted sailor on the ship, it said.
Dean enlisted in the Navy on July 1, 1986. Since then, he has served as senior enlisted adviser to retired Army Gen. Stanley McChrystal in Ramadi, Iraq, and one of his shore tours included Tactical Cryptologic Support for SEAL Teams Two, Four and Ten, according to his Navy biography.
During his career, Dean has received the Bronze Star, a Defense Meritorious Service Medal, a Joint Commendation Medal with "V," the Navy Commendation Medal, the Navy Achievement Medal, the Combat Action Ribbon and the Presidential Unit Citation.
Dean has been temporarily reassigned to Commander, Naval Surface Forces Atlantic. A new command master chief for the Cole has not been determined, the Navy said.
Just a day earlier, the Navy announced that the service's No. 2 civilian, Robert Martinage, had stepped down after Navy Secretary Ray Mabus asked for his resignation. The Navy's release did not specify why, but a Navy official told Stars and Stripes that Martinage was having an "inappropriate personal relationship" with a female subordinate.
huff.audrea@stripes.com Twitter: @audreahuff