Some sailors chosen for separation might be eligible for retirement benefits
---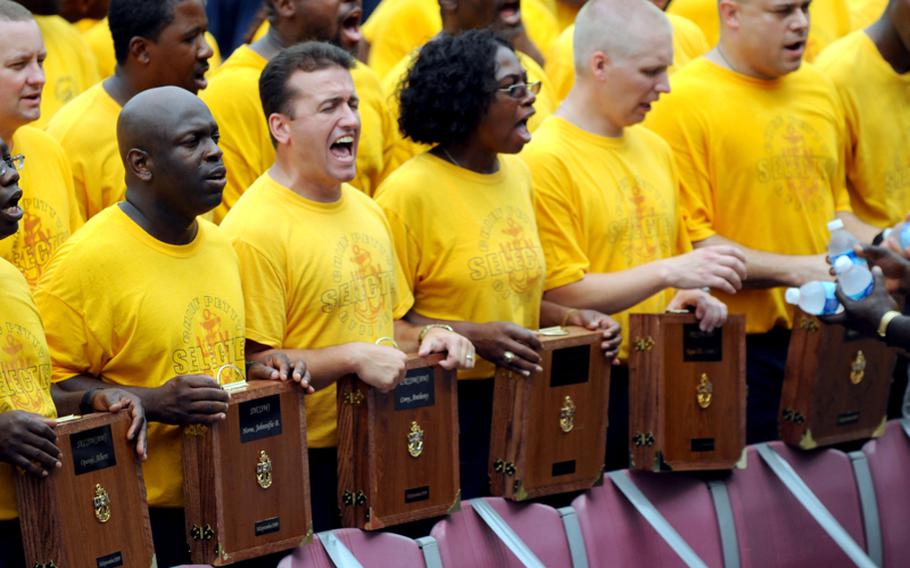 SASEBO NAVAL BASE, Japan — A small number of sailors chosen for separation from the Navy by the enlisted retention board could receive a lifeline in the form of retirement benefits after all, Navy officials have announced.
Under a program known as the Temporary Early Retirement Authority, about 300 of the nearly 3,000 sailors who are facing separation in the fall will have a chance to apply for retirement benefits if they are scheduled to reach 15 years of active service by Sept. 1, Navy officials said.
If approved, sailors will receive all of the benefits afforded to a tenured sailor, such as medical and commissary privileges, and a reduced monthly stipend, said Chief LaRita Lawson, Strike Group Counselor for Expeditionary Strike Group Seven.
Not all applications will necessarily be approved. However, interested sailors are required to forgo an involuntary separation pay severance, which is a lump sum based on years of service and pay rate.
"Our Sailors have served honorably and our Navy is committed to doing all we can to help them and their families successfully transition to the civilian sector," Master Chief Petty Officer of the Navy Rick West said in a Navy news release. "We have aggressively pursued the option to offer early retirement benefits to eligible Sailors since Temporary Early Retirement Authority was granted. This is the right thing to do, and it ensures we provide the strongest possible transition benefits to those who qualify for retirement under TERA."
The Navy Personnel Command will contact each eligible sailor or their command to inform them of the opportunity to apply, the release said. Interested sailors should request to remain in the Navy through Sept. 1 to allow time to process their application by emailing personnel command officials at pers-81@navy.mil and asking for a short-term extension with expedited processing and approval, according to a Navy Admin message.
The command is now accepting requests.
Once procedures have been established, extended sailors may be able to separate prior to Sept. 1 if approved and they have 15 years in service, according to the NAVADMIN.
Lawson, who has two sailors eligible in Strike Group Seven, stressed the benefits program is temporary and that sailors and their commands should not hesitate in applying.
Approximately 3,000 E-4 to E-8 sailors in 31 overmanned ratings were chosen for separation by the board last fall to meet congressionally mandated force-strength quotas. The move condemned by the selected sailors and their families, and a petition was started calling for a White House review.
Chief of Naval Operations Adm. Jonathan Greenert announced the plans to offer early retirement Jan. 19 during an All Hands Call at Joint Base Pearl Harbor-Hickam, the Navy news release said. The authority was granted to the Defense Department in the National Defense Authorization Act, signed into law Dec. 31.
More information on ERB transition assistance can be found on the NPC web page.
For more information on benefits, Lawson suggested sailors look at the DOD and VA's eBenefits site.
---
---
---
---