Senior Navy official charged with brandishing a firearm
by
Travis J. Tritten
July 19, 2016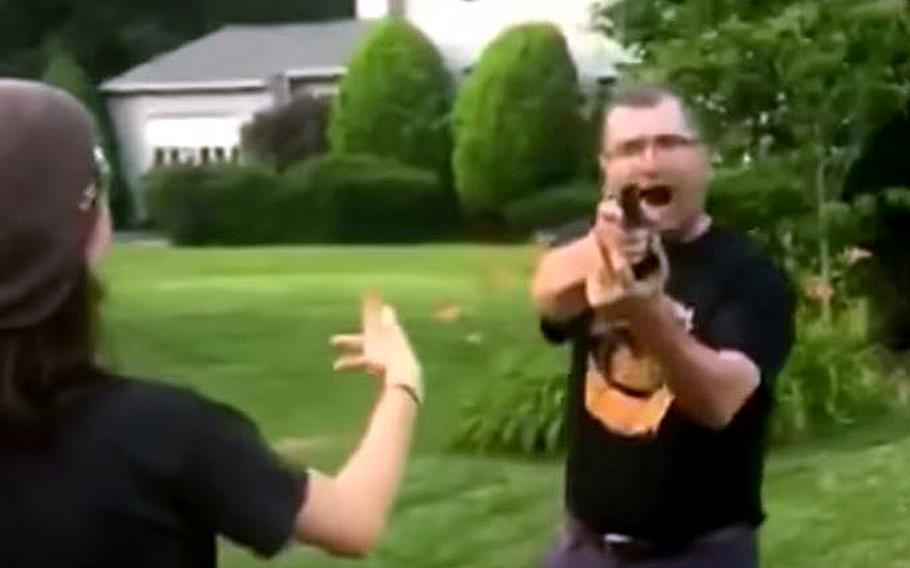 WASHINGTON — A Navy deputy assistant secretary was charged Tuesday in Virginia with brandishing a firearm after video surfaced online of him threatening men in front of his house with a handgun.
Karnig Ohannessian, deputy assistant secretary of the Navy for the environment, faces three misdemeanor counts of brandishing a firearm for the incident in Burke just outside of Washington, D.C., according to a spokesman for the Fairfax County Commonwealth Attorney.
In Virginia, brandishing a firearm is the most severe misdemeanor and includes a maximum penalty of one year in jail and a $2,500 fine.
The Navy put Ohannessian on paid administrative leave earlier this month following the June incident, according to local television station WUSA 9. The service did not immediately comment on the charges Tuesday.
In the cell phone video, Ohannessian is standing on the sidewalk in front of his home and repeatedly aims the gun at three young men who were leaving a nearby party.
He accuses the men of being drunk in public as they get into their vehicle and saying at one point he could shoot them.
"I can shoot the [expletive] out of you guys right now," he said.
Ohannessian, who was wearing shorts and a T-shirt, repeatedly yells at the men to "get in the car" during a tense standoff that included both sides using expletives.
"Public drunkenness is a [expletive] crime, do you know that?" he asked them.
The men recorded the encounter, at times challenging Ohannessian, and later filed complaints with county police, WUSA 9 reported.
"Watch your [expletive] mouth, bro," one of the men said.
Another warned Ohannessian that he was breaking the law.
"You are pointing a gun at my friend," he said. "This is a criminal offense, so please stop it."
Ohannessian's wife can be heard yelling for him to come inside their home. She then comes outside and gets between her husband and the group of men.
The Navy civilian was arrested following the June 11 incident but was released by Fairfax County police due to a lack of evidence, according to WUSA 9. But the investigation was renewed in July after the station broadcast a news story about the encounter.
Ohannessian has received two meritorious service awards from the Navy, according to CBS News.
tritten.travis@stripes.com Twitter: @Travis_Tritten
---
---
---