Sasebo icon retiring after more than 60 years' service to the Navy
by
Matthew M. Burke
Stars and Stripes
March 20, 2012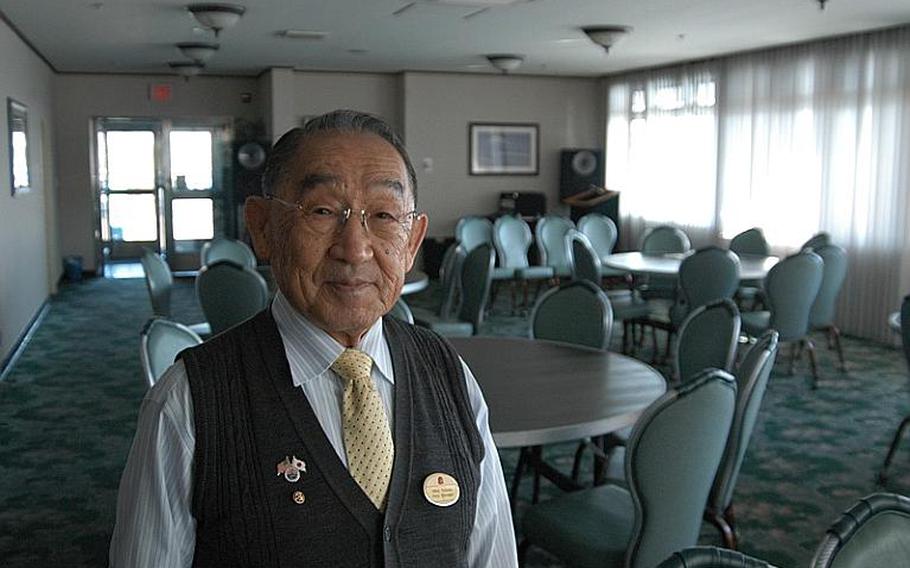 SASEBO NAVAL BASE, Japan — As a child, Mike Yoneda and his family were interned by the U.S. government for four years during World War II because they were Japanese.
After the war they returned home, but the racism continued. Their house was shot at, their well was blown up by dynamite.
In spite of it all, Yoneda decided to join the U.S. Navy, to serve the country that he loves.
No matter how many epithets, threats or shells have flown his way, Yoneda — known as "Daddy Mike" around Sasebo Naval Base — has spent 32 years on active duty in the Navy and more than 30 years at Sasebo in various civilian capacities. He has seen 15 base commanders pass through Sasebo during his time here. His smile, sense of humor and love for the sailors in Sasebo are as clear today as they were when he started, those around him say.
But it will all end next month when Yoneda, 82, retires from his post as duty manager at the Harbor View Club.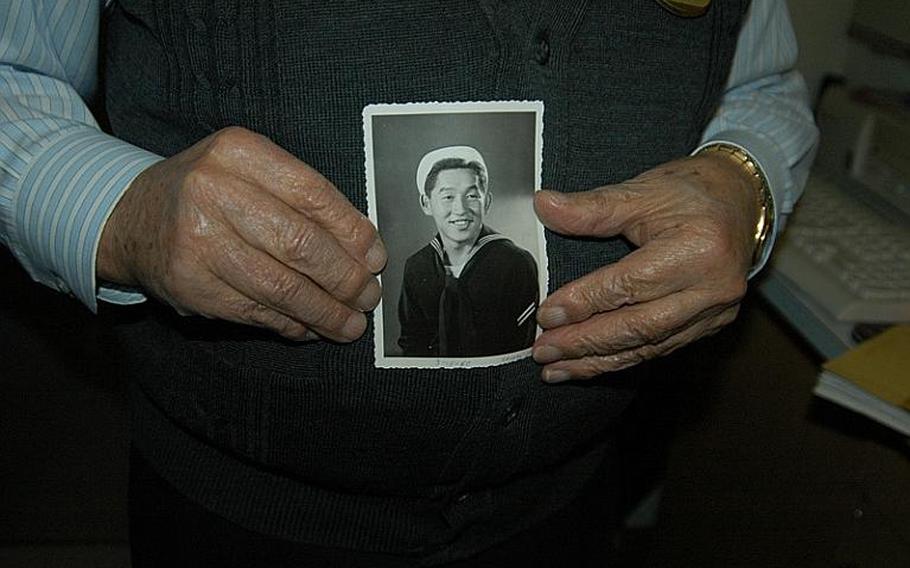 "I love the Harbor View Club, because I can be around the military," Yoneda said. "I listen to these kids and I can swap stories since '49."
As he prepares for retirement, Yoneda leaves behind an indelible legacy, base residents say, including much of what sailors and their families relish today.
"I think Commander Fleet Activities Sasebo is in Mike's DNA," said base spokesman Charles Howard, a former Navy master chief stationed at the base. "He's obviously an institution here. For the thousands who've visited the installation over the years and made their way to the Harbor View Club, Mike's been the ambassador to greet them at the door."
Yoneda, whose real first name is Minoru, was born in a log cabin in San Martin, Calif., in 1930 to an illegal Japanese immigrant and his naturalized Japanese catalog bride. One of 16 children, Yoneda had so many brothers and sisters that he has trouble remembering their names, he jokes. They grew up poor, and he didn't own a pair of shoes until he was 10.
His father idolized President Franklin D. Roosevelt. But after the attack on Pearl Harbor, his family was thrown into a cattle truck, separated and the majority interned in Poston, Ariz. Yoneda, then a trouble-making 10-year-old, remembers that it was a dog-eat-dog battle for survival in the camps. There were murders and other violent crimes, he said.
"It was rough going, but we made it through there," the married father of two recalled earlier this month in his office at the club.
Yoneda watched as numerous older friends volunteered to serve in the U.S. military during World War II. He said about 900 interned Japanese-Americans in his camp joined the military to fight against the Japanese. Many of those gave their lives.
"We were very dedicated," he said. "We got to teach America something about patriotism."
After four long years in Poston, his family was released and the war was over.
But life didn'y improve much.
Grocers would not sell to Japanese families; they were barred from schools, barber shops and public transportation. Many interned families came back to homes that were vandalized and looted.
Yoneda's family bounced around the country before settling back in California, but the prejudices followed.
As a short, skinny teenager , he stood his ground before those who hated them, he said, but he didn't harbor any ill will. Rather, he felt he had to work harder to be accepted and to be allowed to make his own way in the world.
In 1949 — as soon as he was old enough — Yoneda joined the Navy Reserves and repeatedly requested an active-duty sea billet until one was granted.
Again he battled racism. As a young sailor, Yoneda said, there were threats that he would be tossed overboard to the sharks — just for being born of Japanese parents.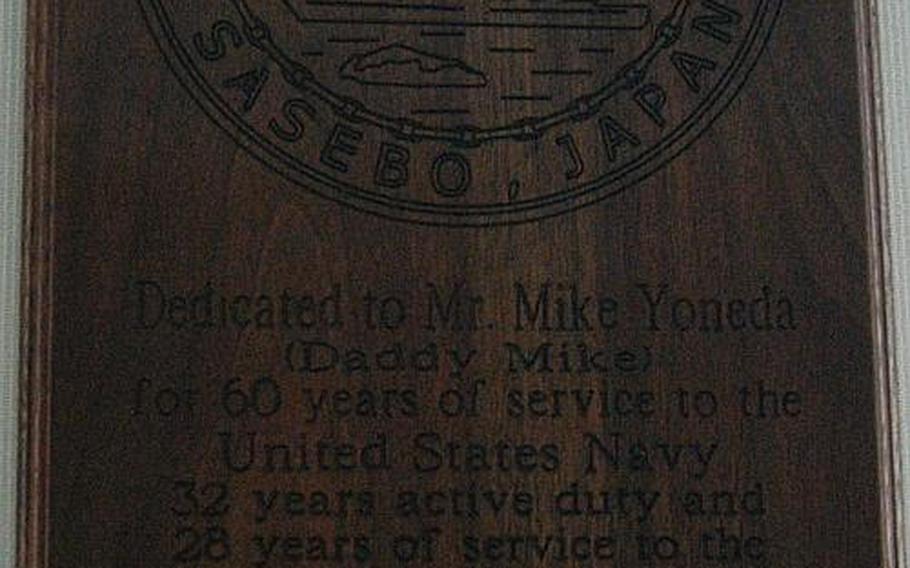 But again he persevered, eventually trading some of the final rounds of the Korean War with communist forces in Wonsan, North Korea, in July 1953.
During his career, he served in ordnance, nuclear weapons and security. He also did a stint in Vietnam, becoming an officer. He retired from Sasebo Naval Base in 1982 as a lieutenant. As the years went by, something kept Yoneda from leaving Sasebo. Everyone began to call him "Daddy Mike" because of his age and his fatherly attributes — he was always smiling, always calm, always kind. He served in numerous capacities, including tour director of Morale, Welfare and Recreation, and worked on base offerings and projects. He also runs a wildly popular weekly bingo game that is one of the hottest tickets in town.
In 2009, one of the rooms at the club was named in his honor.
"I have always considered Daddy Mike the mayor of CFAS," said former co-worker Kevin Dugan, now the food and beverage director for Fleet Activities Yokosuka. "Everybody knows him, everybody loves him. His charm appeals to children and admirals alike."
Base commander Capt. Charles Rock said that Yoneda has been invaluable in welcoming sailors and their families to the base and offering assistance.
"Mike is a retired naval officer. He's proven what many of us already know; you don't stop being a shipmate when you take off the uniform," Rock said.
As Yoneda prepares for retirement and plenty of golf, he said it amazes him to look back at just how far he has come.
"I'm proud to be an American," Yoneda said. "I don't hold grudges or anything else. I did it my way."
---
---
---