Sailors won't face discipline for close call with fighter jet, Navy says
---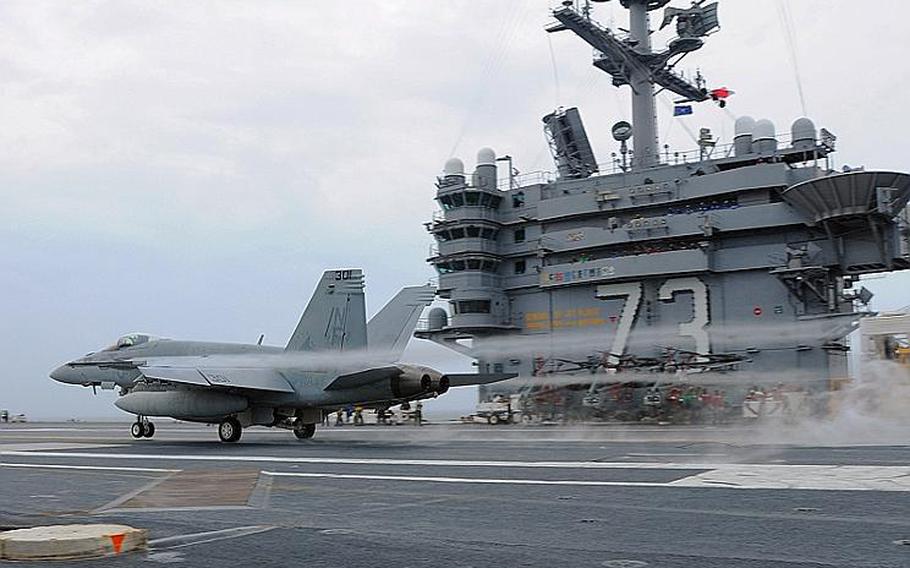 YOKOSUKA NAVAL BASE, Japan — A descending Navy fighter jet's close encounter with two sailors on the USS George Washington's flight deck did not result in disciplinary action, but a video of the incident is being used for safety training throughout the Navy, officials said Friday.
The 11-second video, which was captured by a ship camera Sept. 25 and later uploaded privately to YouTube, shows two sailors walking on to the flight deck while an F/A-18 Super Hornet was clearly approaching.
The YouTube clip has since received nearly 100,000 hits, most of which came during the past 24 hours.
The blinking "F" in the video indicated that the deck was "foul," meaning that aircraft were not clear to land. The sailors saw the red foul light before walking on to the deck. However, they never looked around, said Cmdr. Pauline Storum, spokeswoman for the Pacific Fleet's naval air forces.
"It's like crossing the street," Storum said. "They didn't look left and right beforehand. The aircraft was being waved off, which happens all the time …. for a variety of reasons."
The sailors were performing a mandatory check of the cross-deck pendant, which is a flexible cable wired across the flight deck. Fighter planes land on carriers by catching the cable with an arresting hook.
Following the incident, five separate training briefs were held in sessions on the ship that included the topside crew and the V1 division, which is typically responsible for aircraft security and movement.
The ship also reviewed all safety procedures and released the video to the landing signal officer and aircraft handling officer communities on the day of the incident, Storum said.
There were no further investigations or disciplinary actions.
"No one was injured, no equipment was damaged, and we don't punish sailors for honest mistakes," Storum added in a written statement.
The USS George Washington is currently at sea as part of a regularly scheduled deployment. The ship left Yokosuka Naval Base on Sept. 19 and arrived at a port visit in South Korea a few days after the incident.
---
---
---
---