VIDEO
Retired SEAL receives Medal of Honor 16 years after deadly rescue operation in Afghanistan
by
Corey Dickstein
May 24, 2018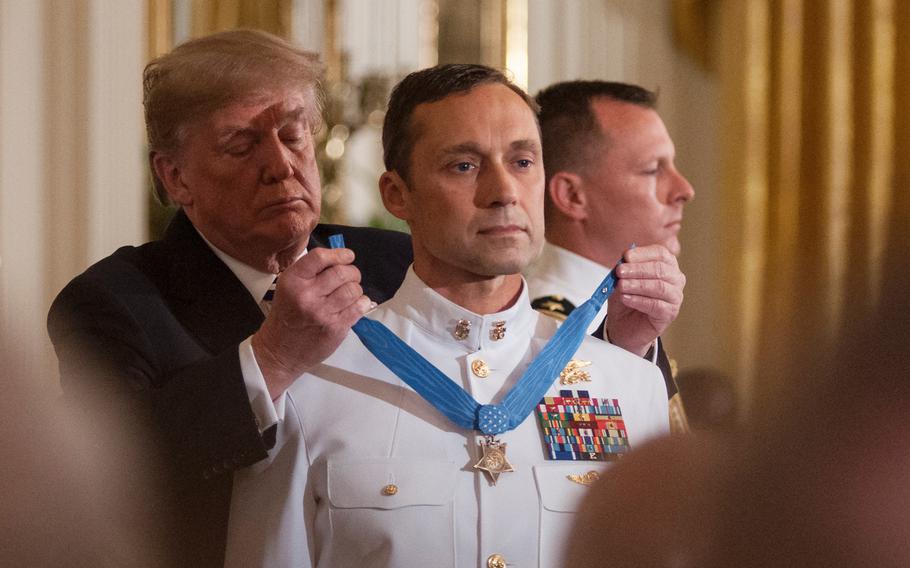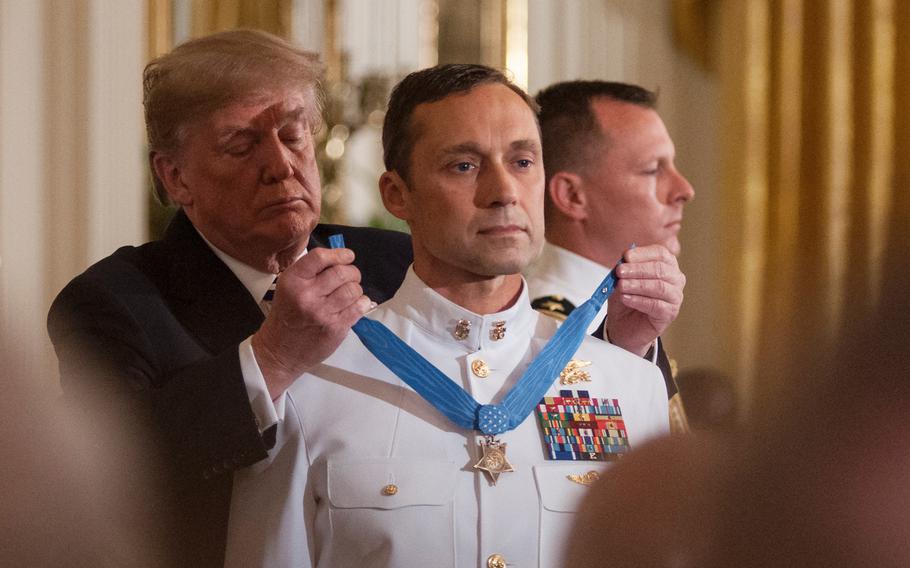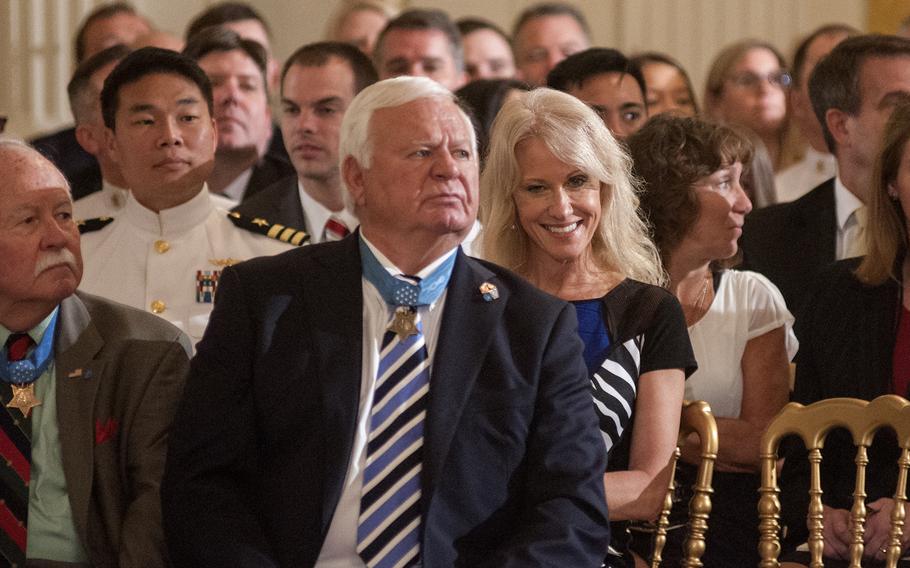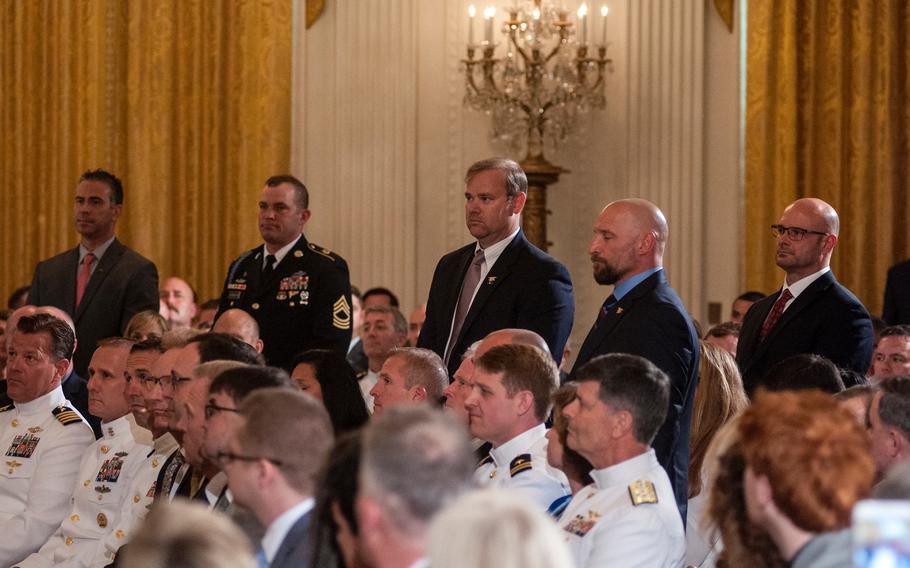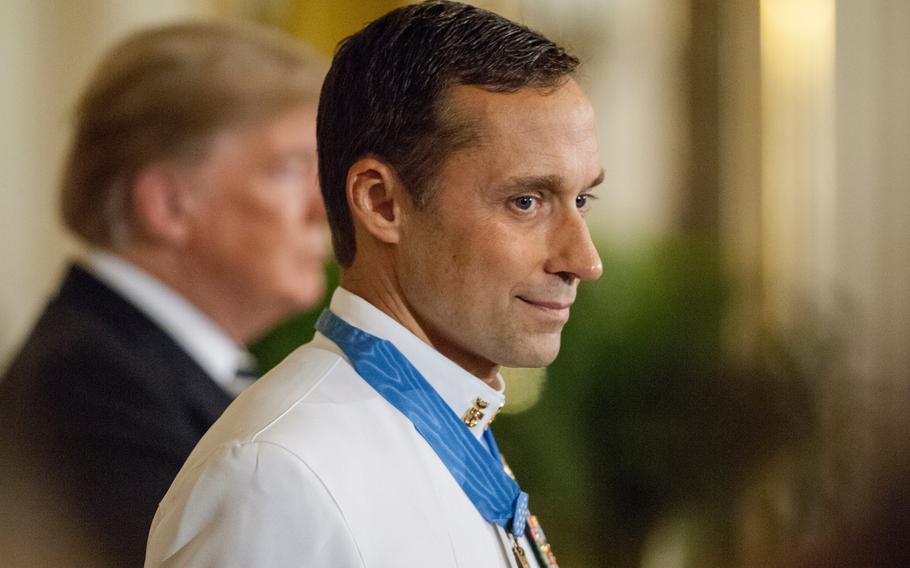 WASHINGTON — Sixteen years after surviving a hellish night atop a snow-covered 10,000-foot mountain in eastern Afghanistan, retired Navy SEAL Britt Slabinski stood Thursday in the White House's East Room and received the nation's highest military honor from President Donald Trump.
He detailed Slabinski's deadly mission March 2-3, 2002, on Takur Ghar mountain, which has become known as the Battle of Roberts Ridge, as the SEAL risked his life repeatedly to save his teammates in the early months of the war that continues today.
Trump described Slabinski as a "special man" who is "truly brave," before recognizing others in the audience who fought alongside him that night, those who fell during the engagement and their families. The retired master chief petty officer stood stoic in his dress white uniform as the president placed the Medal of Honor around his neck.
"You waged a fierce fight against the enemies of America and the enemies of all civilization," Trump said. "We are free because warriors like you are willing to give their sweat, their blood, and if they have to their lives for our great country."
That night the helicopter carrying Slabinski and his SEAL Team 6 – officially Naval Special Warfare Development Group – teammates was hit by enemy rocket fire as it flew over the mountaintops during a mission targeting al-Qaida militants. With the rocket's impact, another SEAL, Petty Officer 1st Class Neil C. Roberts, fell from the MH-47 Chinook helicopter before the pilots crash-landed it into a valley, leaving him stranded atop Takur Ghar amid a mass of al-Qaida and Taliban enemy. Slabinski ordered a daring rescue mission up the mountain to recover his comrade.
"They would be outmanned, outgunned, and fighting uphill on a steep, icy mountain," Trump said. "And every soldier knows you don't want to fight uphill. They learned that at Gettysburg — you don't fight uphill. But they would face freezing temperatures, and bitter winds, at the highest altitude of battle in the history of the American military. This was the highest point where we ever fought. The odds were not good."
The citation for Slabinksi's Medal of Honor – an upgrade from the Navy Cross he initially received for his heroics – describes "a murderous hail of machine gun fire" greeting Slabinksi and his commando team as he "charged directly toward the enemy" up the mountainside. Seven men would die in the 14-hour battle as they fought in waist-deep snow, according to the Navy.
The SEAL called in airstrikes, including those close enough to injure him, as he and five other men attempted to recover Roberts, who they believed was alive. Eventually, Slabinski was forced to carry a seriously wounded teammate through the thick snow, fending off enemy advances as he called for support, according to the citation.
"Incredible," Trump ad-libbed as he told Slabinski's story. Adding later, "We salute you, we thank you, we thank God for making you a Navy SEAL."
Slabinski is the 12th American servicemember to receive the Medal of Honor for actions in Afghanistan.
Press reports indicate another man on the mission – Air Force Tech. Sgt. John Chapman, a combat controller – could also receive the Medal of Honor. Chapman, who died during the battle and whose body was left behind as the commando team was exfiltrated, received the Air Force Cross posthumously in 2003. The Air Force has declined to confirm that an upgrade has been approved by Trump.
Slabinski retired from the Navy in 2014 as a master chief petty officer after serving 25 years, mostly on SEAL teams on the West and East coasts, according to a Navy bio. He served nine overseas deployments and 15 combat tours. In addition to his Medal of Honor, Slabinski has been awarded the Bronze Star Medal with "V" device for valor five times. He was also awarded two Combat Action Ribbons.
Slabinski made few media appearances as a SEAL or since his retirement. On Thursday, the Breaking Defense news organization published a rare interview in which he said he did not expect to survive the attempt to rescue Roberts.
"I was absolutely certain this was a one-way trip, not just for me but likely for my teammates, but we were the only chance that Neil had," Slabinski told Breaking Defense. "I remember thinking of my family, 'I'm sorry for what's to come.' "
Slabinski declined interview requests through a Navy official. He spoke briefly following the ceremony at the White House, telling reporters he was accepting the award for all of his teammates on the mission and the men who helped free them from the battle in March 2002.
He then listed the men who battled with him on that mountain, and those who did not survive that hellish night.
"They gave it all for us," he said. "This honor is truly theirs. They are the true heroes."
dickstein.corey@stripes.com Twitter: @CDicksteinDC