Overmanned Navy will ax some 3,000 mid-career sailors
by
Erik Slavin
April 14, 2011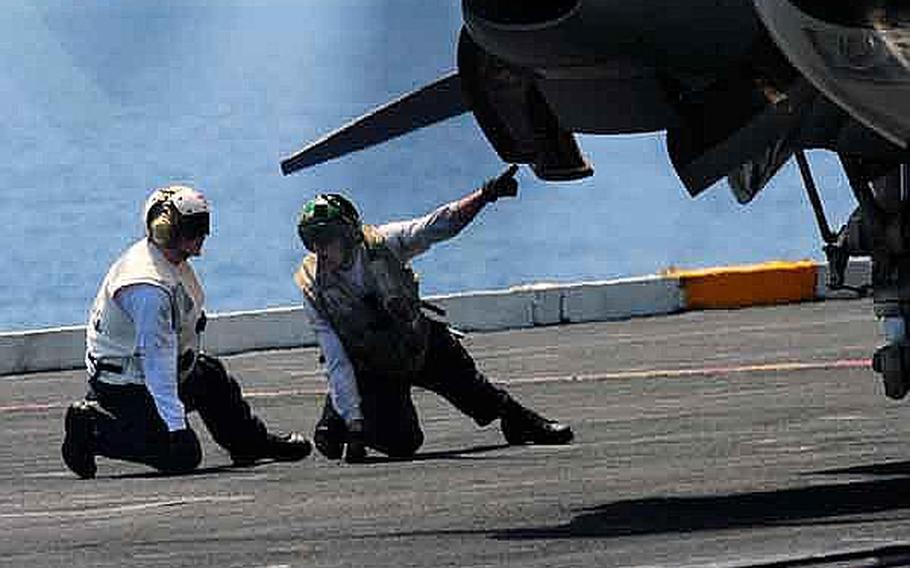 YOKOSUKA NAVAL BASE, Japan — The Navy is planning to cut 3,000 mid-career sailors from its ranks because of record retention rates, according to an administrative message and guidance put out Thursday by the Navy Personnel Command.
A new quota-based enlisted retention board will review 16,000 sailors with seven to 15 years of experience in the ranks of E-4 through E-8, in 31 different career ratings. Because of the high number of sailors who are choosing to stay in the Navy, these 31 career fields are overmanned, the Navy message said.
"The board will examine the records of all eligible sailors for declining performance, such as documented misconduct and substandard performance indicators," according to the message from Vice Adm. Mark Ferguson, chief of naval personnel. "These will be the key factors in determining whether retention is in the best interests of the Navy."
The first phase of the review, to begin in August, will consider E-4 and E-5 sailors. The second phase will consider sailors in the remaining ranks in September. Results are expected by November.
Sailors chosen for separation must leave the Navy by June 30, 2012, or by Sept. 30, 2012, if they receive an operational waiver.
"Sailors not selected for retention will have the option to apply for a selected reserve affiliation quota," according to the additional guidance.
Sailors can find out if they are being reviewed after May 16 by logging on to Navy Knowledge Online and clicking on Navy Advancement Center, according to additional guidance sent to career counselors by the Navy Personnel Command. Commanding officers do not have the authority to keep eligible sailors from facing the retention board, according to the guidance.
In anticipation of the job cuts, the Navy is making it easier for sailors in overmanned fields to change jobs and remain in the active-duty Navy.
Sailors with more than 12 years' service will be considered for conversion, regardless of pay grade, according to the guidance.
Sailors with permanent change of station orders in hand will also be considered for conversion, and several job fields that do not normally accept conversion have been opened up, according to the guidance.
Jobs affected by the Navy's cuts will include the following, from the aviation field: machinist's mate; electrician's mate; aerographer's mate; structural mechanic; support equipment technician; electronics technician; aircrewmen (R, F, and V subcategories); maintenance administration; aircrew survival equipmentman; and boatswain's mate (fuels).
From construction ratings: builder; construction electrician; construction mechanic; equipment operator; engineering aide; steelworker; utilitiesman.
From surface and other ratings: electronics technician; electrician's mate (surface); fire controlman (on non-Aegis ships); operations specialist; personnel specialist; religious programs specialist; ship's serviceman; sonar technician (surface); gas turbine system technician, electrical; machinist's mate (surface); machinery repairman; mineman.
Petty Officer 3rd Class Matthew Hofstetter, a ship's serviceman whose rating is affected by the cuts, welcomed the announcement. Hofstetter has only served for four years in the Navy and will not face the review board.
"I think it's a good idea," said Hofstetter, of Niles, Ohio. "There are too many people stagnating."
Others were less enthusiastic about the specter of forced separations. The announcement created concern Friday among sailors that other jobs, many of which teeter on the edge of being overmanned, could be next.
A group of sailors in logistics support, which includes storekeepers and postal clerks, said Friday that promotions have become increasingly tougher to come by in recent years. They wondered whether their rating could be subject to the chopping block in the future.
"A lot of people in our specialty are worried about what's going to happen," said Petty Officer 1st Class Jesus Luna-Garcia, a logistics support sailor from San Antonio, Texas. "When your job is in the hands of a board, it's tough."
To review the Navy's administrative message on the job cuts, go to www.npc.navy.mil and look under "new messages."