NYC's Fleet Week decimated by federal budget cuts
---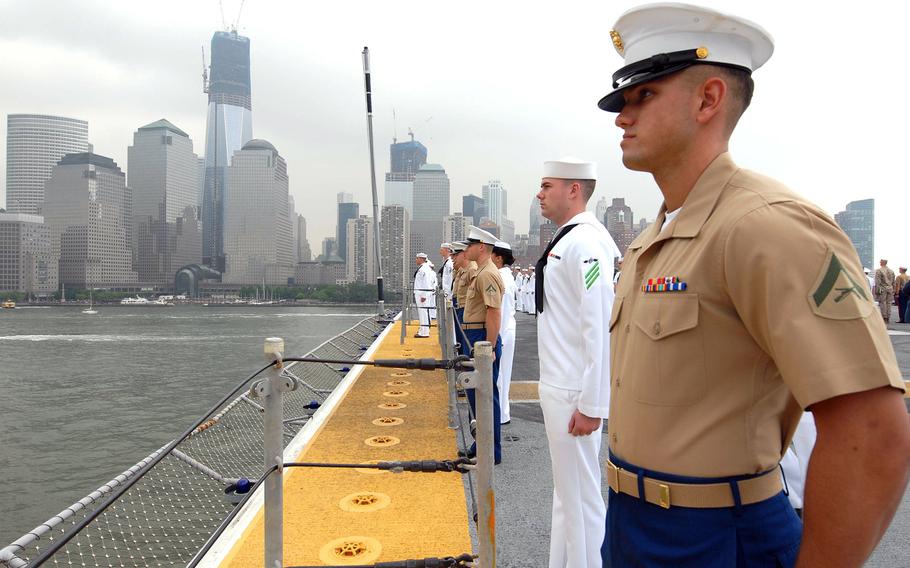 NEW YORK — Fleet Week, New York City's annual ode to the sea, will be virtually devoid of white-capped sailors and tall ships this year thanks to federal budget cuts that have severely curtailed spending by the U.S. Navy.
The Navy won't be sending any ships or sailors to the festive spring event, which inundates the city streets with about 6,000 sailors, Marines and Coast Guard personnel every year. Only locally based reserve units will be able to attend, said Beth Baker, director of public affairs for the Navy's mid-Atlantic region.
There won't be any Coast Guard cutters or helicopters performing search-and-rescue demonstrations, either. The budget cuts are affecting every branch of the military.
"It's very clear that no branch of the armed forces may participate in community relations or outreach events that come at an additional cost to the government," Baker said, "or rely on anything other than local assets and personnel."
The Navy spends $7 million to $10 million on average for the annual event, a sum that includes docking fees, fuel costs, security, hotel rooms and transporting large ships and aircraft to New York.
Fleet Week generates an estimated $20 million for the city across the board, including tax revenue and hotel and restaurant spending, according to the city's Economic Development Corporation.
Last year, 21 U.S. and coalition ships sailed into the harbor as more than two dozen aircraft flew high above the Hudson River. The week features parades, ship tours, impressive displays of military aviation prowess and other events intended to educate the public about the Navy.
City officials learned of the decision Thursday. Fleet Week was supposed to kick off May 22.
The annual event, which began in 1984, is eagerly anticipated by sailors as a chance to let off steam and interact with the public.
"It's going to be a great effect on their morale," said Bob Lunney, president of the New York Council of the Navy League, a nonprofit civilian organization that helps run Fleet Week. "We're very distressed over any cutbacks. If there's any cancellation at all, we'll be very disappointed."
New York isn't alone. All Fleet Weeks and Navy Weeks across the U.S. have been canceled, Baker said.
About 700 active-duty and 300 reserve Coast Guard personnel based in New York are still planning to support the event, said Coast Guard spokesman Charles Rowe. Naval personnel stationed at the submarine base in Groton, Conn., and the Naval Weapons Station Earle in Colts Neck, N.J., will likely still attend.
"Fleet Week has been a great event for the city, and we will continue working closely with the Navy to explore how we can continue to celebrate the commitment of our servicemen and women," City Hall spokeswoman Evelyn Erskine said.
Fleet Week usually boosts business at Dallas BBQ so much that managers beef up staffing at the restaurant's 10 locations around the city, including a Times Square spot that seats 1,000 people, said Eric Levine, one of the New York-based company's directors.
"We do a lot of action when the servicemen and their families are in town," he said.
The sailors are a welcome sight for the restaurant's diners, too.
"The staff enjoys seeing people in uniform," Levine said. "Customers enjoy seeing people in uniform and paying homage."
---
---
---
---