Navy to review carrier move over budget concerns
by
Erik Slavin
November 2, 2011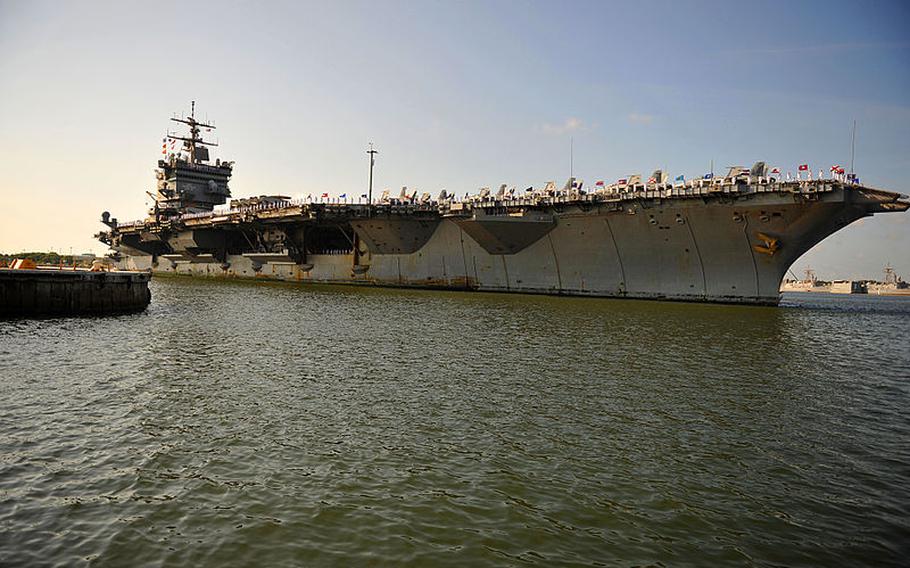 YOKOSUKA NAVAL BASE, Japan — The chief of naval operations said he would review an expensive plan to move an aircraft carrier's homeport from Virginia to Florida, according to a letter posted on a Virginia congressman's website.
In a letter, Adm. Jonathan Greenert told Rep. Randy Forbes, R-Va., that he believed the strategy involved in shifting the unnamed carrier from Naval Station Norfolk to Naval Station Mayport was sound, but that he understood Forbes' budgetary concerns.
"Within the context of the ongoing Department of Defense strategic and budget reviews, the size of the fiscal adjustments compels us to take a comprehensive strategic review, examining every program element, including the funding required to homeport a [nuclear-powered carrier] in Mayport," Greenert wrote in an Oct. 21 response recently posted on Forbes' website.
The startup costs of converting the existing facilities at Mayport, near Jacksonville, to accommodate a nuclear-powered carrier by 2019 could run as high as $537 million, according to Navy estimates. A March Government Accountability Office report pegged the startup costs between $258 million and $356 million.
"The United States Navy is facing drastic shortfalls in ship maintenance, inspection failures for Navy ships have nearly tripled in the past four years, and currently, 1 of 5 ships inspected is either unfit for combat or severely degraded," Forbes said in a statement posted on his website. "In such an age of budget austerity, the Navy would be wise to reverse its decision to build an expensive and redundant [nuclear-powered carrier] homeport in Mayport."
The Navy wants to disperse the East Coast fleet "to mitigate the risk of a terrorist attack, accident or natural disaster," according to the 2010 Quadrennial Defense Review.
Forbes' original Sept. 23 letter questioning the Mayport move was co-signed by Virginia's two senators and three other Virginia congressmen.
For lawmakers, the move may be as much about jobs and economic development as it is about national security.
The Hampton Roads Chamber of Commerce estimated that thousands of jobs and hundreds of millions in revenue would be lost if a carrier leaves, according to media reports.
Florida lawmakers – whose constituents would gain those jobs and revenues – have taken up the national security argument in a fight to keep the project on track.
Of the Navy's 11 active aircraft carriers, its five east-coast carriers are all homeported in Norfolk. The six Pacific-based carriers are homeported in California, Washington and Japan.
Mayport hosted the conventionally powered USS John F. Kennedy until 2007, when the ship was decommissioned. The base currently hosts an assortment of smaller frigates, cruisers and destroyers.
---
---
---