Navy secretary calls for new inquiry into USS Theodore Roosevelt virus outbreak over 'unanswered questions'
by
Caitlin M. Kenney
April 29, 2020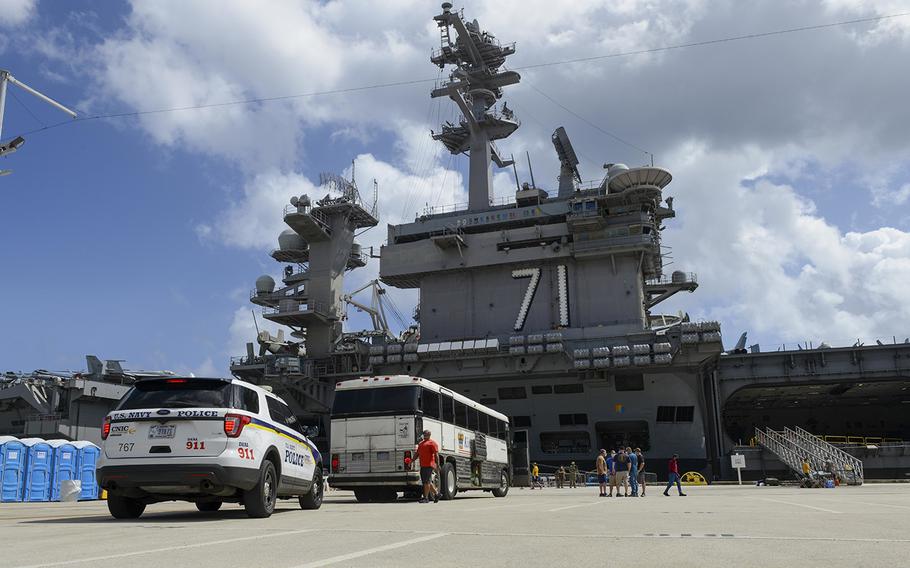 Stars and Stripes is making stories on the coronavirus pandemic available free of charge. See other free reports here. Sign up for our daily coronavirus newsletter here. Please support our journalism with a subscription.
WASHINGTON — The Navy's top civilian has ordered another investigation into the service's response to the coronavirus outbreak aboard the USS Theodore Roosevelt after the initial examination left him with "unanswered questions."
Acting Navy Secretary James McPherson said in a statement issued Wednesday that he has directed Adm. Mike Gilday, the chief of naval operations, to conduct a new, follow-up investigation to look more closely into the outbreak and the Navy's response.
"I have unanswered questions that the preliminary inquiry has identified and that can only be answered by a deeper review," McPherson said in the prepared statement.
The extended investigation follows Defense Secretary Mark Esper's own request Friday for more time to review the Navy's written investigation after he was verbally briefed by McPherson and Gilday on the report's recommendations.
News reports Friday said the Navy leaders have recommended Capt. Brett Crozier, the former commander of the USS Theodore Roosevelt, be reinstated following the investigation into his letter warning of a severe coronavirus outbreak among his crew.
The Navy initiated an investigation into the outbreak aboard the Roosevelt and the conduct of Crozier after the nuclear-powered aircraft carrier arrived in Guam on March 27 as the virus spread among the ship's crew of more than 4,800 sailors.
At the time that Crozier was fired April 2, more than 100 Roosevelt sailors had tested positive for the virus. As of Tuesday, 940 sailors have the coronavirus, 29 had recovered, and one sailor was hospitalized at a Navy hospital in Guam. One Roosevelt sailor died April 13 from complications of the virus.
On Wednesday, sailors began returning to the Roosevelt after weeks of quarantine in Guam. Sailors who repeatedly have tested negative for the virus are allowed back on the aircraft carrier, which has been cleaned, according to the Navy.
But defense officials have said the Navy's investigation concerns more than Crozier, and it examined communications between naval officers as well as the service's response efforts spanning multiple time zones and commands.
The initial investigation was ordered by former acting Navy Secretary Thomas Modly after he fired Crozier when a letter that the captain sent to Navy officials requesting assistance for the outbreak was leaked to the media.
Modly resigned days later after disparaging statements that he made to the crew of the Roosevelt about their former commander were leaked online.
The new Navy investigation "will build on the good work of the initial inquiry to provide a more fulsome understanding of the sequence of events, actions, and decisions of the chain of command surrounding the [coronavirus] outbreak aboard USS Theodore Roosevelt," McPherson said.
Kenney.Caitlin@stripes.com Twitter: @caitlinmkenney