VIDEO
Navy SEAL, to receive Medal of Honor Monday, tells his story
by
Corey Dickstein
February 26, 2016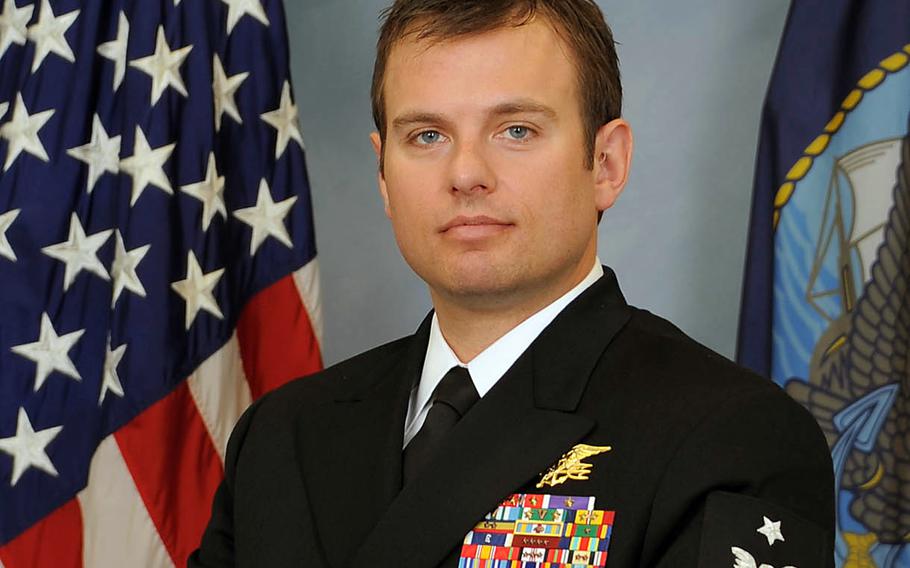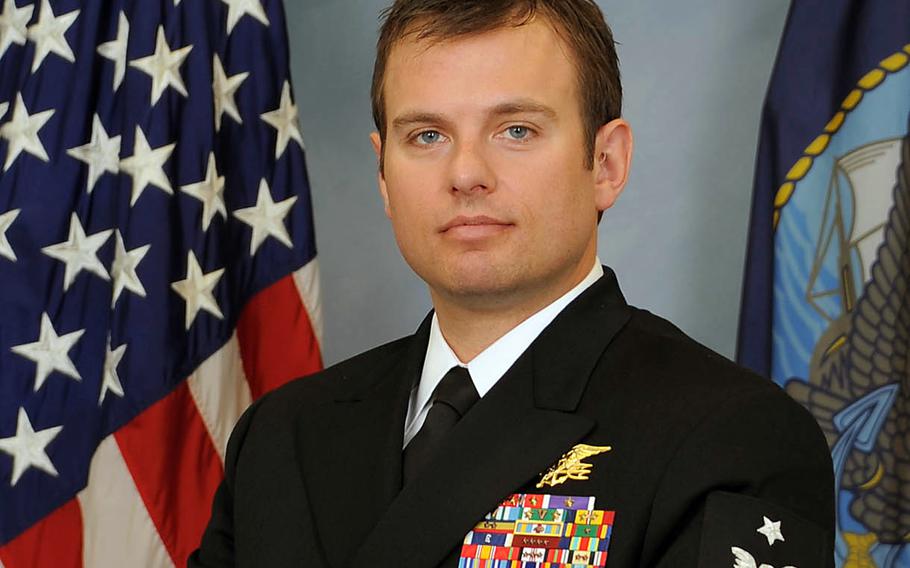 WASHINGTON – It was react or die.
That's how Navy SEAL Edward C. Byers Jr. described the night of Dec. 8, 2012, when his unit rescued Dr. Dilip Joseph from the Taliban deep in the remote mountains of eastern Afghanistan.
Byers was the second SEAL through the door of a tiny, one-room building where Joseph was held hostage. As bullets zipped across the room, Byers leaped on top the doctor, using his own body armor to shield the captive as his fellow SEALs exchanged gun fire with enemy fighters.
"Anyone who has been in combat knows that in those moments you either react or you get killed," Byers said in a Navy video released Friday.
As Byers protected Joseph, he spotted an AK-47-wielding Taliban guard just inches away. He continued to shield Joseph with his body as he grabbed the gunman by the throat, pinning him to a wall long enough for another SEAL to shoot him dead.
For his actions during that rescue in the Qarghah'i District of Laghman Province, President Barack Obama will present Byers, now a senior chief petty officer, with the Medal of Honor at the White House on Monday.
Byers, 36, learned in December that he would receive the nation's highest honor for military valor. Yet, he insists he's not a hero.
The heroes are his fellow SEALs, especially the ones killed in the line of duty, Byers said. That includes his good friend Petty Officer 1st Class Nicolas Checque, who was mortally wounded serving as the point man on that rescue mission in December 2012. The 28-year-old Checque was the first man through the door during the rescue of Joseph and was shot just after sprinting into the building where the doctor was being held.
"Nic embodied exactly what it is to be an American hero," Byers said in the video. "He will forever be remembered in the pages of history for the sacrifices that he made."
The mission
It was an especially cold night, Byers recalled.
The small team of the U.S. military's most elite special operators navigated difficult terrain, hiking more than four hours on a "no-fail mission" to retrieve Joseph, who along with two Afghans had been captured by the Taliban outside Kabul on Dec. 5. Joseph was in Afghanistan to establish medical facilities through Colorado-based nonprofit Morning Star Development.
"Success of the rescue operation relied upon surprise, speed, and aggressive action," states Byers' Medal of Honor citation. "Trading personal security for speed of action was inherent to the success of this rescue mission. Each assaulter in the rescue force volunteered for this operation with full appreciation for the risks they were to undertake."
Under the cover of night, the SEALs approached within about 75 feet of the structure where Joseph was being held. That's when an armed guard spotted the force. Checque sprinted forward, killing the guard and entering the compound. Byers was steps behind him.
Inside, Byers killed two armed Taliban fighters before identifying Joseph and shielding him from harm.
Once outside, Byers, a medic, turned his attention to Checque, spending the 40-minute flight back to Bagram Airfield trying to resuscitate his friend. But Checque was declared dead at the American base.
There is no doubt that Byers is deserving of the Medal of Honor, Navy officials have said.
"Senior Chief Ed Byers' actions on the battlefield reflect the highest ideals of our profession: bravery, selfless dedication to duty, and above all, the highest level of commitment to protect the lives of others and the freedom for which our nation stands," said Rear Admiral Brian Losey, Commander Naval Special Warfare. "We are humbled by Senior Chief Byers' incredible example of service, and are proud to call him teammate."
Joseph, who through an assistant declined an interview request from Stars and Stripes, issued a prepared statement that thanked Byers and the SEALs for saving him. Joseph was not expected to attend the ceremony Monday.
"I am extremely happy to hear that Senior Chief Byers is receiving the Medal of Honor. Byers and his team are examples of courage, bravery and heroism," Joseph said in the statement. "I am so grateful for their dedication for rescuing me as well as bringing security to the Afghan people and to those who desire to see peace and prosperity in this region. On behalf of my family and I, congratulations for this momentous achievement to Senior Chief Byers and the whole team."
The honoree
On Monday, Byers will become just the sixth Navy SEAL in history to be awarded the Medal of Honor. He'll be the 11th living American servicemember to receive the medal for actions in Afghanistan.
A native of Toledo, Ohio, Byers grew up in nearby Tontogany, a tiny, rural town where he would graduate from Otsego High School in 1997. About a year later, he enlisted in the Navy as a hospital corpsman, serving in Navy and Marine Corps units until he became a SEAL in 2003.
Byers is already a highly-decorated sailor. He served 11 overseas deployments including nine combat tours, fighting multiple times in Iraq and Afghanistan. He's been awarded the Bronze Star with "V" device for combat valor five times as well as two Purple Hearts and two Combat Action Ribbons.
While the Navy has not officially identified the unit that Byers serves with now, he has served in several East Coast-based special warfare teams. Various media reports have identified the unit that carried out the raid to save Joseph as the Navy's highly secretive and most elite outfit, SEAL Team 6.
Byers had long hoped to become a SEAL.
"To be a Navy SEAL means you have to be incredibly resilient," Byers said. "You have to be hardworking. They're the toughest men on the face of this planet. Any mission their given they will succeed at it, and ultimately they are our brothers who if they have to, they'll die for you."
Some people in Tontogany knew Byers was serving as a SEAL, but they were unaware of the type of missions he carried out. As word spread early this month he would receive the Medal of Honor, a buzz grew throughout his hometown and high school.
"It was total excitement," said Cheryl Jones, a health and physical education teacher at Otsego High who taught Byers as a freshman and sophomore. "It was spine-tingling. To think about the mission he went on – all the missions he's been on – the sacrifices he has made and the courage he's had on those missions. Wow. It is just amazing. Really amazing."
The school plans to honor Byers, Jones said. On Monday, all of the teachers at the about 500-student school plan to show the ceremony in their classes.
"We have been telling students about Eddie, that he was a student here," Jones said. "He walked these halls, and look what he's accomplished. We want our students to see that even people from right here can do amazing things with hard work and dedication."
Jones recalled Byers as a quiet kid. He did what he was asked to do and always did so with respect for his teachers, she said.
"What stuck out about him was that he was a really kind young man," his former teacher said. "He really, truly was a good kid, a great guy."
Byers said the Medal of Honor is an honor and humbling. Active Navy SEALs are rarely seen or heard from, but the award – the first Medal of Honor to a living SEAL since the Vietnam War -- has suddenly thrust Byers into the spotlight.
"I'm going to be a representative for the Navy and the Navy Special Warfare community, and there's a weight that that carries with it," Byers said. "And that weight is the sacrifices that everybody has made within this community. Guys like Nic Checque and all our other brothers who have fallen. It's an affirmation, once again, of the job that we do and an appreciation for the job that we do."
Byers plans to continue to work as a special operator as long as he can.
"I'm going to continue being a SEAL, and I'm going to take whatever job or mission is next for me and just continue doing that," he said. "… I still love what I do, and as long as I still love what I do I'm going to continue doing it."
dickstein.corey@stripes.com Twitter: @CDicksteinDC