Navy SEAL Eddie Gallagher seeks Trump pardon, family says
by
Corey Dickstein
November 1, 2019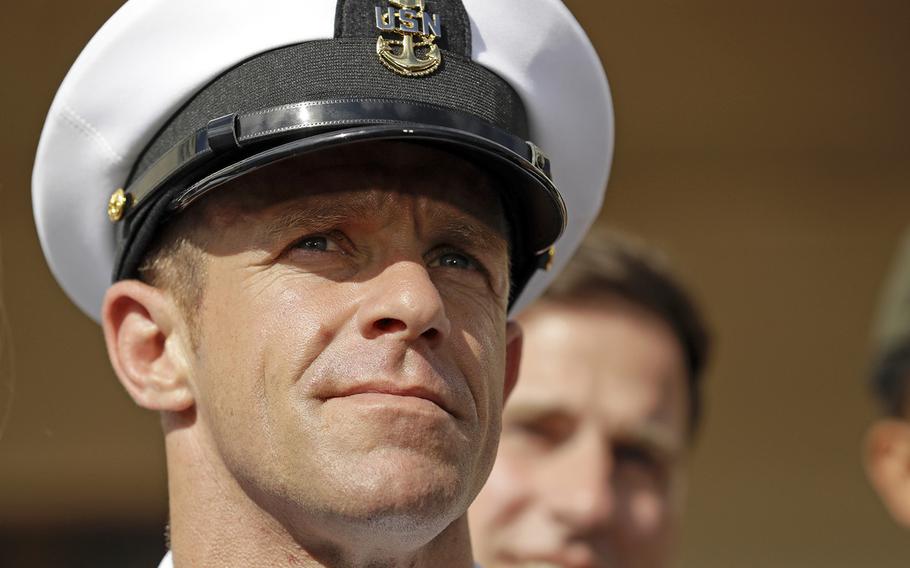 WASHINGTON — Family members of Navy SEAL Eddie Gallagher, who beat murder charges this year but was convicted of posing for a photograph with an enemy corpse, are asking President Donald Trump for a pardon, they wrote Thursday on social media.
"Our family is seeking congressional support for a presidential pardon for Eddie," read the post on the Free Eddie Gallagher page on Facebook, which has sought support and donations since Gallagher was arrested in September 2018 on war crimes accusations stemming from a 2017 deployment to Iraq. "Please call your congressional representative and ask them to sign onto our letter to the POTUS to #FREEEDDIE from this travesty of justice."
Gallagher was acquitted by a military jury at a court-martial in July of the most serious charges that he faced, including the murder of an Islamic State fighter in American custody and attempted murder of civilians. However, he was convicted of a single count of posing with the ISIS fighter's dead body. This week, the Navy announced Adm. Michael Gilday, the chief naval officer, upheld that conviction after reviewing the case. The admiral approved Gallagher's sentence, which included forfeiture of about $10,000 in pay, four months imprisonment and a reduction in rank from E-7 chief petty officer to E-6 petty officer first class. Gallagher did not spend time in prison after his conviction, having spent some six months in a Navy brig before his trial.
Navy prosecutors had argued Gallagher stabbed to death a 12-year-old ISIS fighter while deployed to northern Iraq with SEAL Team 7 in 2017 as part of Operation Inherent Resolve. They also charged the 19-year veteran had shot indiscriminately at civilians during the deployment and threatened fellow SEALs not to report his actions.
But the case faced many problems. Prosecutors were accused of using spyware embedded within emails sent to defense attorneys and a journalist in an attempt to track some of their online activity. The lead prosecutor on the case, Navy Cmdr. Christopher Czaplak, admitted to sending the bugged email in an attempt to detect sources of media leaks related to the case and was dismissed from the case by a judge.
Later, at Gallagher's court-martial, another SEAL, Petty Officer 1st Class Corey Scott, testified before the jury that he had actually killed the captive ISIS fighter, describing it as an act of mercy for the critically wounded preteen. Scott, who was a government-called witness in the case, had been granted immunity in exchange for testifying against Gallagher.
Gallagher, 40, and his supporters have long touted the innocence of the veteran of special operations assignments in Iraq and Afghanistan. Those supporters include Rep. Duncan Hunter, R-Calif., who previously pressed Trump for a pre-trial pardon. Hunter, an Iraq veteran who served in the Marine Corps, said publicly that he too had posed with the bodies of dead enemy fighters on the battlefield and argued it was common among American military veterans.
"A lot of us have done the exact same thing," Hunter said in May during a town hall event in California.
Trump was reported to have considered pardoning Gallagher – and other special operators accused of various war crimes – before his trial during the summer. Ultimately, the only pardon that Trump issued for a war crimes case went to Army 1st Lt. Michael Behenna in May. He was convicted in 2009 of the "unpremeditated murder" of a prisoner in Iraq a year earlier.
Nonetheless, Trump has long vocally supported Gallagher.
In March, the president tweeted he had ordered the Navy to move Gallagher from the brig where he was being held to "less restrictive confinement" until he went to trial in "honor of his past service to our country."
Within hours of the conclusion of Gallagher's court-martial, Trump tweeted his approval of the jury's decision to acquit him of most charges.
"Congratulations to Navy Seal Eddie Gallagher, his wonderful wife Andrea, and his entire family," Trump tweeted. "You have been through much together. Glad I could help!"
The White House did not immediately return an email Friday seeking comment on the Gallagher family's request to the president.
dickstein.corey@stripes.com Twitter: @CDicksteinDC