Navy's cuts aided promotion prospects, personnel chief says
---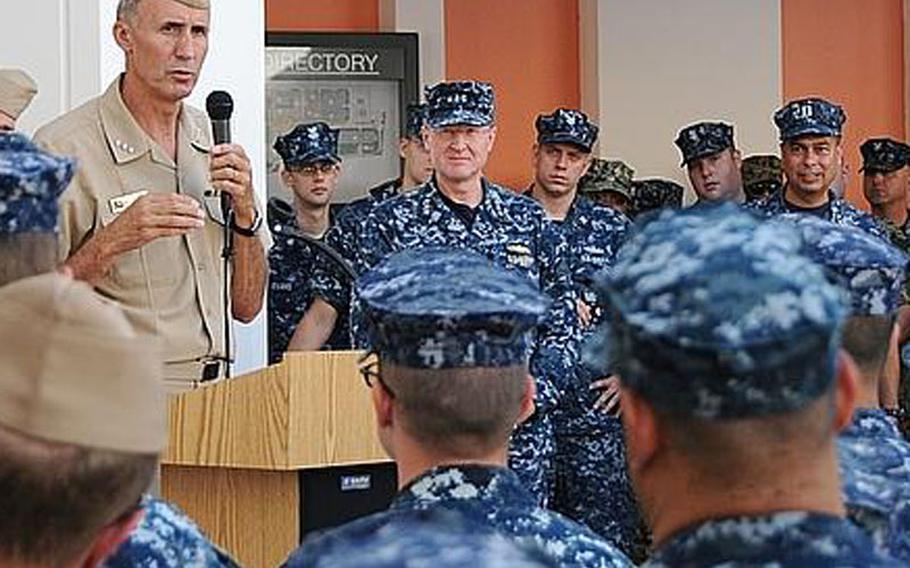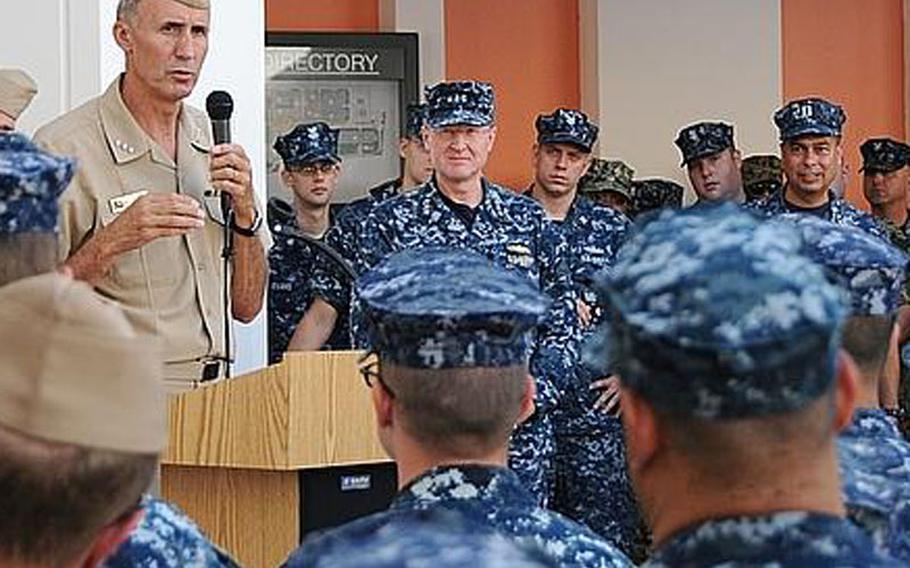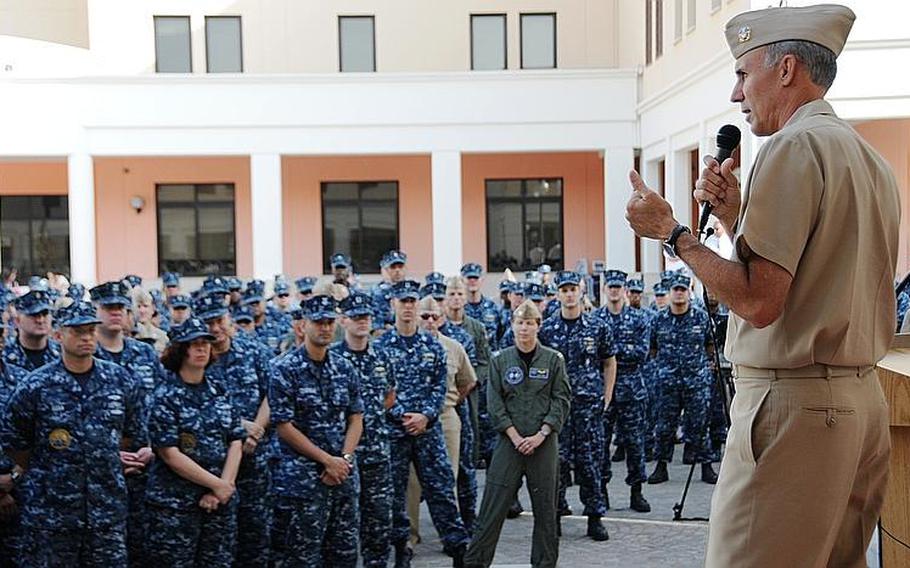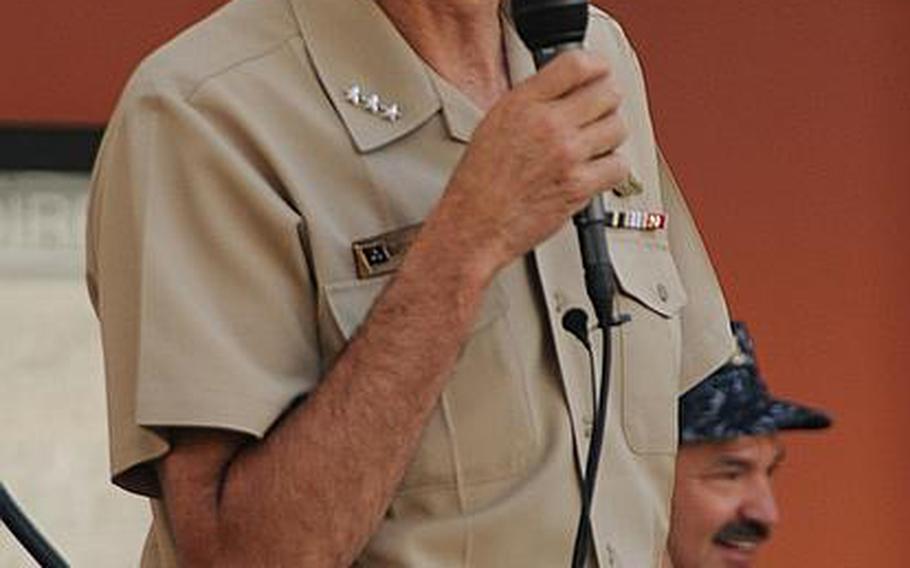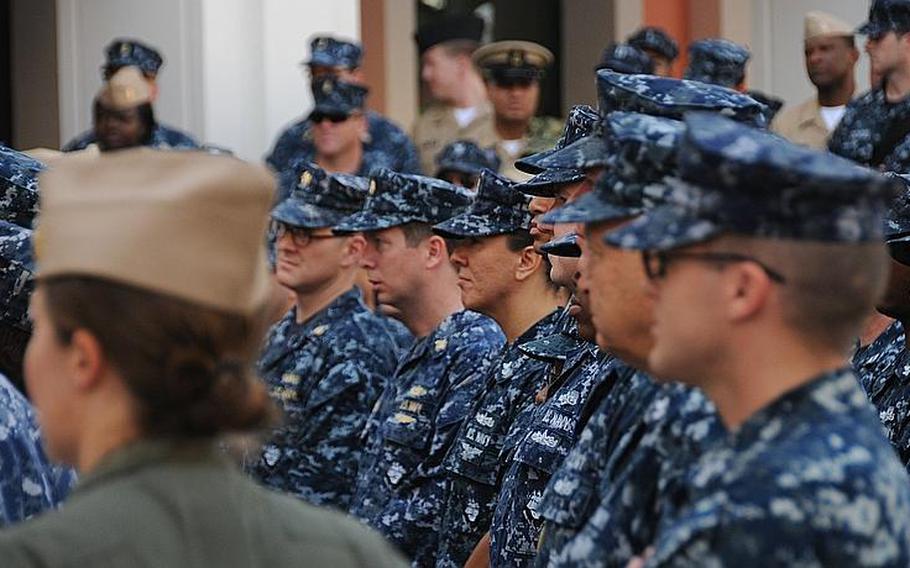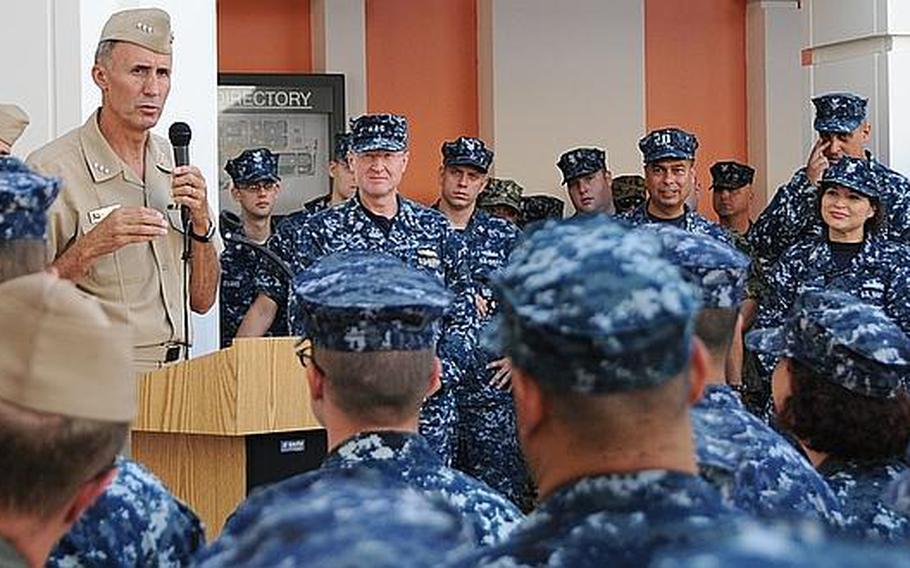 NAPLES, Italy — The Navy's process of involuntarily separating roughly 3,000 sailors in overmanned ratings has resulted in better prospects for advancement and might never need to be repeated, the chief of naval personnel told sailors in Naples on Thursday.
Meanwhile, the Navy is seeking incentives to encourage sailors on shore duty to fill critical technical jobs on ships that are under staffed, Vice Adm. Scott Van Buskirk said.
Van Buskirk said he recognized wounds still are fresh among sailors affected by the enlisted retention board, which involuntarily separated sailors in 31 jobs because of budgetary constraints and a record re-enlistment rate.
The decision to separate nearly 3,000 sailors "was not very palatable, not very popular and certainly for people who wanted to stay in our Navy, not a great situation," Van Buskirk told the nearly 200 sailors and civilians gathered. "The good news is, we're through that. We don't plan on doing an ERB for next year, the year after that, or the year after. Hopefully never again.
"Though difficult, the result is that the tool contributed to a much healthier advancement environment than in recent history," he said.
Van Buskirk also said some ships at sea face shortages of sailors with critical technical skills and he encouraged qualified sailors to step up to fill those jobs.
"We have some gaps at sea for some of the very senior technical ratings that are making it much more difficult for our ships at sea," Van Buskirk said.
Incentives being considered for those who fill the gaps include expanding the number of sea-duty jobs eligible to receive extra cash, he said.
In a subsequent interview with Stars and Stripes, Van Buskirk played down the significance of the number of firings of senior Navy personnel since the start of last year, saying holding leaders accountable is a matter of public trust.
"Is there a mass number? No. … But the ones you see reported [are] because of the behavior that they exhibited, poor choices that they've made in command, and so we're going to swiftly deal with that and make sure they're not in a position to influence other people that they're leading," he said.
Twelve Navy leaders have been relieved of command in 2012, and 22 were relieved last year.
"In terms of being transparent in how we deal with this creates a sensationalism of the situation," he said. "But at the same time, I think that it's important for our young men and women, and the public, to know we're holding the people accountable."
During the morning all-hands call, sailors asked Van Buskirk an array of personnel questions: One asked why jobs for the ships to be ported in Rota, Spain, have yet to be posted on the Navy's Web-based system that allows sailors to see and apply for jobs. The Navy plans to position four ships at Rota beginning in fiscal 2014 as part of a European missile defense plan. Since final plans have yet to be presented to Congress, the jobs can't be posted, Van Buskirk answered.
Another sailor sought an update on the individual augmentee program, set up to deploy sailors mostly to war zones to help the Army and Marine Corps. With combat missions in Iraq now over, and troops planning an exit from Afghanistan, the need has diminished, and the Navy is filling remaining slots with Reserve sailors instead of plucking from the active-duty force, Van Buskirk responded.
---
---
---
---