Navy report faults Essex crew for May collision
---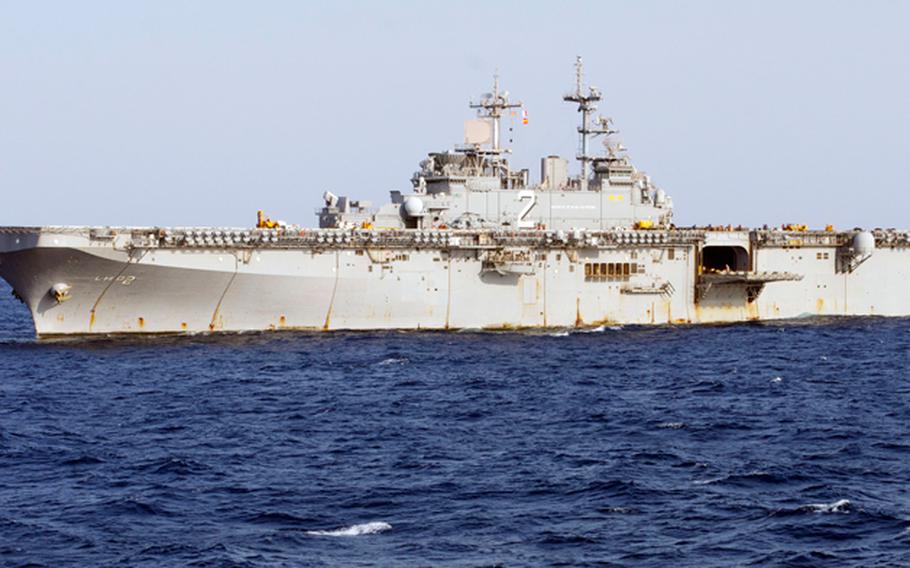 SASEBO NAVAL BASE, Japan — A Navy investigation says chaos on the USS Essex bridge contributed to a May 16 collision with a fleet replenishment oiler off the coast of Southern California and recommends administrative actions against four officers.
A report released this week said Capt. Chuck Litchfield and his crew avoided one collision at the bow after a steering malfunction brought the Essex dangerously close to the USNS Yukon that morning, but that they should have been able to avoid a stern crash.
But with orders coming from multiple people in multiple directions, the crew did not know who was saying what or whom to obey, the report said. Mistakes — like excessive left rudder — and orders to increase speed went unchecked and ignored in the confusion, resulting in the crash that caused an undisclosed amount of damage to both ships and cost Litchfield his job. No one was injured and no fuel was spilled.
"While a loss of steering casualty alongside another vessel is a precarious situation — in this case, recovery and avoidance of a collision was possible and probable," wrote Rear Adm. Gerard Hueber, commander of Expeditionary Strike Group 3. "The bridge watch team had nearly a minute to recover and, if the correct and timely maneuvering actions had been taken by the conning officer, officer of the deck and the commanding officer, this collision could have been avoided."
The report cast further dispersions upon Litchfield, saying the decorated helicopter test pilot did not give "clear and forceful" direction, and questioned whether an inexperienced watch team contributed to the accident.
It recommended administrative actions against the ship's executive officer, helm safety officer, conning officer and officer of the deck for the breakdown.
"The commanding officer is accountable for this incident," Hueber wrote. "His watch team made mistakes, but he was responsible, as the commanding officer, to notice and correct these mistakes. In order to do so, he had to take control of the situation and he did not."
At the same time, the report states similar steering malfunctions are not part of training due to simulator limitations. It was the crew's first at-sea replenishment aboard the Essex. Litchfield had performed four as commanding officer of the USS Bonhomme Richard and 10 as executive officer.
Litchfield was fired in June for his handling of the incident after Hueber said he lost confidence in his ability to command. The Essex, known as the Iron Gator, had just completed a hull swap with the USS Bonhomme Richard in April in Sasebo, Japan, where the ship had been for 12 years. It was heading to its new home in U.S. 3rd Fleet rotational forces in San Diego and was 120 miles off the California coast at the time of the accident. Both ships were able to continue on to San Diego under their own power.
The collision was the latest in a series of missteps for the Essex and U.S. Navy ships as their readiness is often called into question with deep budget cuts looming.
The 21-year-old Essex was responsible for extensive humanitarian assistance during its time in Sasebo, but its final years in the region were marred by maintenance issues and missed deployments, which were blamed on a high operational tempo, in addition to the death of a sailor that was attributed in part to non-functioning systems.
Litchfield was replaced by former commanding officer of the USS Bonhomme Richard, Capt. Jonathan Harnden, Jr. The Essex underwent repairs in San Diego and was able to participate in this year's Rim of the Pacific exercises.
---
---
---
---