Navy P-3 crew helps rescue Taiwanese fishermen
by
Erik Slavin
April 23, 2012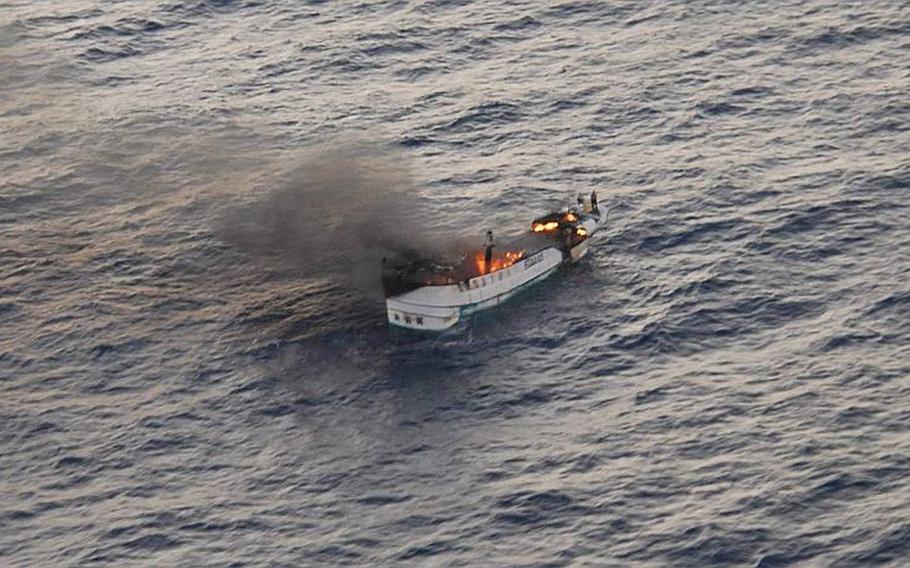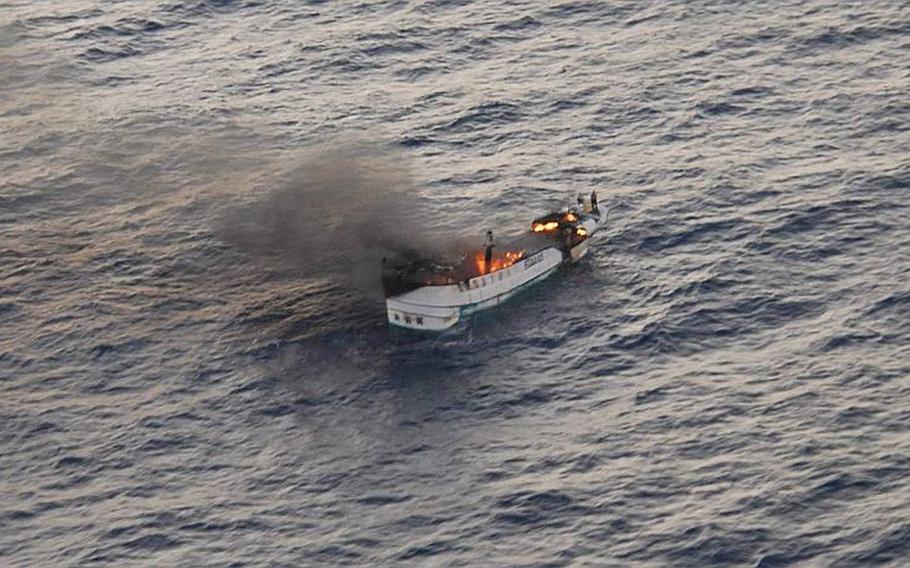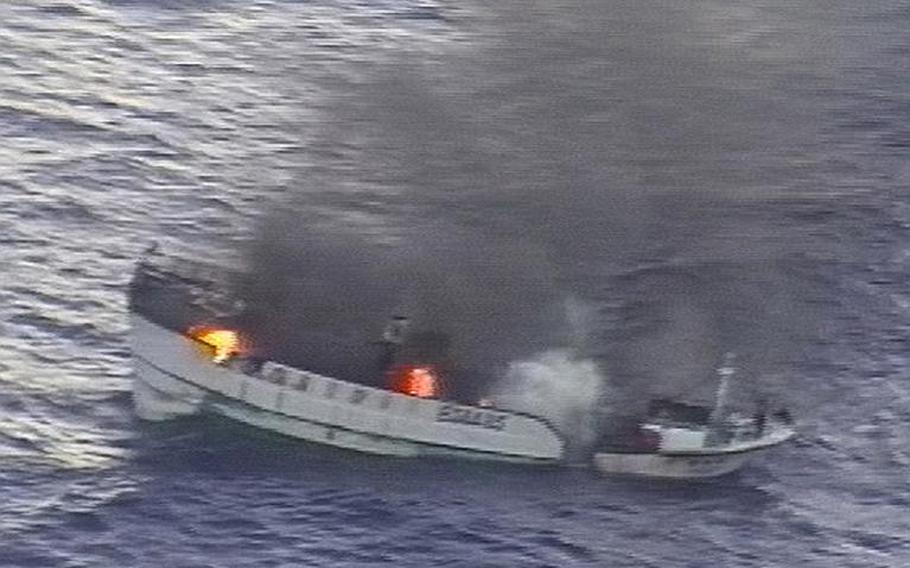 A Navy P-3 Orion air crew helped rescue nine Taiwanese fishermen after their ship burst into flames on Saturday, Navy officials said Monday.
The 11-person P-3 crew was flying over Western Pacific waters when it received a message at about 4:30 p.m. Saturday from U.S. Coast Guard Sector Guam, that a ship was on fire roughly 700 miles west of Guam. After pinpointing the ship's location, the crew of the anti-submarine and surveillance aircraft planned for a rescue.
The emergency beacon from the 70-foot Taiwanese vessel Shin Maan Chun began showing up on radar once the aircraft came within 100 miles, crew members said.
After a roughly two-hour flight, according to 7th Fleet officials, the aircraft's cameras spotted both the burning vessel and a nearby life raft carrying seven of the Shin Maan Chun's nine-man crew.
"I don't think they could see us at first, but once we got closer, you could see the excitement and the relief on their face," said Petty Officer 2nd Class Eric Benavidez, of Albuquerque, N.M., the flight's radar operator.
A few survivors began jumping and waving their shirts, while another began popping rescue flares, Benavidez said.
As the plane circled, it spotted two remaining crew members waving at them from the burning ship's bow. The aircraft dove to 300 feet and dropped two inflated life rafts in the water. One of the rafts dropped no more than 50 yards away from the burning ship, said mission commander Lt. Chris Swigart, of Greensburg, Pa.
To the crew's surprise, neither of the men jumped off the burning ship. It was unclear on Monday whether the men could not swim or were concerned about sharks.
Regardless, those men wouldn't be able to stay aboard the ship for long.
"When we first got on station, it was mostly heavy black smoke — the flames weren't that large," said tactical coordinator Lt. j.g. Matthew Zelinskas, of Dover, Del. "By the time those guys finally got rescued … the entire ship was on flames. It was a very hot fire."
Each of the fishermen was unharmed and last reported on their way toward Qingdao, China, aboard the Marshall Islands-flagged bulk carrier Semirio, 7th Fleet officials said Monday.
During the hour or so that the plane remained on scene, it stayed in contact with the 980-foot Semirio, which had been about 40 miles from the site when the Taiwanese crew radioed for help.
The Semirio is enrolled in a voluntary Coast Guard-sponsored ship reporting system that identifies nearby ships in case of an emergency. The Semirio arrived on scene, deployed a lifeboat and brought it close enough to the burning ship to rescue the final two fishermen.
"It's something we had no plan on doing when we took off," said Lt. j.g. Ryan McFeely, a pilot from San Jose, Calif. "But based on how it ended, it was a very rewarding mission."
The aircraft then left the site, and was awaiting its next mission at Kadena Air Base in Okinawa on Monday. The crew is normally based out of Naval Air Station Whidbey Island, Wash., but currently deployed to Misawa Air Base, Japan.
It was a particularly satisfying mission for Swigart, who said he had participated in two other search missions previously, but had never seen all victims rescued alive.
"We were pretty relieved when we had a full head count at the end," Swigart said.
---
---
---
---