GALLERY
Navy debuts unmanned robotic boats with new swarm capability
by
Jon Harper
October 6, 2014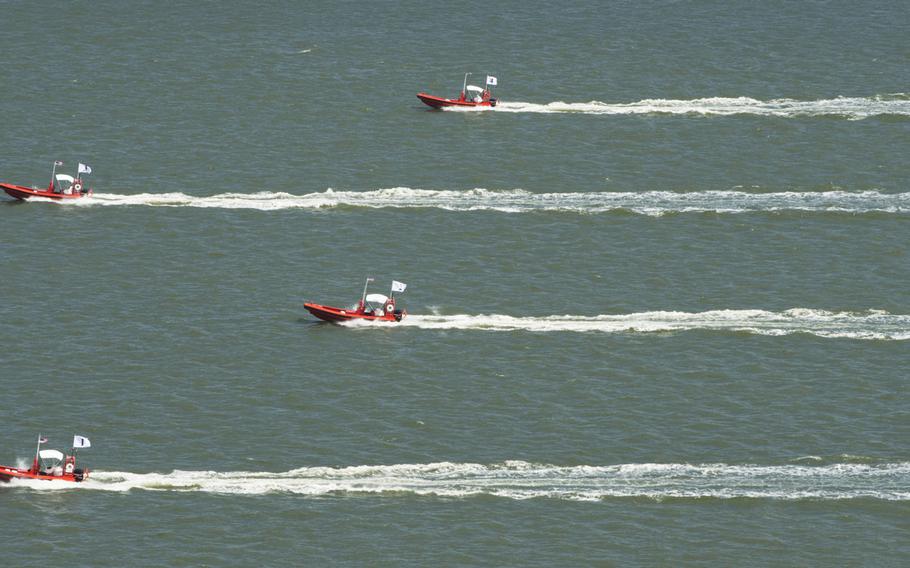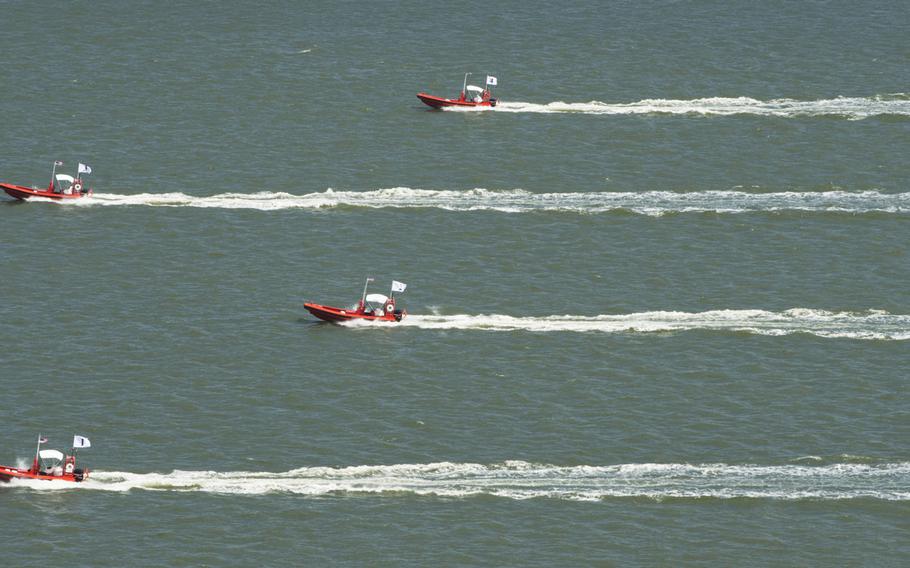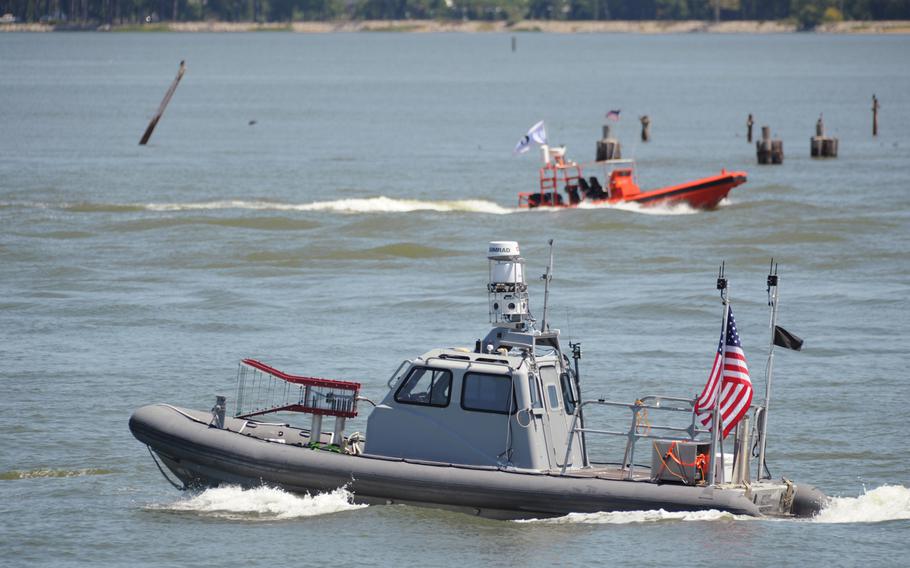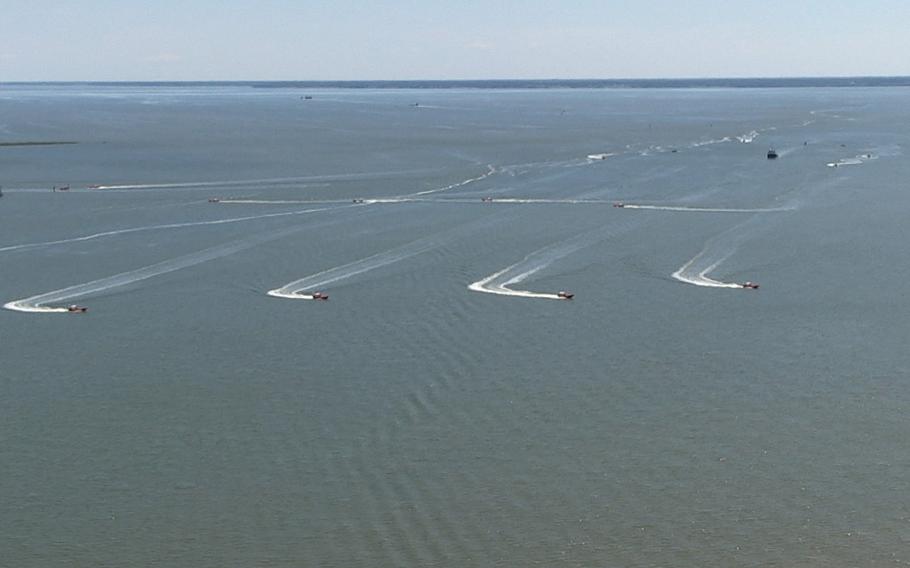 WASHINGTON — Two months ago, the Navy launched a fleet of "swarm boats" against a simulated enemy target – with no sailors on board.
The successful demonstration of unmanned boats offers a view how the Navy could fight in the decades ahead, and could be fielded by next year.
The August exercise simulated the transit of a large Navy vessel through a strait. The mission of the swarm boats was to protect the high-value ship as it navigated the narrow waters.
During the demonstration, a manned aircraft flying over the river identified a vessel that posed a threat to the capital ship and sent a signal to 13 swarm boats below.
The boats sensed their environment, planned their routes and maneuvered — without the assistance of a human operator — toward the danger in a synchronized fashion without hitting any of the dozens of ships and obstacles on the river.
The boats' paths were determined by sensors.
"Each boat was sharing situational awareness information and ... seeing a fused picture of the other vessel traffic on the river. ... They were working as a team," Robert Brizzolara, program manager at the Office of Naval Research, told reporters at the Pentagon last week.
Once the swarm boats got close to the target, they blocked the path between the enemy and the American ship.
"We were able to take our unmanned surface vessels, leave the ... high-value unit, engage the threat, encircle the threat, set up a barrier and then allow that HVU to proceed on safely," Rear Adm. Matthew Klunder, the chief of naval research, said.
In this case, the enemy was a single ship that remained stationary during the exercise, but Klunder said the swarm boats have the capability to thwart multiple moving vessels. Klunder envisions using up to 20 swarm boats at a time in tactical situations.
During the test, the swarm boats didn't attack the enemy vessel because the purpose was to prove the complex maneuvering technology. But the boats are capable of employing lethal and nonlethal capabilities to deal with threats, Klunder said.
Lethal tools include .50-caliber machine guns and microwave-directed energy weapons. Nonlethal capabilities include the use of overwhelming noise and lights that could debilitate operators of enemy ships.
The autonomous maneuvering was made possible by a device that looks like a small silver box. The technology, which the Office of Naval Research calls Control Architecture for Robotic Agent Command and Sensing, or CARACaS, can be installed on almost any boat. Klunder said it could potentially be put on larger ships, including destroyers.
The transportable kit that houses CARACaS is relatively cheap, costing thousands of dollars instead of millions, Klunder said.
"We're not going out and buying new patrol craft," he noted.
CARACaS' advanced software and sensors, which Klunder calls "the secret sauce," is what gives the device such high-tech capabilities.
"The excitement about this technology is it is autonomous," he said.
However, the employment of CARACaS-equipped ships would be similar to drones in that a decision to use lethal force would be made by people, not machines.
"We have every intention to … destroy [the enemy] if necessary, but always with a human in the loop," Klunder said.
He said he expects CARACaS to be fielded within a year. "This train is moving really fast," he said.
The futureThe successful demonstration of the swarm boat concept has significant operational, technological, manpower and moral implications for the Navy in the coming years and decades.
The advent of unmanned naval systems means that fewer sailors will be needed to accomplish some missions. Instead of using three or four sailors to man human-piloted smarm boats — as the Navy does now — the operations of the autonomous vessels could be overseen remotely by one sailor. The lower manpower requirements means more patrol boats can be put in the water to combat threats, according to Klunder.
"That is the future," he said.
Using autonomous vessels also enhances the safety of sailors.
"By using unmanned systems, you take humans potentially out of harm's way," Samuel Brannen, an unmanned systems expert with the Center for Strategic and International Studies, told Stars and Stripes.
Brannen said swarm boats could be used if Iran deployed small vessels to wage asymmetric warfare against U.S. Navy ships in the Persian Gulf or Strait of Hormuz. "That's been a nightmare scenario for the Navy for some time," he said.
Klunder said a key motivation for creating CARACaS was to prevent terrorist attacks similar to the USS Cole bombing on Oct. 12, 2000, in which al-Qaida operatives used a small boat filled with explosives to kill 17 U.S. sailors and injure 39 others off the coast of Yemen.
"If we had … this capability there on that day, I'm sure we would have saved that ship," he said. "We don't want to see that ever happen again."
Navy officials and outside experts see the CARACaS technology being used for a variety of military and civilian tasks, including minesweeping, anti-submarine warfare, supporting special operations and port security.
"Swarm can be thought of as just one example of a behavior of this team of unmanned surface vehicles. The important point is CARACaS is flexible enough that we can use it to accomplish a number of different behaviors," Brizzolara said. "Swarm is just one example of a behavior."
Unmanned systems also have budgetary implications. At a time when the Pentagon is facing fiscal constraints and ballooning personnel costs, reducing manpower requirements through the use of new technology could free up money to be used elsewhere.
"When you think of what a sailor costs … for a variety of tasks it might make more sense to invest in autonomous systems," Brannen said.
The CARACaS technology could move beyond the surface fleet as the Navy contemplates an emerging operational concept: multidomain robotic warfare.
In the future, Klunder said, the Navy will have unmanned surface ships, submarines and aircraft patrolling the seas. Experts said the next step is to link them up.
"The next generation of this is … you blend together different unmanned systems so it's not your unmanned surface vessels acting cooperatively, but it's them acting cooperatively with a larger family of unmanned systems," according to Peter Singer, a technology expert and futurist at the New America Foundation.
Swarm boats, which can be armed, illustrate a moral dilemma that has emerged with advances in autonomous systems: Should they be allowed to decide when to pull the trigger and kill people?
"We still believe that there should be a human that makes that decision," Klunder said.
Some experts say views on that subject could change. If technology advances at the rate it has been, "it's going to be more and more tempting to think about scenarios" in which it would be advantageous to take unmanned systems off the leash, Brannen said.
Despite the advances, Singer believes powerful elements in the Navy may spoil the hopes of those who see a brave new world for unmanned systems in coming years.
"The choppy waters ahead are more organizational, bureaucratic, cultural, essentially people questions than they are technologic questions," he said.
He believes there are "tribes" and bureaucratic interests in the service who haven't fully embraced unmanned technology and are still wedded to manned systems that don't have as much potential. Recent Navy budgets reveal that autonomous systems aren't as much of a priority as they should be, according to Singer.
"The real key is do they make it past the valley of death" when programmatic decisions are made, he said.
harper.jon@stripes.com Twitter: @JHarperStripes