Marine pilot killed in jet crash in California
by
Tara Copp
July 29, 2016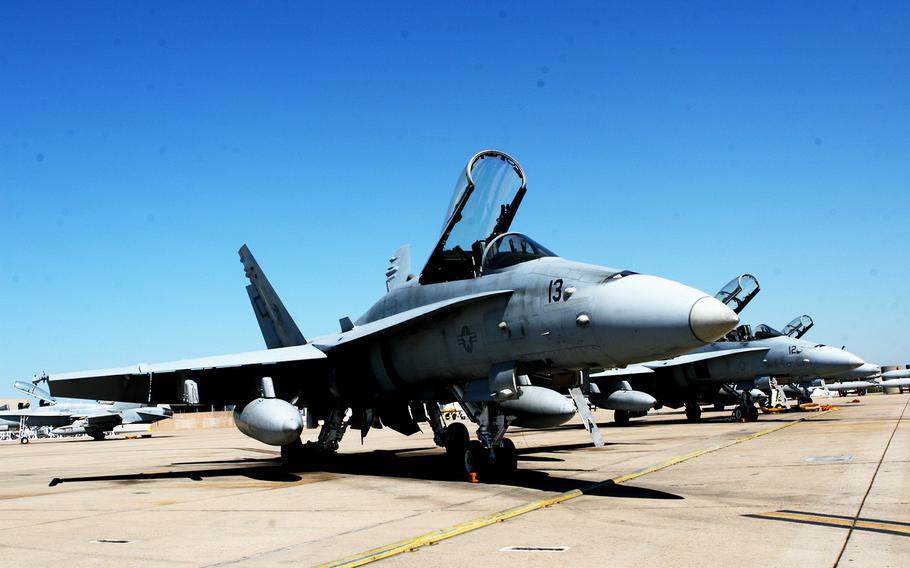 WASHINGTON — A Marine Corps pilot was killed late Thursday when his fighter jet crashed near Twentynine Palms in California during a training mission, the Marines said Friday.
The pilot, who was flying a F/A-18C Hornet, was part of the Third Marine Aircraft Wing, which is based out of Marine Corps Air Station Miramar. The fatal crash occurred at about 10:30 p.m.
Lt. Gen. Jon Davis, Marine Corps deputy commandant for aviation, said Friday that the crash was still under investigation. The name of the pilot was not released, pending the notification of next of kin.
This is the third F/A-18 crash since May. A fatal crash in June of a Hornet during a Blue Angels practice flight killed Marine Capt. Jeff Kuss and two upgraded "Super Hornet" variants of the F/A-18 collided in May during a training mission off the coast of North Carolina. In January, another night training flight off the coast of Hawaii killed 12 Marines when their two CH-53E helicopters collided.
The crashes follow a deadly year in 2015 for Marine Corps aviation when 30 pilots and their crews were killed. Almost all the deaths, including the January helicopter crash, involved non-deployed units logging flight training hours.
The crashes have called into question whether the military's non-deployed pilots are getting the number of training hours needed to fly their aircraft safely.
According to the Marines' standards, pilots should have 16.5 hours of flight training each month. Davis, the Marine's top aviation official, said the service has fallen short of this. He said the pace of operations and the service's efforts to meet deployment requirements has eroded the number of jets ready for training flights.
Davis, who was speaking at a conference on Marine Corps readiness in Washington, said the low point for F-18 training hours was last summer, about 8.8 hours monthly for each pilot.
"Not acceptable…" Davis said. "I'm not happy or satisfied with the number of flight hours we've got right now."
Earlier this month, retired Navy Cmdr. Chris Harmer, who flew SH-60F Sea Hawks and is now a senior analyst at the think tank Institute for the Study of War, told Stars and Stripes that any pilot getting fewer than 10 hours of training each month was "a danger to themselves and their fellow Marines."
"If you are flying just 7 to 11 hours per month you are not only completely non-proficient in combat, you are dangerously lacking in basic airmanship – takeoffs, navigation and landings," Harmer said, following Davis's testimony to Congress July 8 on how the lack of flight hours could have long-term impact on the service.
Last year, non-deploying Marine pilots on average were getting only six to nine hours of flight training each month, Davis told the House Armed Services Committee's subcommittee on readiness. Since Congress added funds to help address the readiness problem, hours of training have increased to average seven to 11 hours per month, Davis said.
"We don't let units fly that are unsafe," he said. "We are not unsafe, but we are not as proficient as we should be."
copp.tara@stripes.com Twitter:@TaraCopp
---
---
---