Mabus orders inspections for risque materials
by
Erik Slavin slavin.erik@stripes.com
June 13, 2013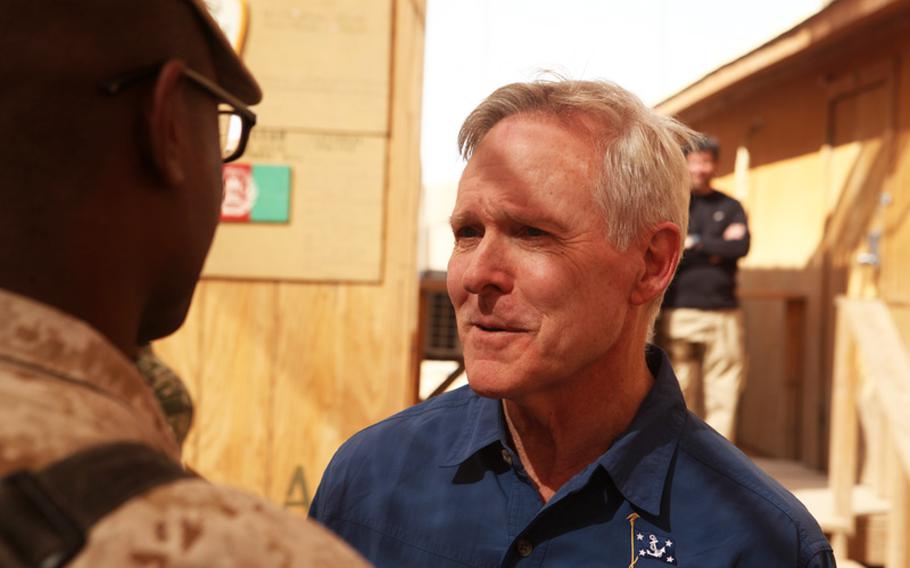 YOKOSUKA NAVAL BASE, Japan — The Department of the Navy's top civilian has ordered commanders to remove risqué pictures and other potentially offensive items from public areas, including places like hangar tool sheds and ship bathrooms.
In a message Thursday to the Navy and Marine Corps, Secretary of the Navy Ray Mabus ordered a "comprehensive visual inspection of all [Department of the Navy] workplaces to ensure they are free from materials that create a degrading, hostile or offensive work environment."
In recent weeks, the military has received intensive scrutiny from Congress and the public over its record on sexual harassment and sexual assault prevention.
Commanders have always had the discretion to inspect workplaces and barracks. The impact of the new order lies in the specificity of the areas to be inspected, and the requirement that commanders catalog every picture, calendar or other item deemed offensive into electronic spreadsheets by June 28.
The spreadsheets must include a description and quantity of offensive material, where it was found and how it was removed. The inspection can't be delegated to anyone in a lower rank than a Navy chief petty officer, a Marine gunnery sergeant or a civilian equivalent, according to the message.
Mabus has ordered the undersecretary of the Navy, chief of naval operations and the commandant of the Marine Corps to submit results of the inspection to the Navy's Sexual Assault Prevention and Response Office by July 12.
The order gives military and civilian supervisors wide latitude to remove "what a reasonable person would consider degrading or offensive."
"If there is doubt as to whether material is degrading or offensive, the individual conducting the inspection shall remove the material from the workplace to ensure a professional work environment," according to the message.
Computers with screensavers in public areas will be included. Otherwise, computers and other electronic devices aren't part of the inspection. Private quarters, desk drawers and lockers also won't be included, although commons areas in living areas will be, according to Mabus' message.
Although government-issued electronics are excluded from the inspection, they are generally subject to search at any given time, according to the message.
---
---
---
---