Littoral Combat Ship ready for first overseas deployment
---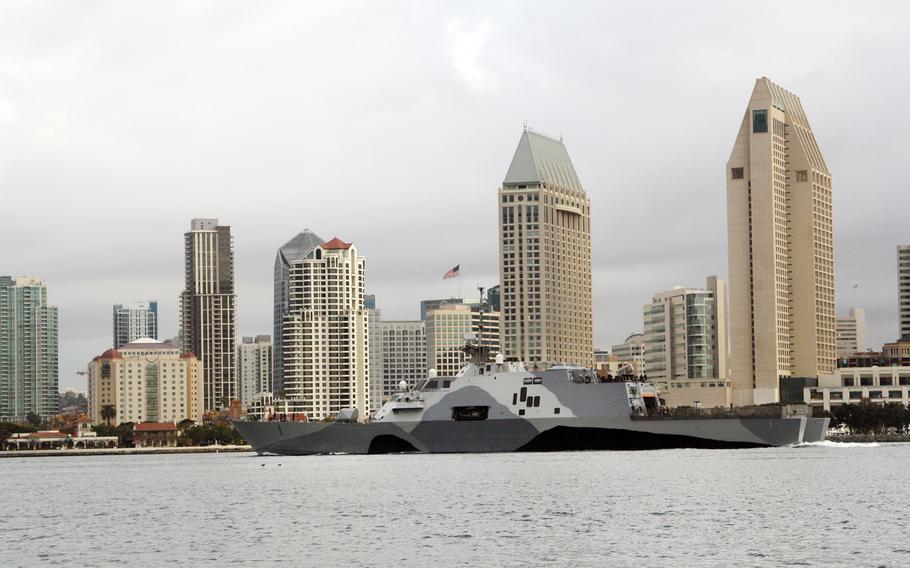 SASEBO NAVAL BASE, Japan — The Navy's USS Freedom will set sail for Singapore on March 1, the inaugural overseas trip for the beleaguered Littoral Combat Ship program.
During its eight-month deployment, the Freedom will conduct maritime security operations as well as participate in international exhibitions and exercises, according to a Navy announcement last week.
"USS Freedom is ready for her deployment," said Naval Surface Force spokesman Lt. Rick Chernitzer said in January. "This deployment will not only put USS Freedom through her paces in an operational environment, but will also allow the Navy to see which areas are strong and which areas require improvement.
"We expect to find challenges during this deployment, but we are confident that those challenges can be met and valuable lessons learned," Chernitzer said. "These lessons learned will improve future LCS deployments."
The Littoral Combat Ship program has been plagued by structural deficiencies and cost overruns since its inception. Setbacks to the first two ships built — the Freedom and USS Independence — included hull cracks, corrosion and system failures.
In a 2011 report, the Pentagon said the ships would be unable to fend off attacks if the problems weren't fixed.
The combat ships have a shallow draft so they can operate where bigger ships cannot. They are fast, can be constructed quickly, and can be fitted with different mission modules such as surface warfare, mine sweeping and anti-submarine warfare, depending on the mission.
The Freedom will be fitted with a surface-warfare mission package and maritime-security module, Chernitzer said. The deployment will demonstrate the ship's capabilities and allow the LCS Council — a working group established in August by chief of naval operations Adm. Jonathan Greenert — to evaluate crew rotation and maintenance plans.
"LCS is an affordable, vital and complementary component of the surface fleet," Chernitzer said. "LCS' inherent capabilities and suitability to conduct lower-end missions will free up our more expensive, multi-mission cruisers and destroyers to conduct higher-end missions. LCS is designed to defeat threats in coastal waters where increasingly capable submarines, mines and swarming small craft operate."
By the end of 2021, the Navy expects to have 24 littoral ships under contract, with 16 of those assigned to the Pacific Fleet, Chernitzer said.
---
---
---
---