Essex replacement suffers boiler breakdown en route to Sasebo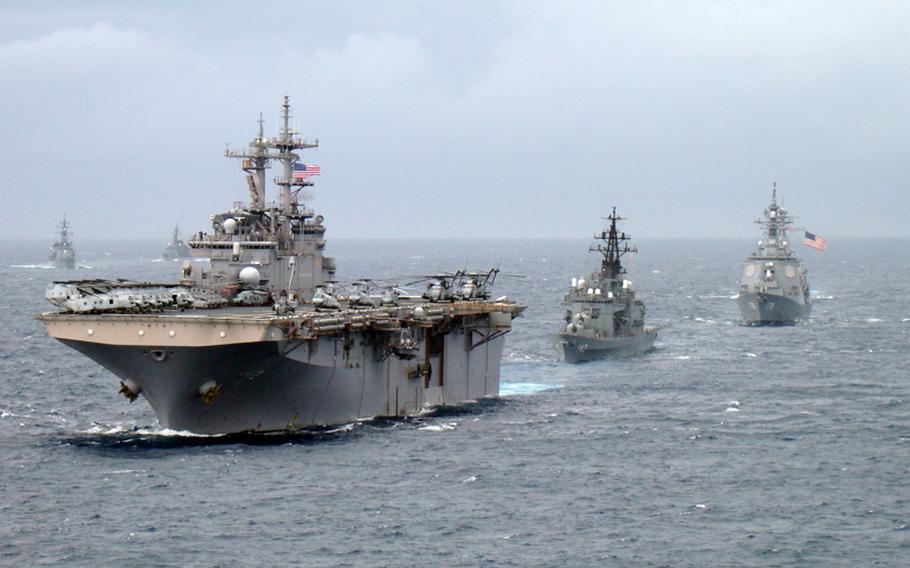 SASEBO NAVAL BASE, Japan — The ship tasked with replacing the oft-ailing USS Essex stopped in Okinawa for repairs last week after experiencing some problems of its own, Navy officials confirmed Tuesday.
The USS Bonhomme Richard, a Wasp-class amphibious assault ship that had a starring role in the recent Navy SEAL film "Act of Valor," left its homeport of San Diego last month en route to its new home at Sasebo Naval Base.
The ship underwent a series of costly upgrades prior to making the journey, a ship's spokesman had said previously, including structural, network, and stability controls for rough seas.
"USS Bonhomme Richard completed necessary boiler repairs (on Okinawa) satisfactorily," said Task Force 76 spokesman Lt. Colby Drake in an email to Stars and Stripes. The ship got back underway Monday, Drake said.
Due to a high operational tempo, the Essex often missed routine maintenance, Navy officials have said, and it was unready for two major exercise commitments in a seven-month span. The ship will be reassigned to U.S. 3rd Fleet rotational forces in San Diego next month.
The Essex is not alone in its troubles. More than one-fifth of Navy ships fell short of combat readiness in the past two years, and fewer than half of the service's deployed combat aircraft are ready for their missions at any given time, according to congressional testimony. This has alarmed sailors and politicians alike with China's rise and deep defense cuts planned over the next decade.
---
---
---