Crew members from Virginia-based dock landing ship test positive for coronavirus
by
Wyatt Olson
June 3, 2020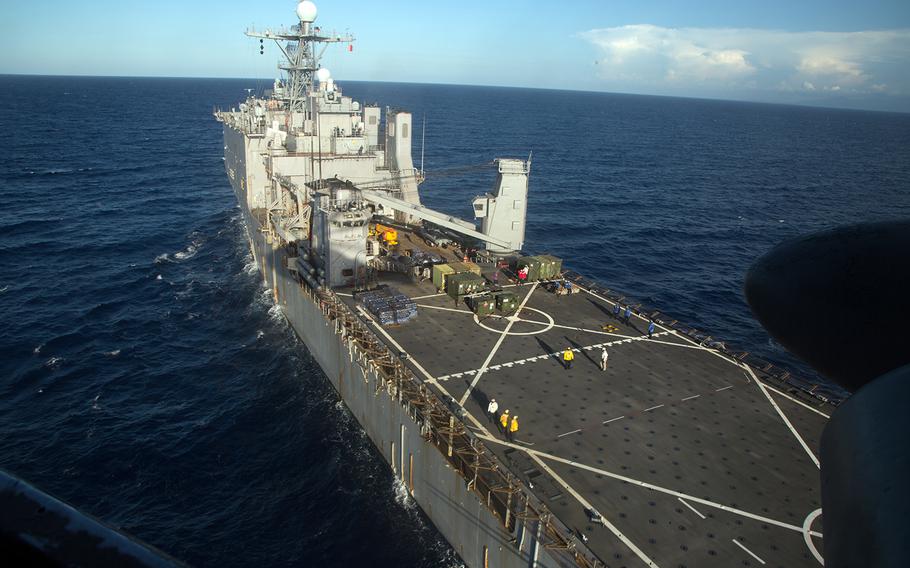 Stars and Stripes is making stories on the coronavirus pandemic available free of charge. See other free reports here. Sign up for our daily coronavirus newsletter here. Please support our journalism with a subscription.
Some crew members from the dock landing ship USS Carter Hall have been in isolation since late last month after testing positive for the coronavirus.
"From my understanding, they're all doing well, some minorly symptomatic," Navy spokesperson Lt. Cmdr. Amelia Umayam said Tuesday.
She declined to specify the exact number of crew members who tested positive on May 23, citing Defense Department policy restricting disclosure.
The ship is docked at Joint Expeditionary Port Little Creek-Fort Story, Va. The 610-foot-long ship is used to transport and launch amphibious craft during an assault or for delivery of humanitarian assistance during natural disasters.
The infected crew members were discovered in the course of shipwide testing being done in preparation for hurricane season, Umayam said.
"Traditionally, as we enter hurricane season between June and November here on the East Coast, we identify an East Coast amphibious ship to be ready should something occur and we have to provide an asset for various type situations," she said. "That's essentially the reason why the Carter Hall crew was tested, and that's how the positive test results came about."
The Navy did not publicize the discovery of the coronavirus aboard the Carter Hall, which was first reported Monday by the Navy Times.
The Navy reported 816 active COVID-19 cases among all its active-duty personnel as of Tuesday, with two hospitalized. One sailor who had been assigned to the aircraft carrier USS Theodore Roosevelt died in April in Guam.
Two other Navy ships have had publicly known outbreaks of COVID-19, the disease caused by the virus.
The Roosevelt spent two months in port in Guam dealing with the contagion before returning to sea May 20. It completed carrier qualifications Tuesday.
The guided missile destroyer USS Kidd has been docked in San Diego since April 28 after an outbreak of COVID-19 infected at least 80 of the ship's 330 crew members. The Navy has not disclosed the current number of Kidd crew members who have tested positive.
A fighter squadron of more than 100 members was pulled from the carrier USS Gerald R. Ford just as it was poised to get underway late last month after one of them tested positive for the virus.
olson.wyatt@stripes.com Twitter: @WyattWOlson