Cowpens commander sacked for adulterous affair, report shows
---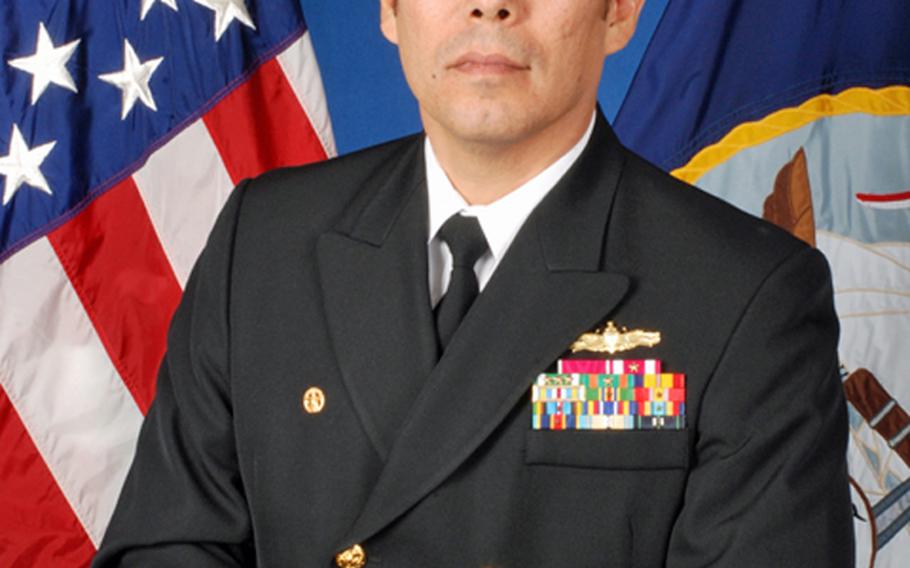 YOKOSUKA NAVAL BASE, Japan – The former commander of the destroyer USS Cowpens was fired earlier this year for having an adulterous affair, according to a Navy investigation report.
Capt. Robert Marin, who was removed from command in February, participated in "an unduly intimate affair" between June 2011 and January 2012 with the female director of a Yokosuka base organization, according to the report. The woman's name and organization were redacted from the report, which was obtained from Carrier Strike Group Five following an information request.
"In light of the numerous Commanding Officers who have lost their jobs because of impropriety, he couldn't help but know and understand the potential for disgrace and loss of his job when he pursued and entered into the adulterous relationship," the report stated.
The woman's husband, who also held an unnamed position at Yokosuka, discovered the affair in December and later reported it.
Marin confessed the affair to investigators one day after first meeting with them and apologized for his actions in a written statement.
"I did legitimately care for (the woman) and attempted to be discreet when interacting with her but fully recognize that this does not excuse my poor judgment," Marin wrote, according to an enclosure in the report. "I deeply regret my actions and their impact on my wife and the (redacted) as well as the potential impact on the Navy and the Sailors I have been privileged to lead."
Marin could have been charged with adultery under the Uniform Code of Military Justice. He was also suspected of conduct unbecoming an officer and gentleman, and failure to obey a lawful order, according to the report.
Marin received nonjudicial punishment in lieu of court-martial at an admiral's mast proceeding in February, Navy officials said Monday.
Officers removed from command in recent years for personal misconduct have generally received nonjudicial punishments or simply been relieved prior to being discharged.
No evidence was found of predatorial or deviant conduct, the report stated.
Instead, the investigator characterizes Marin as "swept up in his own emotions and romantic notions," and the woman as "a victim of her own emotional vulnerability and state."
"In common vernacular, a mid-life crisis comes to mind," the investigator stated as an opinion. "It appears to be a case of two people 'falling in love' with visions of a future marriage.
"They acted like two teenagers with new found romance that their parents would disapprove, rather than responsible adults with families involved," the report stated.
Marin was transferred to Commander Naval Forces Japan in February following his removal. He has since been transferred to Naval Air Facility Washington, D.C., a Commander Task Force-70 spokesman said Monday.
Marin assumed command of USS Cowpens in January 2010, following the removal of Capt. Holly Graf. Graf was removed after an inspector general report substantiated ethical breaches, dereliction of duty, assault of her crew and other misdeeds.
---
---
---
---