Chinese destroyer almost hits US Navy ship in South China Sea
by
Wyatt Olson
October 1, 2018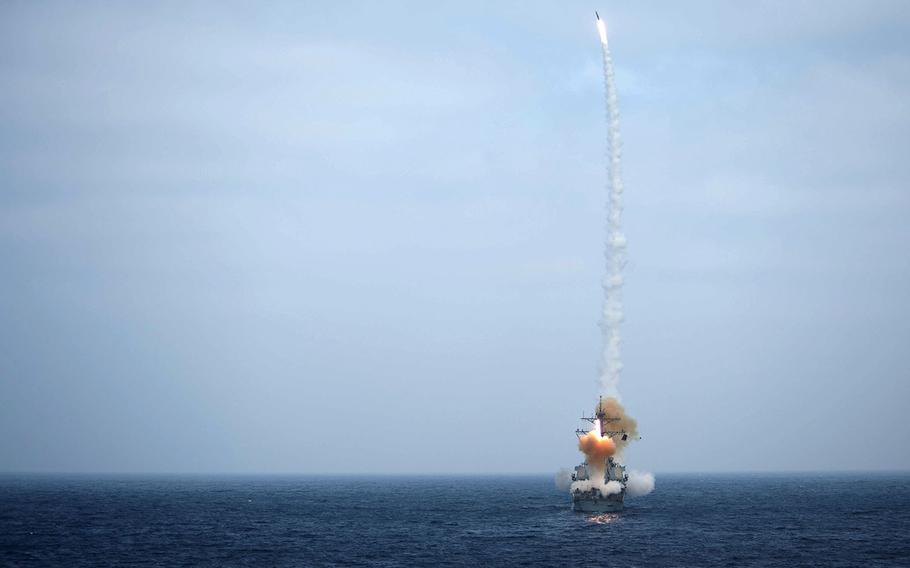 FORT SHAFTER, Hawaii — A Chinese destroyer veered within 45 yards of a U.S. Navy ship Sunday in "an unsafe and unprofessional maneuver" in the Spratly Islands in the South China Sea, the Navy said.
The Arleigh Burke-class destroyer USS Decatur was conducting a routine freedom-of-navigation patrol about 8:30 a.m. near Gaven Reefs when the People's Republic of China destroyer Luyang approached the ship.
"The PRC destroyer conducted a series of increasingly aggressive maneuvers accompanied by warnings for [the] Decatur to depart the area," Lt. Cmdr. Tim Gordon, a spokesman for U.S. Pacific Fleet, said in a statement. "The PRC destroyer approached within 45 yards of [the] Decatur's bow, after which [the] Decatur maneuvered to prevent a collision."
In a 2016 ruling, the tribunal of the Permanent Court of Arbitration — an intergovernmental organization that resolves international disputes including territorial and maritime boundaries — concluded Gaven Reefs did not possess significant land features and thus lacked an exclusive economic zone, as China had claimed.
Nevertheless, China expanded some land features in the reefs through sand dredging in 2014 and 2015 and then militarized the reefs with anti-aircraft and naval guns and radars.
China frequently challenges U.S. ships and aircraft passing through parts of the South China Sea, sometimes with radio warnings, but at other times by using harassing maneuvers.
"U.S. Navy ships and aircraft operate throughout the Indo-Pacific routinely, including in the South China Sea," Gordon said. "As we have for decades, our forces will continue to fly, sail and operate anywhere international law allows."
Military tensions between the U.S. and China have ratcheted up in recent weeks for a number of reasons.
China has demanded the U.S. cancel its sale to Taiwan of $330 million in parts for U.S.-made F-16 fighters and other military aircraft used by the island nation, which mainland China regards as a renegade province.
The U.S. also recently put into place sanctions on China's Equipment Development Department, as well as its director, because of aircraft and missile purchases it made this year from a Russian arms exporter.
The U.S. had placed sanctions in 2017 on that exporter, Rosoboronexport, in response to Russia's interference in America's 2016 presidential election.
China recently denied a U.S. request for the Navy's USS Wasp to make a port call in Hong Kong in October. China similarly denied a port call in 2016 by the USS John C. Stennis strike group after it had sailed through the South China Sea.
olson.wyatt@stripes.com Twitter: @WyattWOlson