US Navy and allies begin exercise near Turkey as NATO monitors Russian ships 
By
Stars and Stripes
September 12, 2022
---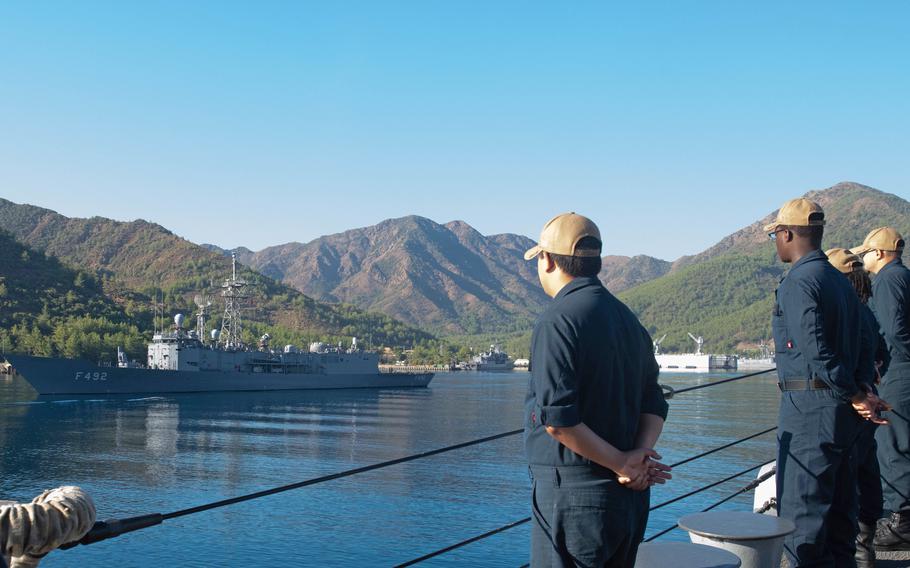 NAPLES, Italy — A multinational naval exercise focused on crisis response started this week in the eastern Mediterranean Sea, bringing warships from 12 NATO countries into an area with a sizable Russian naval presence.
The Dynamic Mariner exercise led by NATO Allied Maritime Command, or MARCOM, began Sunday near Turkey's Aksaz Naval Base on the southeast coast of the Aegean Sea, the alliance announced in a statement Monday.
The exercise, in conjunction with Turkey's Mavi-Balina exercise, includes 50 surface ships, five submarines and five patrol planes and helicopters from the United States, Belgium, Bulgaria, Canada, France, Germany, Greece, Italy, Poland, Romania, Spain and Turkey.
It wasn't clear how many U.S. ships and personnel were involved, but Standing NATO Maritime Group 2, led by flagship destroyer USS Forrest Sherman, is participating.
Another standing NATO naval forces command and 1,500 personnel also will participate, the statement said.
The exercise includes more assets than ever before, said French navy Vice Adm. Didier Piaton, MARCOM deputy commander.
"We continue to work closely with Turkey and other allies and partners to deter aggression and defend the alliance," Piaton said in the statement.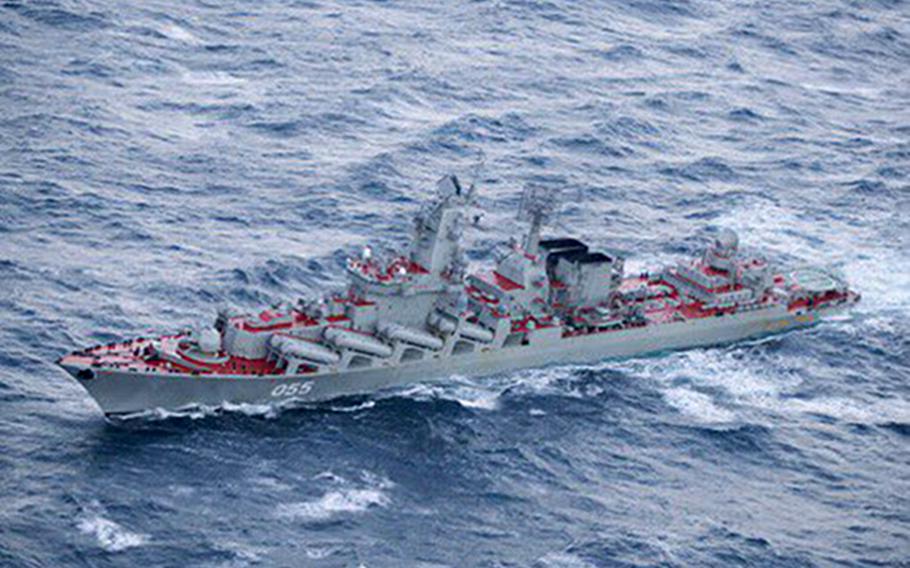 Dynamic Mariner comes as NATO forces keep a watchful eye on Russian ship movement, which has been part of the Kremlin's buildup in the eastern Mediterranean for its war on Ukraine.
The Northern Fleet flagship Marshal Ustinov, a cruiser, left the region on Aug. 24, transiting the Strait of Gibraltar into the Atlantic Ocean with Navy destroyers USS Cole and USS Bainbridge closely watching, USNI News reported at the time.
NATO maritime forces tracked Marshal Ustinov and two other Russian warships as they passed by the United Kingdom and, later, into the Celtic and North seas, the alliance announced Sept. 7.
NATO forces did not see any aggressive behavior from the Russian ships, but the alliance and its allies "remain vigilant and continuously adapt to changing tactical situations," the statement said.
That announcement followed a Sept. 2 Naval News report about the presence of an unknown Russian attack or cruise missile submarine near Sicily.
The Italian Defense Ministry said it was aware of Russian ships in the Mediterranean and that the submarine in question was transiting in international waters, the Italian news source Lasiciliaweb.it reported Sept. 4.
In the days leading up to the war, Russia massed several warships, including the Marshal Ustinov, in the eastern Mediterranean, a move seen by experts as an attempt to deter NATO.
There are about 13 Russian navy vessels, including two Kilo-class submarines, in the region, not including the Black Sea Fleet. Most are at port in Tartus, Syria, according to open-source intelligence analysts.
Dynamic Mariner-Mavi Balina will include training in surface, air, anti-submarine and anti-surface warfare, as well as mine countermeasures and amphibious, hybrid and force protection operations, according to the statement.
The exercises end Sept. 22.
---
---
---
---