US ends naval exercise with target practice as Chinese, Russians cruise off Japan
By
Alex Wilson and Hana Kusumoto
Stars and Stripes
June 21, 2022
---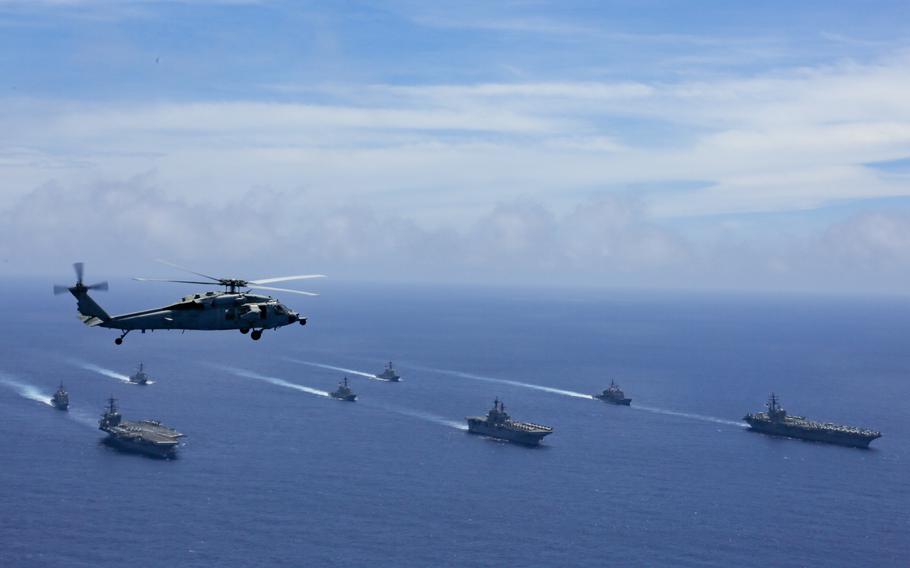 Chinese and Russian warships cruised off the coast of Japan last week, coinciding with the end of a major U.S. military exercise involving two aircraft carriers 2,000 miles away.
Valiant Shield, a 12-day naval exercise in the eastern Philippine Sea near Guam, ended Friday with the sinking of a decommissioned frigate, the USS Vandegrift. The frigate provided a target for new weaponry and technologies, according to a Pacific Fleet news release on Friday. The Vandegrift went down under "overwhelming multi-domain strikes," according to the release.
The entire exercise covered a wide area, from the Northern Marianas to Palau, and included units from the Navy, Marine Corps, Army, Air Force and Space Force. The carriers USS Abraham Lincoln and USS Ronald Reagan took part, along with the USS Tripoli, an amphibious assault ship that carries F-35B Lightning II stealth fighters.
More than 200 aircraft total and an estimated 13,000 personnel were involved in Valiant Shield, Indo-Pacific Command said in a June 6 news release.
Meanwhile, seven Russian ships, including frigates and destroyers, steamed south approximately 112 miles off the coast of Chiba prefecture on Wednesday, the Defense Ministry reported on Thursday.
The ships were part of a Russian exercise in the area, according to USNI News on Monday.
Five of the seven ships turned southeast toward the East China Sea, while the remaining two were last reported headed southwest toward the Philippine Sea, according to the Defense Ministry.
The Self-Defense Force is monitoring and gathering information on the Russians' activities with a "general interest," Yoshihiko Isozaki, Japan's deputy chief cabinet secretary, said at a news conference Monday.
"We continue to closely observe activities related to Russian military and make every possible effort to monitor air and water surrounding our country," he said.
Chinese naval vessels were also spotted last week in the waters around Japan, Chief Cabinet Secretary Hirokazu Matsuno said during a news conference Tuesday. Four Chinese ships were spotted traveling from the Sea of Japan south toward the Philippine Sea, Matsuno said.
The increasing quality and quantity of China's military power is a "strong concern for the region and the international community," he said.
Next week, the world's largest maritime exercise is scheduled to start in Hawaii, California and the waters adjacent to them. Rim of the Pacific 2022 is reported to include 26 nations, 38 surface ships, four submarines, 170 aircraft and approximately 25,000 personnel.
---
---
---
---