North Korea slams Seoul's part in massive US-led RIMPAC naval exercise
By
Stars and Stripes
June 10, 2022
---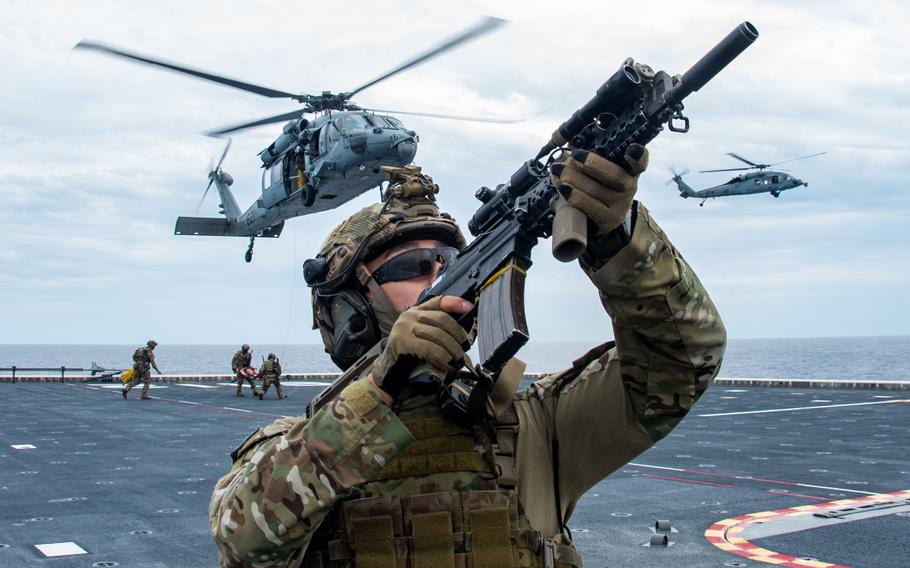 CAMP HUMPHREYS, South Korea — A state-run news outlet in North Korea has railed against South Korea's plan to participate in the world's largest maritime exercise, led by the U.S. military.
Uriminzokkiri, or With Our People, in an online editorial Wednesday described the South Korean navy as "war maniacs" for joining Rim of the Pacific, or RIMPAC, from June 29 to Aug. 4 in and offshore of Hawaii and California.
Twenty-six nations are expected to participate, with land forces from nine countries, 38 ships, four submarines, more than 170 aircraft and around 25,000 service members, according to the Navy. The massive biennial exercise, which began in 1971, also serves to sustain relationships between the United States and allied and friendly navies.
This year's invitees include Australia, Brunei, Canada, Chile, Colombia, Denmark, Ecuador, France, Germany, India, Indonesia, Israel, Japan, Malaysia, Mexico, Netherlands, New Zealand, Peru, South Korea, the Philippines, Singapore, Sri Lanka, Thailand, Tonga and the United Kingdom.
North Korea frequently criticizes the joint military exercises between the U.S. and the South and claims they are a rehearsal for the invasion. Uriminzokkiri wrote Wednesday that South Korean forces are "plotting to engage actively in … world domination."
"The rash military behavior of petty [South Korean] military authorities ... is a ridiculous lunatic attitude, as if one sets out to play with fire while carrying gunpowder on one's back," the editorial said.
North Korea has become more outspoken in its opposition to its neighbor's military exercises in recent weeks. The South took part in a carrier strike group exercise with the USS Ronald Reagan in the Philippine Sea that ended on June 4.
South Korea is also scheduled to join Pitch Black, a three-week air force exercise in Australia in the fall. Other participating nations are Canada, France, Indonesia, India, Singapore, Thailand, Malaysia, the U.K., the United Arab Emirates and the United States.
South Korea, Japan and Germany will be fully participating in Pitch Black for the first time.
Tensions on the Korean Peninsula have risen this year after an unprecedented series of ballistic missile tests by North Korea. The regime has conducted 17 rounds of tests since January, including the June 5 launch of eight short-range missiles off its eastern coast.
The South Korean military and U.S. Forces Korea fired eight missiles on June 6 to demonstrate their ability to strike North Korea's launch sites.
Several senior U.S. diplomats arrived in Seoul this week to discuss the situation on the Korean Peninsula. Deputy Secretary of State Wendy Sherman met with her South Korean and Japanese counterparts and warned that the allies are prepared for additional provocations from the North, including a nuclear test.
U.S. Special Representative for North Korea Sung Kim, who was in Seoul early this month, warned that a North Korean nuclear test, its first since 2017, may be imminent.
---
---
---
---