Norwegian vessel teams up with US carrier strike group, maintaining trend toward cooperation
By
Stars and Stripes
December 16, 2021
---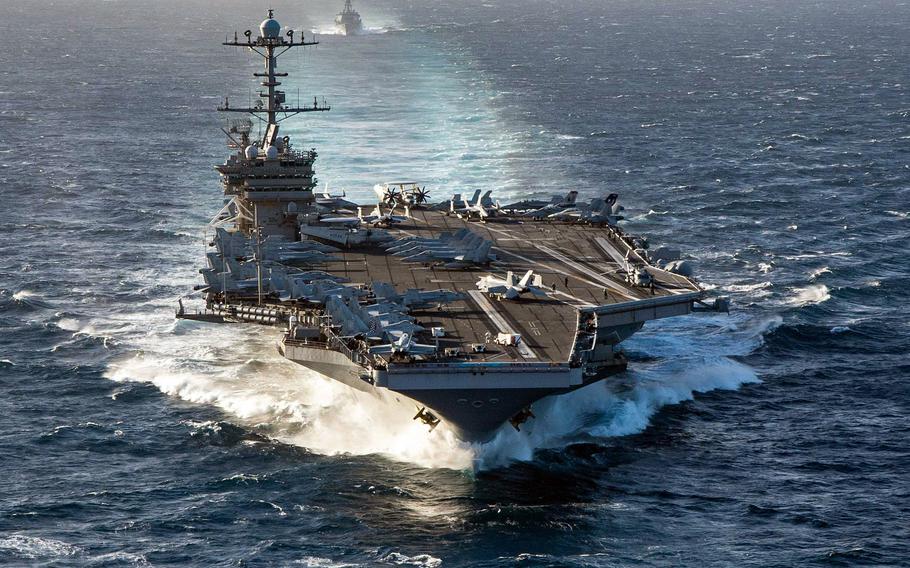 NAPLES, Italy — A Norwegian navy warship is sailing alongside a group of American counterparts, and the cooperative deployment is the first ever between the two NATO allies.
The Fridtjof Nansen and the Harry S. Truman Carrier Strike Group sailed through the Strait of Gibraltar to enter the Mediterranean Sea on Tuesday, U.S 6th Fleet said Tuesday in a statement.
The Nansen joined the strike group in September and will operate as part of it for its full deployment. The flotilla left naval stations Norfolk, Va. and Mayport, Fla. earlier this month, said Lt. Cmdr. Christina Sears, spokeswoman for the force.
Rear Adm. Curt Renshaw, commander of Carrier Strike Group 8, said the opportunity to work with the Royal Norwegian Navy is essential to "prevailing in the strategic competition we find ourselves in."
NATO countries are expanding their high-end maritime warfighting capabilities by integrating into exercises and carrier strike group deployments, U.S. European Command said last month.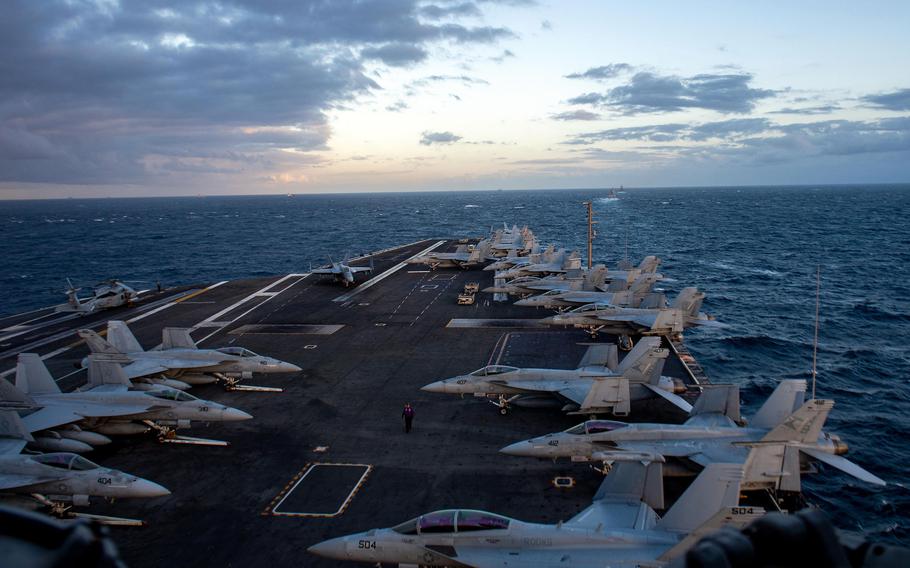 Recent examples include the participation of the destroyer USS Porter in the U.K. Royal Navy's Fleet Operational Sea Training exercise in October, and the destroyer USS The Sullivans' integration into the Royal Navy's HMS Queen Elizabeth deployment.
The integration of Nansen is part of a cooperative deployment program that invites ships of U.S. partners and allies to deploy in a carrier strike group, Sears said. The idea is to operate as one team, one coalition, she said.
The program allows NATO allies and partners to focus on their commitment to maintaining security and upholding maritime order in accordance with international law, Sears said.
The strike group includes the flagship Truman, the nine squadrons of Carrier Air Wing 1 and the staffs of Carrier Strike Group 8 and the cruiser USS San Jacinto.
Also included is Destroyer Squadron 28, which comprises the USS Bainbridge, the USS Cole, the USS Gravely, the USS Jason Dunham and the Nansen.
While in the U.S. 6th Fleet's area of operations, which includes the Mediterranean Sea, the strike group will focus on theater security cooperation to further regional stability, the Navy said.
Tuesday's crossing into the Mediterranean also included the Moroccan navy frigate Allal Ben Abdallah, 6th Fleet said.
"We are prepared to integrate seamlessly, whether it be with the other ships, in the skies or across the seas," said Capt. Gavin Duff, Truman's commanding officer.
---
---
---
---