Five-nation Pacific naval drills send precautionary message to adversaries, admiral says
By
Stars and Stripes
December 1, 2021
---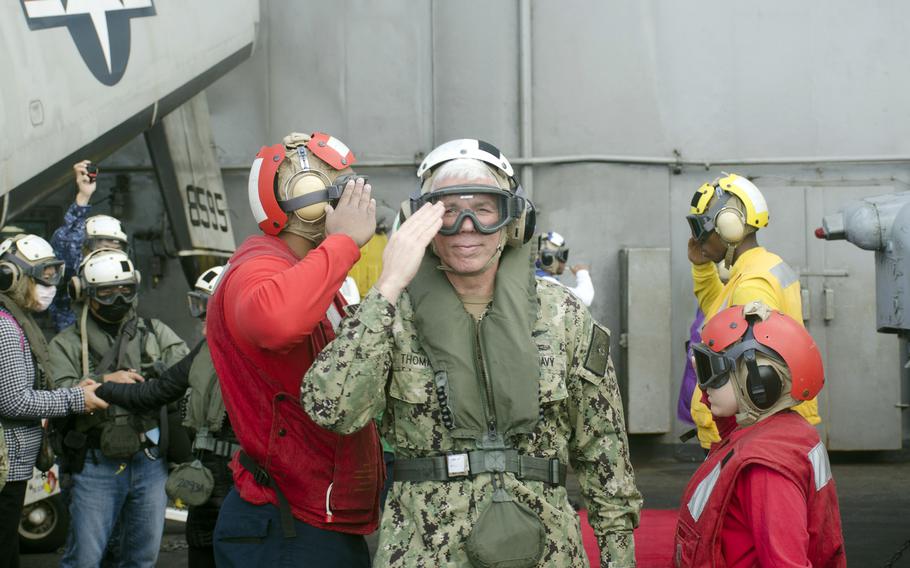 ABOARD THE USS CARL VINSON in the Philippine Sea – The commander of the U.S. 7th Fleet, speaking from the cavernous belly of one of America's most powerful warships, issued a message to potential adversaries.
U.S. naval forces in the Indo-Pacific train frequently alongside its allies, said Vice Adm. Karl Thomas, to deter "aggressive or authoritarian" countries from overreaching in the region.
Thomas said events like ANNUALEX, an exercise involving forces from five nations, send a message to would-be aggressors that "maybe today is not the day."
The annual exercise, hosted by the Japanese Maritime Self-Defense Force, included approximately 35 warships and 40 aircraft from the U.S., Japan, Australia, Canada and, for the first time, Germany.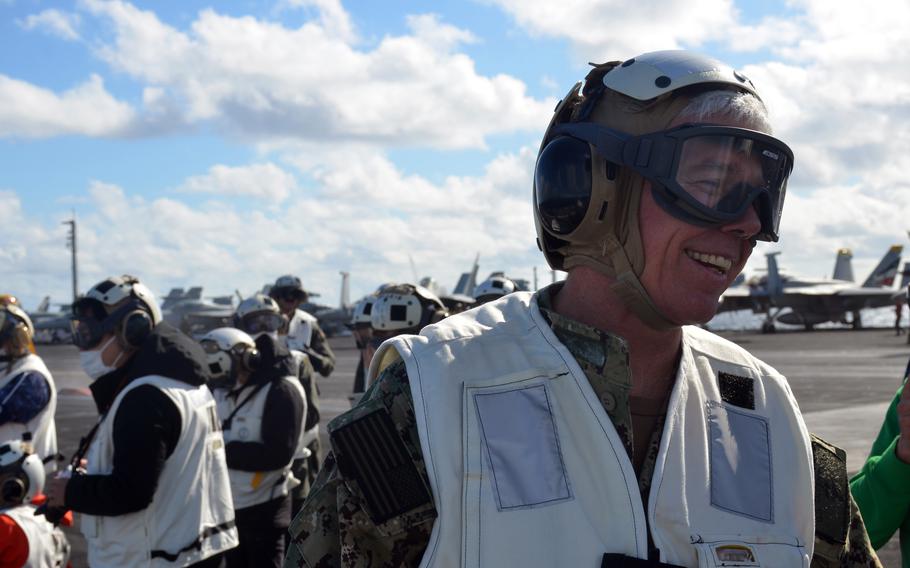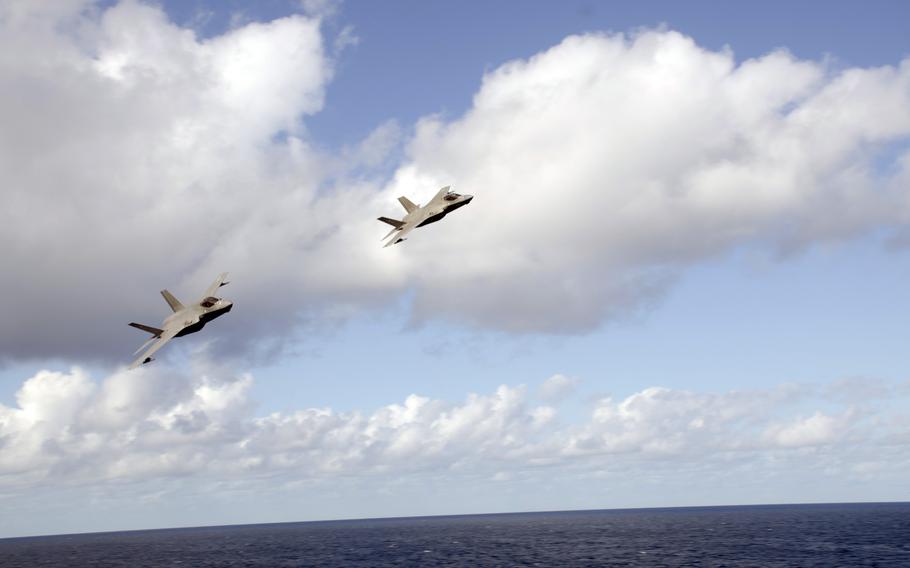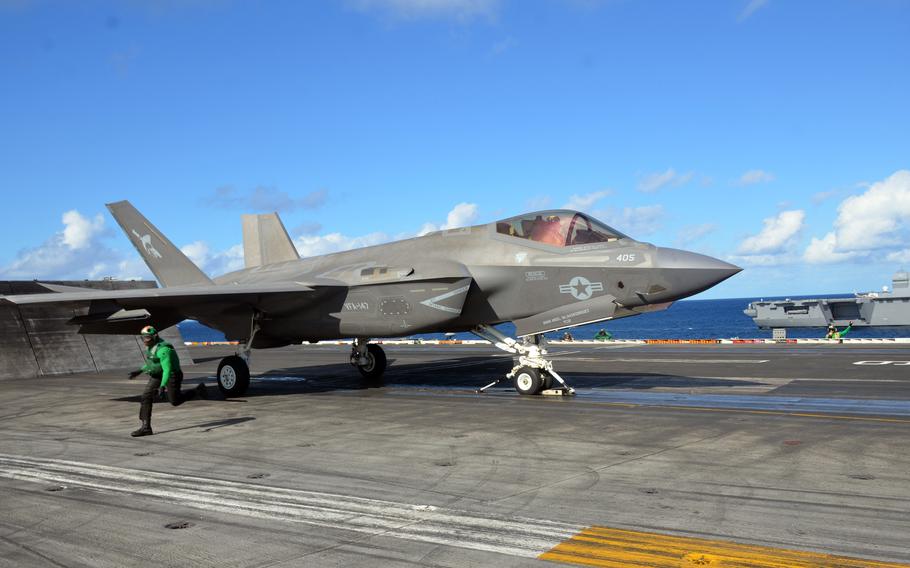 Marking the end Tuesday of the 10-day series of drills, Thomas described the participating navies as those of "like-minded nations" that share the same hopes for the region.
"There's no stronger peace of symbol and unity, and we work together out here to show the world what can happen when you maintain the security of this region," Thomas said. "This region is more vital to the world than almost any other region when you look at global domestic product, or container movement or populations."
The exercise's commander, Vice Adm. Hideki Yuasa of the Maritime Self-Defense Force, said Japan is monitoring Russian and Chinese activity in the region, but ANNUALEX was not targeted toward a specific threat.
ANNUALEX included a variety of training scenarios focusing on tactics such as anti-submarine and electronic warfare, flight operations and ship-to-ship communications. The exercise began Nov. 21.
Working with multiple aircraft carriers and a large number of ships from other countries is a complex operation that requires routine practice to ensure the participants are prepared to meet any potential threat, Thomas said.
He avoided calling out China by name, but the exercise took place as tensions in the Indo-Pacific continue to escalate, particularly between the U.S. and China over the South China Sea and Taiwan.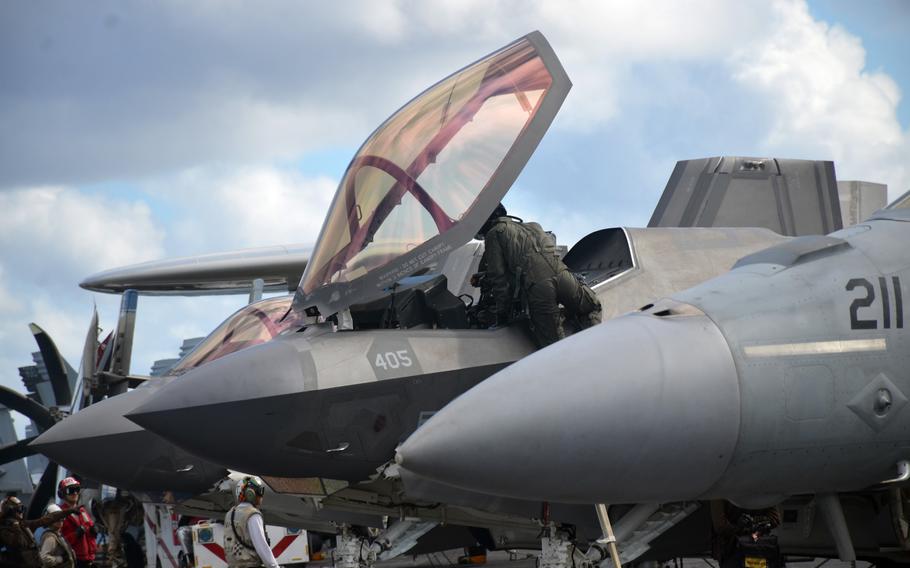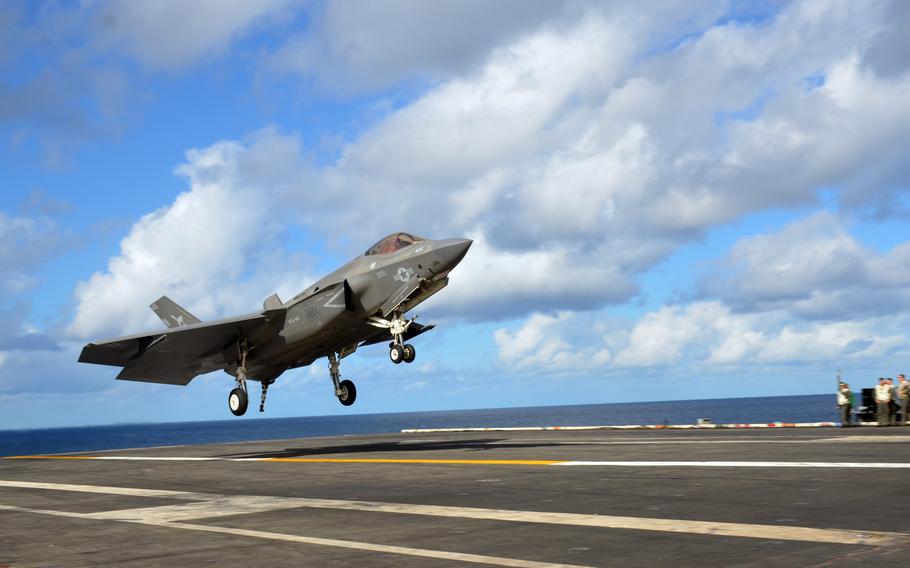 China claims sovereignty over nearly the entire sea and has steadily increased its military presence there by building artificial islands and remote military installations.
Beijing has also been increasingly vocal about reunification with Taiwan, which it considers a breakaway province, possibly by force. In October, China sent a record number of military aircraft toward the island's air defense identification zone, and has continued to dispatch high numbers of aircraft since.
Moscow and Beijing indicated on Nov. 23 that the two countries share an interest in strengthening their partnership. Russia has also been more visibly active in the region, often engaging in patrols between the Korean Peninsula and Japan and in the East China Sea.
For Lt. Jonny Branch, 31, who pilots one of the EA-18 Growlers used by the Vinson to disrupt enemy communications, the exercise provided an opportunity to learn from his Japanese counterpart.
"It's interesting working alongside the Japanese, and it's nice to be able to actually use our systems and have some type of feedback," Branch, originally from Honolulu, told Stars and Stripes on Tuesday. "Basically, if we jam them, they can tell us how well it worked or if it didn't work – and that's very satisfying."
---
---
---
---