Chinese mock-ups of US carriers send a clear message, expert says
By
Stars and Stripes
November 12, 2021
---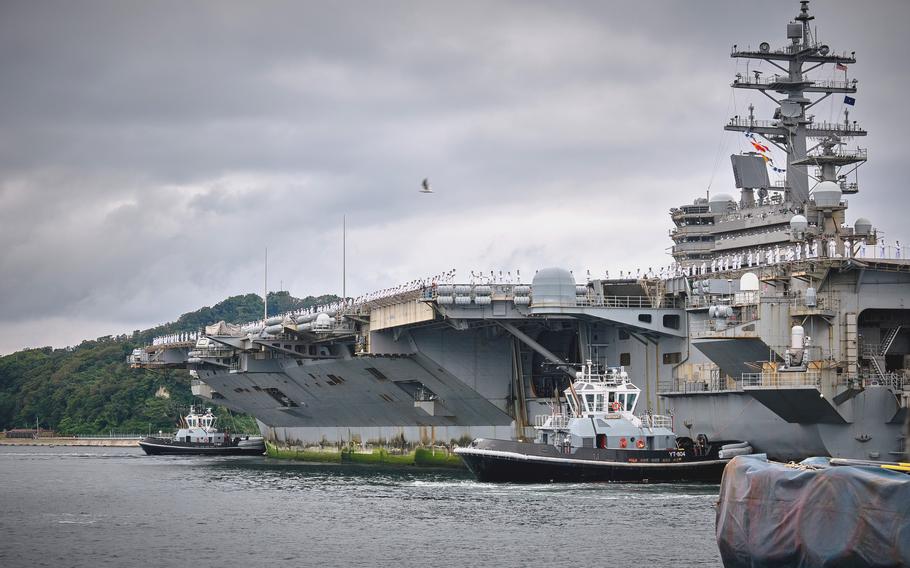 Chinese-built mock-ups of U.S. warships and aircraft meant for target practice send a clear message to the United States military, a maritime security expert with a Washington D.C.-based think tank said recently. 
Satellite imagery released Nov. 7 by the U.S. Naval Institute through Maxar Technologies shows targets built in the shape of a U.S. aircraft carrier and Arleigh Burke-class guided-missile destroyers at a complex of target ranges in the Taklamakan Desert in China's Xinjiang province.
Pentagon spokesman John Kirby at a Nov. 8 news conference said China is obviously developing capabilities meant to prevent the U.S. from reaching certain areas in the Indo-Pacific region. 
Also speaking at a news conference Nov. 8, China's Ministry of Foreign Affairs spokesman, Wang Wenbin, said he was not aware of those target mock-ups.
Subsequent satellite imagery shows what appear to be more targets in the shape of U.S. assets. A second, smaller carrier target was built approximately 300 miles away from the first, according to a Nov. 9 report from the U.S. Naval Institute.
Likewise, images of four mock F-35 Lightning II fighter jets in Xinjiang were released by Canada-based military magazine Kanwa International Journal in its latest monthly issue, according to the South China Morning Post on Thursday.
Building targets to simulate real-world combat is routine but the scale and effort demonstrated by China's target ranges reflects Beijing's determination to outclass American naval power, according to Lyle Goldstein, director of Asia engagement for Defense Priorities. Goldstein previously served as a research professor at the U.S. Naval War College's China Maritime Studies Institute, according to his online biography.
"The Chinese know very well that U.S. satellites are monitoring and would eventually see these efforts," Goldstein said in a Tuesday email to Stars and Stripes. "The Chinese leadership has made it clear in a variety of ways that they are developing the military capabilities to severely damage the U.S. Navy if it came to a military conflict."
Goldstein said the satellite images could be interpreted as "political-military messaging," or it may be that Beijing doesn't intend to convey such a message and the Chinese military is merely training as a matter of course.
However, he said, it's clear that China is preparing for potential engagement with U.S. warships.
The satellite imagery comes after months of escalating tension in the Indo-Pacific between the U.S., its allies and China. But Goldstein said the imagery probably will not exacerbate the situation, mostly because the U.S. is already aware of China's military developments.
Goldstein said the U.S. and China should tone down their saber-rattling and instead prioritize cooperation and dialogue between the two superpowers.
"The region appears more and more to resemble a powder keg that is primed to explode. Both China and the U.S. have taken provocative steps that have escalated the situation over a period that goes back more than a decade now," he said. "China must recognize that it cannot push the US out of the region. However, the U.S. also must realize that it has to adjust to China's growing power."
Correction
This article has been corrected to indicate that Lyle Goldstein has moved from the Naval War College to work as director of Asia engagement for a Washington, D.C., think tank, Defense Priorities.
---
---
---
---