USS Carl Vinson trains off Hawaii as Russian ships practice attacking enemy carriers nearby
by
Wyatt Olson
Stars and Stripes
June 26, 2021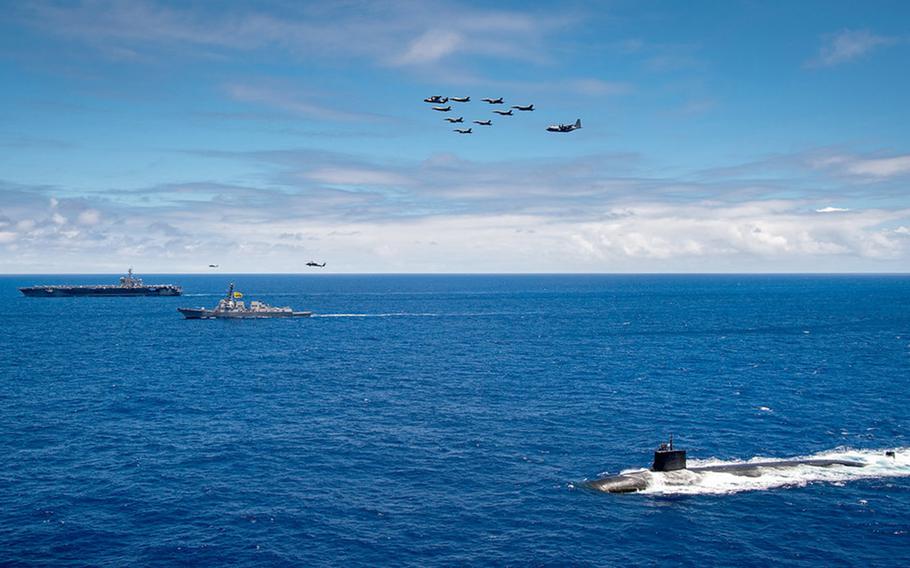 FORT SHAFTER, Hawaii — The USS Carl Vinson and its strike group spent the past two weeks training off the coast of Hawaii, just as the Russian navy held a massive exercise in nearby waters that included targeting a mock carrier strike group with missiles.
The Carl Vinson's drills with Navy, Marine Corps and Coast Guard units coincided with Russia's exercise, which took place about 400 miles west of Hawaii and included almost two dozen warships, submarines and support vessels.
The Russian Defense Ministry on Monday published an online account of that training, which included a scenario that "worked out the tasks of detecting, countering and delivering missile strikes against an aircraft carrier strike group of a mock enemy."
The U.S. Defense Department in recent years has shifted its strategic focus away from the Middle East and toward so-called "great-power competition" with China and Russia.
"Our strike group is prepared to carry out the full spectrum of missions, from humanitarian relief to combat operations," Rear Adm. Dan Martin, commander of the Carrier Strike Group 1, said in a Navy news release last week.
The San Diego-ported Carl Vinson is the flagship of Carrier Strike Group 1, which includes the guided-missile destroyers USS O'Kane, USS Howard, USS Chafee, USS Dewey and USS Michael Murphy; Destroyer Squadron 1; and Carrier Air Wing 2.
Joining the strike group for training has been units from Marine Fighter Attack Squadron 323; Marine Aerial Refueler Transport Squadron 352; the fast-attack submarine USS Seawolf; and the Coast Guard cutters Midgett and Oliver Berry, the Navy said in a news release Friday.
"Synchronizing our capabilities through combined operations sharpens our edge and reinforces our commitment to a stable and secure global maritime environment." Vice Adm. Steve Koehler, the commander of U.S. 3rd Fleet, said in the release.
The Carl Vinson completed a 17-month upgrade late last summer so it could support the newest generation of fighter jets, making it the Navy's first carrier capable of handling both F-35C Lightning II fighters and CMV-22B Ospreys, the tiltrotor aircraft that can land vertically like a helicopter and fly like a fixed-wing plane.
During the two weeks of Hawaii training, seven guided-missile destroyers under tactical control of Destroyer Squadron 1 joined with the two Coast Guard cutters to execute combat-systems training scenarios, damage control and general quarters drills and live-fire exercises, the Navy said.
"High-level training of joint forces ensures the U.S. military remains the preeminent military power in the region," Capt. Jay Clark, the commodore of Destroyer Squadron 1, said in the Friday release. "These operations are vital to our readiness and are part of our routine presence throughout the western Pacific."
Twitter: @WyattWOlson
---
---
---
---