2017 budget seeks 7 warships for Navy
by
Tara Copp
February 9, 2016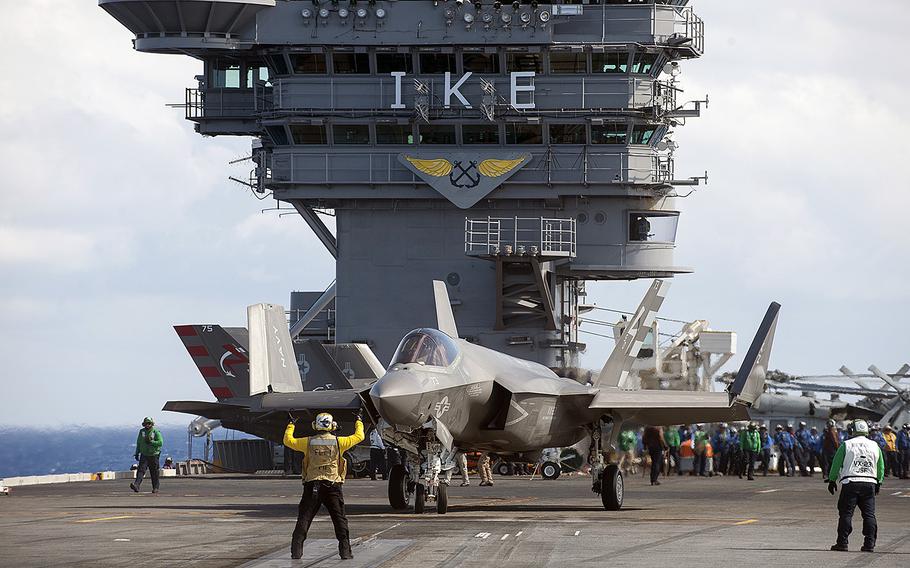 WASHINGTON — The Pentagon is asking for funding for seven ships for the Navy in the 2017 budget as it continues to build the fleet back to 308 warships in the next five years.
The 2017 request for the Navy is $132 billion in base budget funding plus $7.9 billion from a separate wartime account known as Overseas Contingency Operations, for a $139.9 billion request. The wartime account funds operations such as the thousands of carrier-launched airstrikes that the Navy contributes to the campaign against the Islamic State in Iraq and Syria.
The Navy's budget proposal includes funds to buy warships and aircraft.
On the ship purchases, the request includes funds in 2017 of $5.2 billion for two Virginia-class attack submarines; $3.2 billion for two Arleigh Burke-class Aegis enabled destroyers; $1.1 billion for two Littoral Combat Ships and $1.6 billion for an amphibious warship.
The budget includes funding to purchase two F/A-18E Super Hornets from the wartime account, four Navy variant F-35s, 11 P-8 Poseidon surveillance aircraft and six E-2D Hawkeye command and control aircraft.
The budget request also provides $1.9 billion for the Ohio-class nuclear ballistic missile submarine replacement program, $773 million of which is for advanced procurement. The 12-ship program is still in the research and development stage, with construction of the first vessel planned to start in 2021.
Over the life of the littoral combat ship program, the Navy will reduce the fleet from 52 to 40 ships. But the Navy still gets two in 2017. In a briefing with reporters Tuesday, Deputy Defense Secretary Robert Work said the Pentagon decided that there were higher priorities within the Navy, including purchasing advanced torpedoes. "If we didn't like the ship, we would stop buying it," Work said of the littoral ship.
The Navy's budget supports an end strength of 322,900 personnel, down from 327,300 in 2016.
copp.tara@stripes.com Twitter: @TaraCopp