Subdue, detect, track: These Marine Corps military working dogs are doing it all in Hawaii
by
Wyatt Olson
February 13, 2020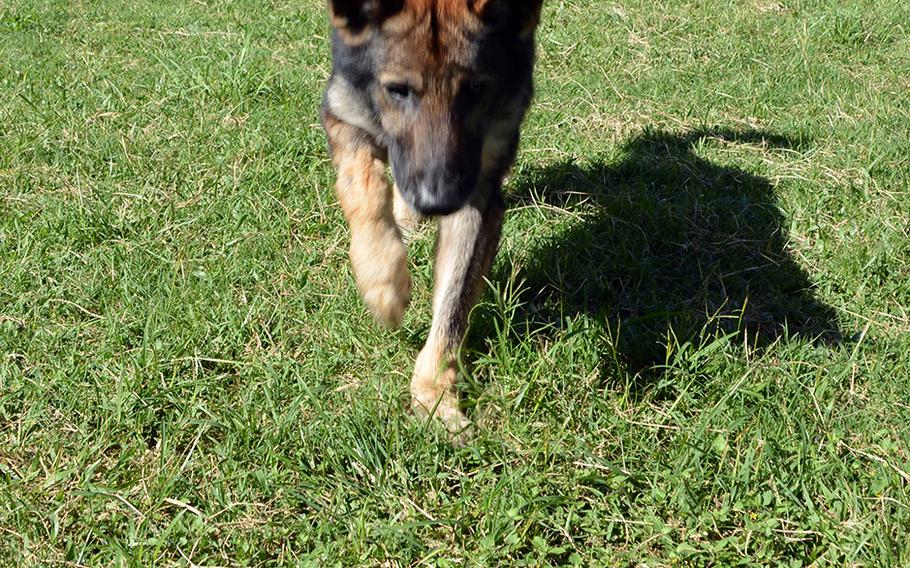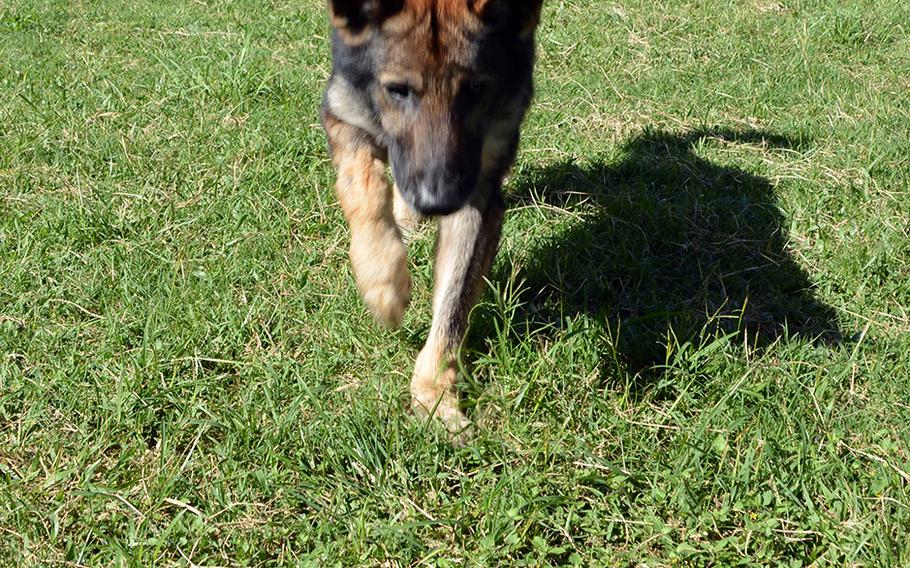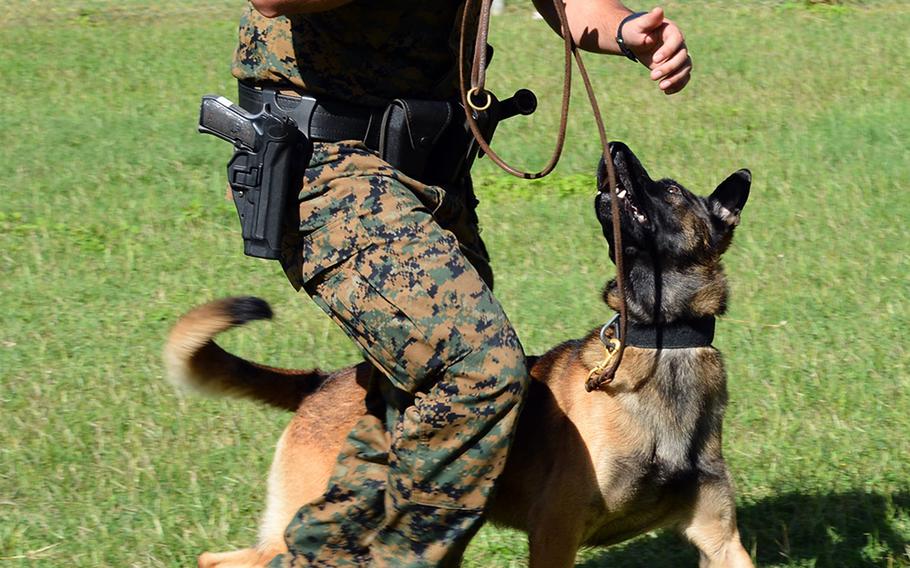 MARINE CORPS BASE HAWAII — Yenkie is happy-go-lucky, hyperactive and a friend to all. The much older Diego is calm, seasoned and intense.
What these two military working dogs at Marine Corps Base Hawaii have in common, however, is an exceptional aptitude for tracking by scent.
It's a trait that Staff Sgt. Matthew Settle, the kennel master in charge of the 14 working dogs employed by the Provost Marshal's Office, recognized last summer when the base commenced a pilot program to expand the dogs' skill set to include tracking humans at great distances.
Most military working dogs are "dual-purpose," meaning they have been trained to both subdue suspects and detect hidden objects, such as bombs or narcotics.
Yenkie and Diego — both German shepherds — showed the drive, trainability and personality to learn tracking quickly, Settle said.
In October, the pair became certified as trackers, making them the only working dogs certified in three skills in the Defense Department's law enforcement community, Settle said.
"This is still a proof of concept," said Sgt. Brandon Sperlazza, Yenkie's handler. "We're still trying to prove this can be replicated over and over again, so that's what we're doing now. We're training two new dogs to have that asset of tracking, and we're seeing where that goes."
If they are successful at morphing this kennel of dual-purpose dogs into multidiscipline K9s, such a framework could be transferred to law enforcement entities at other Marine Corps installations or even other services, Settle said.
"We're trying to progress to become a larger force multiplier, with costing less money," Settle said. "That's really kind of what we're trying to prove here."
The need for tracking dogs at the Hawaii base became apparent in January 2019 during a fruitless search for a fleeing suspect by provost officers.
"There was all kinds of intelligence or information saying that he was dangerous and violent," Settle said. "He ended up running off base and taking off and getting away."
Soon after, there was an incident involving a search for lost hikers.
"There were different situations where a tracking ability would come into play," Settle said. "We had a gap in capabilities here at [the Provost Marshal's Office]."
Settle had spent four years training combat tracking dogs at Lackland Air Force Base in Texas before being assigned to Marine Corps Base Hawaii.
"I got over here and the stars aligned," he said.
He sought and received permission from the Hawaii base and the military working dog program at the Pentagon to expand the kennel's tracking capacity.
Sperlazza and Danny Narvaza, Diego's civilian handler, began training them to track last summer.
During a recent demonstration for Stars and Stripes at the K9 obstacle course, Narvaza tossed a green tennis ball while Diego was not looking. The dog put his nose to the ground, sniffing in ever-widening circles.
"See? Watch how he keeps his nose to the ground," Narvaza said. In a half minute he finds the ball.
Many dogs would search for a ball by scanning the area with their eyes, but the sniffing stance came naturally for Diego and Yenkie, putting them to the head of the tracking class, Narvaza said.
With the right training and methodology, virtually all working dogs can be trained to track, but the aptitude possessed by Yenkie and Diego allowed the pilot program to "put the pedal to the metal," Settle said.
Soon after being certified to track last fall, Diego was called on to find a runaway child.
He was given an article of the child's clothing to smell.
"We were able to locate the runaway child in an entirely different neighborhood," Narvaza said.
"We didn't know what she was going to do because they said she was possibly going to harm herself."
Narvaza recalled thinking at the time, "Wow, this really works!"
"This thing will close the gap between either saving a life or losing a life," he said.
Both handlers say the learning experience has energized their dogs.
"With this tracking, he's always excited to come out," Sperlazza said of Yenkie. "For him, he always likes a challenge to do something new. Doing the same thing over and over again bores him so he gets distracted easily."
"This whole tracking thing has filled his cup." Narvaza said of the 7-year-old Diego. "It's like the most exciting thing for him."
olson.wyatt@stripes.com Twitter: @WyattWOlson