Marines gear up for east European mission
by
John Vandiver
December 15, 2011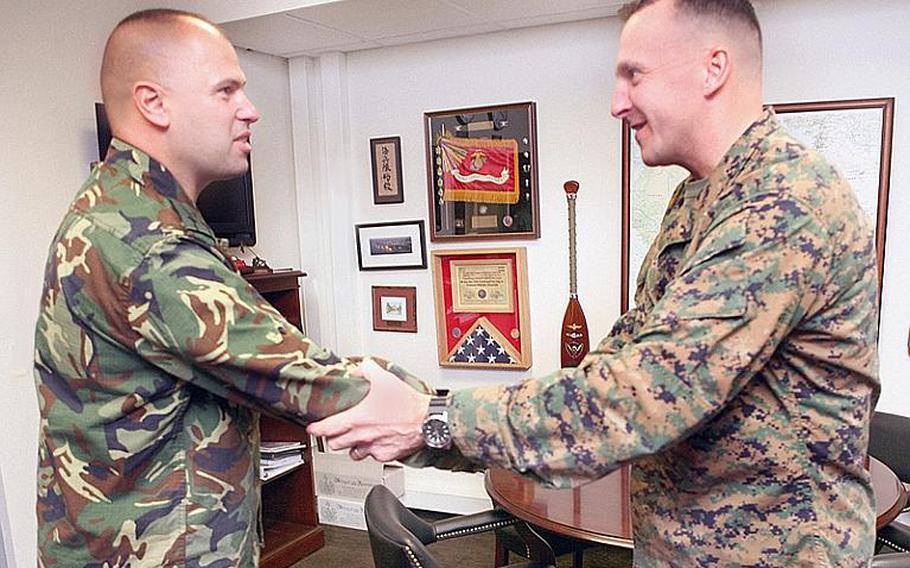 STUTTGART, Germany — Marines leading a six-month mission in eastern Europe were in Stuttgart this week to meet with allies ahead of a deployment that the Corps is touting as a model for maintaining partnerships at a time of diminishing resources.
In March, 360 U.S.-based Marines will deploy to Romania as part of the Marines' Black Sea Rotational Force, which will work with militaries from 19 nations across the Black Sea, Balkans and Caucasus.
"In a period of dwindling resources, BSRF shines as a model of efficiency," Brig. Gen. Charles Chiarotti, Marine Forces Europe's deputy commander, said in a statement. "With its relatively small footprint, ability to self-deploy, and limited, crisis-response capabilities, it delivers precisely what our combatant commander requires."
On Wednesday, Marine Forces Europe wrapped up a three-day conference of U.S. and European military officials to finalize planning for the deployment.
For the March mission, MARFOREUR formed a Special Purpose Marine Air Ground Task Force of Marines and sailors. Most of them are drawn from the 4th Reconnaissance Battalion, 4th Marine Division out of San Antonio.
The rotational task force, first launched in 2010, will work with numerous nations, including Armenia, Azerbaijan, Bulgaria, Georgia, Latvia, Macedonia, Romania, Serbia and Ukraine. The task force also served as a model for a new Africa-focused SPMAGTAF, which was launched in October and operates out of Sigonella, Sicily.
The Black Sea force operates from a base in Romania, but the troops spend much of their time fanned out across the region. The work will be heavily focused on counterinsurgency and peacekeeping tactics, said Maj. Brent McClellan, the task force's operations officer.
"There's definitely room for more of this kind of training. It is a very efficient way of doing things," said McClellan. "Everyone is looking forward to it. We didn't have to involuntarily mobilize anybody. It's all volunteer."