Marine law enforcement can carry privately owned firearms on base
by
Immanuel Johnson
January 2, 2020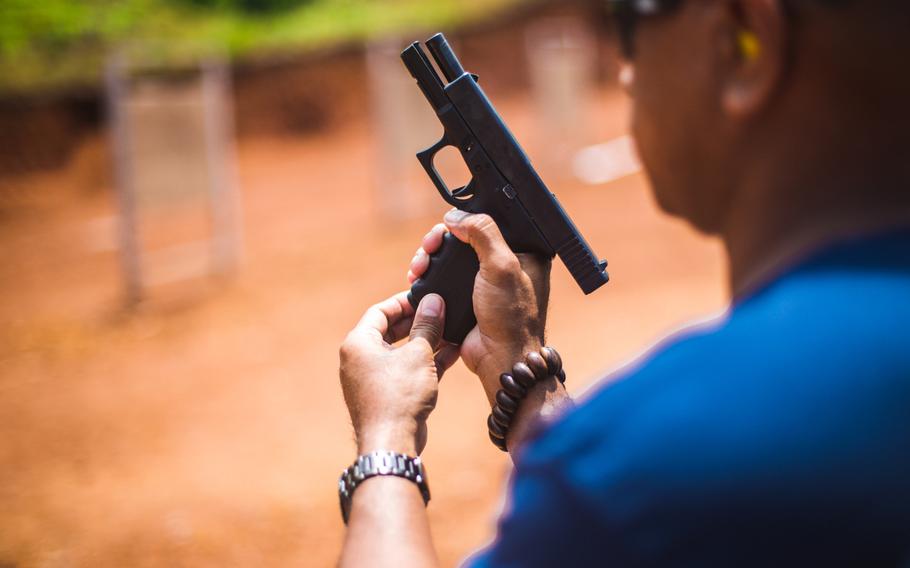 Marine Corps law enforcement officers may now carry privately owned concealed weapons on Marine bases, a change made in the aftermath of tragic shootings on two military bases last month.
Civilians and Marines credentialed under the Law Enforcement Officer Safety Act may carry their own firearms for personal protection but cannot use them while on duty, a service memo issued Tuesday said.
On Dec. 4, a sailor fatally shot two men and injured another before killing himself at Joint Base Pearl Harbor-Hickam, Hawaii. Two days later, a Saudi air force officer in training shot and killed three sailors before he was killed by police officers at Naval Air Station Pensacola, Fla.
"These tragic events prompted Headquarters Marine Corps to accelerate existing efforts to develop concealed carry policies" aligned with a May memo on the use of force signed by Navy Under Secretary Thomas Modly, the Marine Corps memo said.
Off-duty law enforcement officers remain prohibited from carrying weapons in Defense Department schools under federal law and in base courthouses unless authorized by a military judge, the memo said.
A 2016 Pentagon directive titled "Arming and the Use of Force" allows military arming authorities to grant personnel permission to carry concealed firearms.
The memo signed by Modly in May states that Department of the Navy personnel may request permission from authorities to carry a privately owned firearm, subject to further guidance from the Marine and Navy service chiefs.
An Army regulation updated in January 2019 bars carrying privately owned weapons on Army bases unless authorized by the installation senior commander. It also requires the commander to set policy for firearm registration and transport for people living on base.
The Air Force also grants installation commanders some discretion to set firearm policy. For example, Maxwell Air Force Base, Ala., authorized current and former law enforcement officers credentialed under LEOSA to carry concealed firearms in 2018.
johnson.immanuel@stripes.com Twitter: @Manny_Stripes