Marine Gen. Dunford nominated for Joint Chiefs chairman
---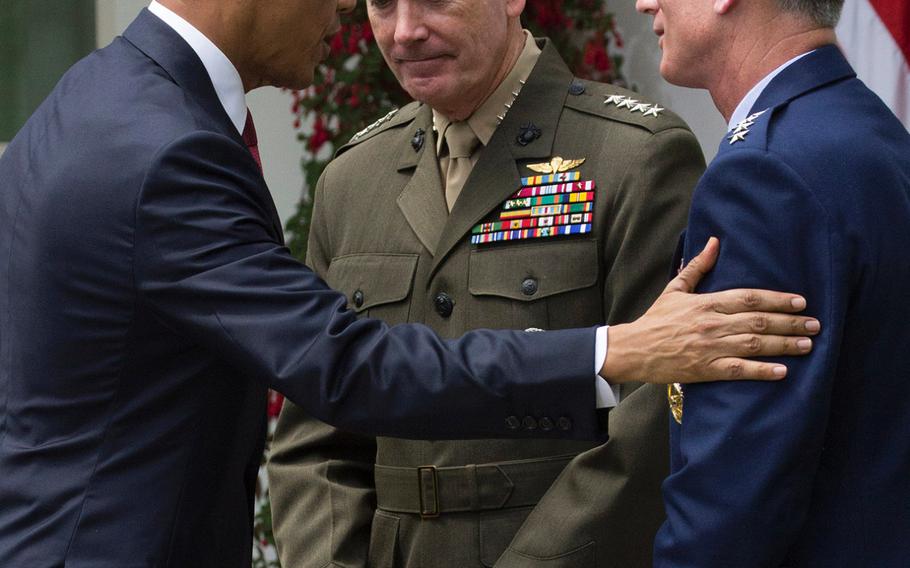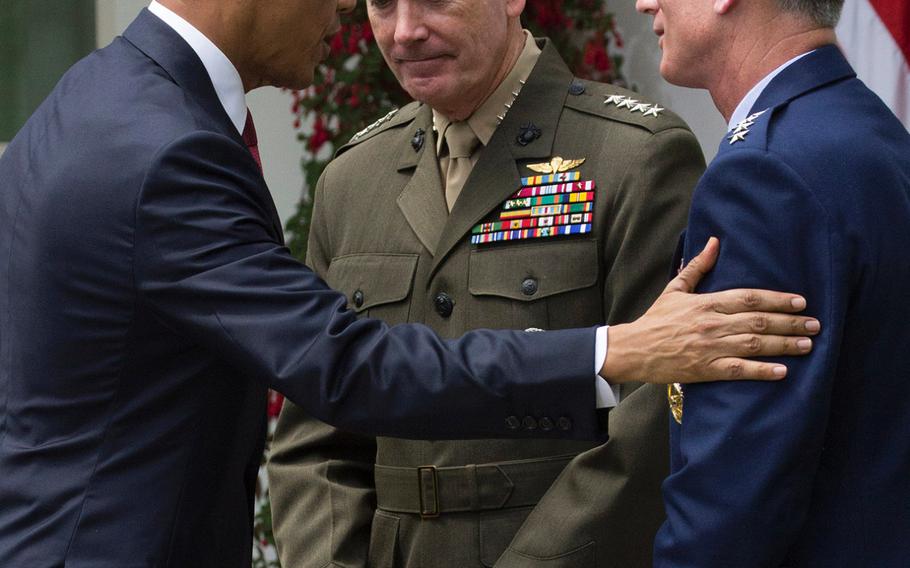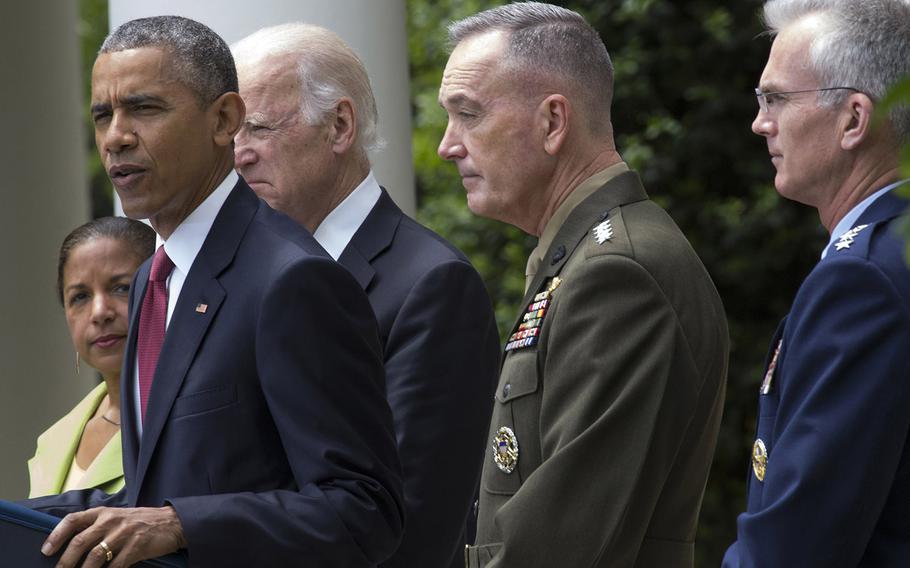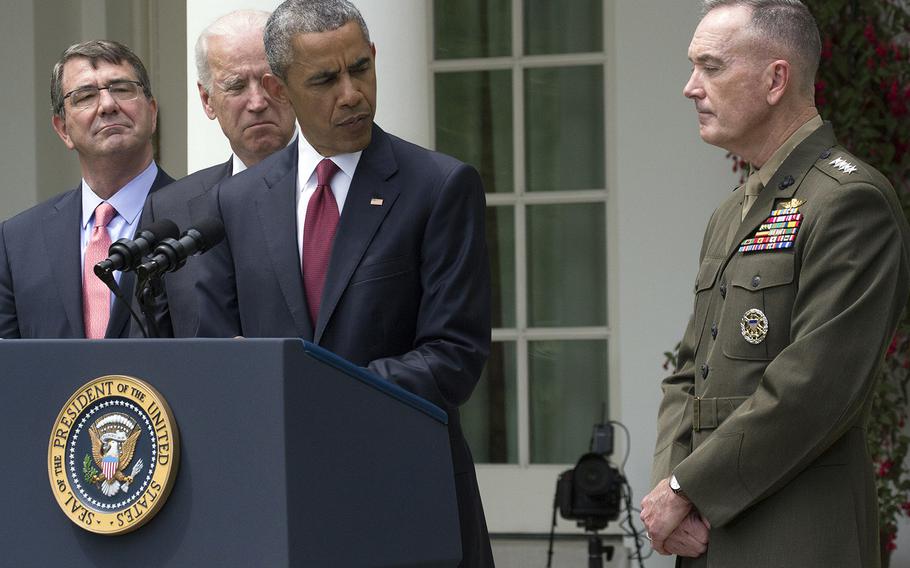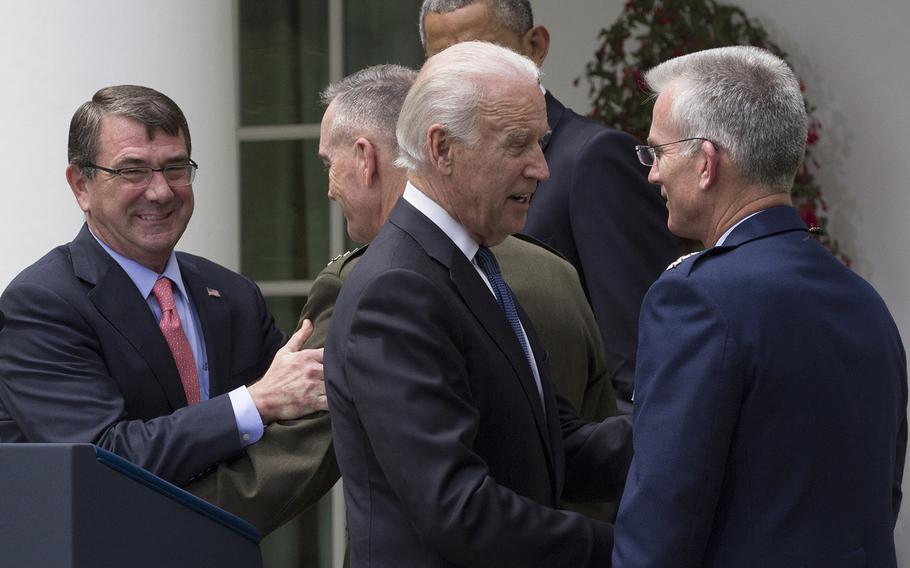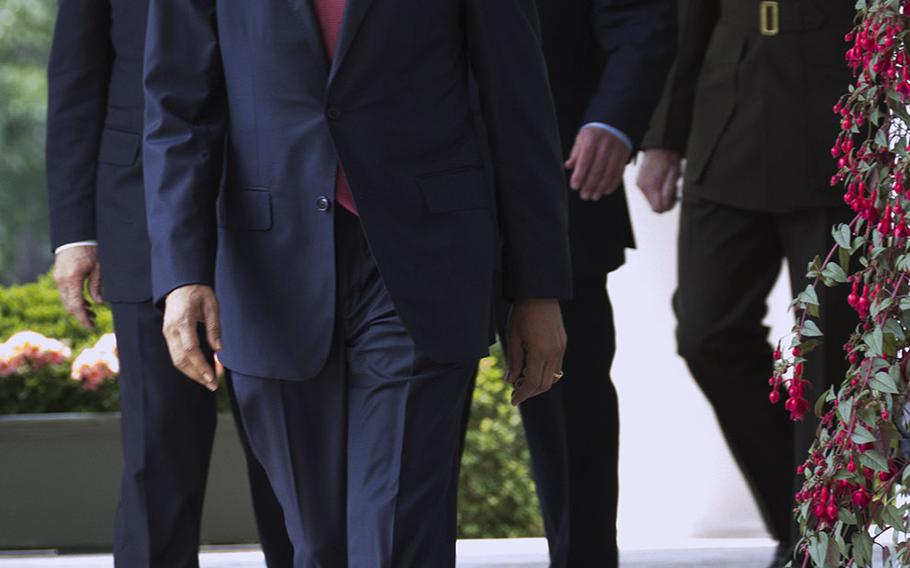 WASHINGTON — President Barack Obama has tapped Marine Commandant and former Afghanistan commander Gen. Joseph Dunford to be the next chairman of the Joint Chiefs of Staff.
In Dunford, who led troops in Iraq and Afghanistan, Obama picked a general with extensive battlefield experience in two countries where American forces are still deployed. If confirmed by the Senate, it would mark the latest promotion in the 59-year-old general's rapid rise through the ranks. Obama praised him as "tireless" and one of the most respected strategic thinkers in the military.
"I know Joe, I trust him, he's already proven his ability to give me his unvarnished advice based on his experience on the ground," Obama said in a brief appearance with Dunford on Tuesday.
The pick comes as 3,000 U.S. servicemembers are back in Iraq after a long, unpopular war in the country. Radical militants with the Islamic State have seized territory and killed thousands while the U.S.-trained Iraqi military disintegrated. American military advisers are now trying to help Iraqi forces beat back the Islamic State while training at the same time. Nearly 10,000 U.S. troops remain in Afghanistan, where a war that began more than 13 years ago is as violent as ever, though most of the fighting is being done by Afghan forces, with the Americans focused on training and advising.
"We have to keep training Afghan forces and remain relentless against al-Qaida," Obama said.
Lawmakers were quick to praise Dunford, who would succeed Army Gen. Martin Dempsey.
"In addition to his leadership of the Marine Corps, General Dunford's exemplary service in Iraq and Afghanistan makes him a strong choice as we confront threats to stability and peace in both countries and throughout the region," Sen. John McCain, R-Ariz., chairman of the Senate Armed Services Committee, said in a statement.
Rep. Mac Thornberry, R-Texas, chairman of the House Armed Services Committee, called Dunford a "good choice."
"The range and severity of threats America faces today is unprecedented," he said in a statement. "I am encouraged that the president has chosen as his top military officer a general who has stared down many of those threats personally."
Obama nominated Air Force Gen. Paul Selva, the head of U.S. Transportation Command, as vice chairman. The chairman and vice chairman of the Joint Chiefs of Staff are the top positions in the U.S. Armed Forces and are key military advisors to the president.
Dunford and Selva must be confirmed by the Senate.
Defense Secretary Ash Carter called Dunford and Selva "exemplary leaders."
"I look forward to their sound counsel and to working with them to protect the country and meet the needs of the finest fighting force the world has ever known," he said in a statement.
In Afghanistan, Dunford was the top commander for 18 months from early 2013 to 2014, overseeing a crucial period in the war that included the U.S. rapidly withdrawing forces; a tense, fraud-marred election; and fledgling Afghan security forces facing insurgents largely on their own for the first time. An increasingly hostile Hamid Karzai was president, and Dunford had to balance Karzai's concerns about Afghan sovereignty and civilian casualties with a continued military mission in the country.
Dunford's legacy there is still unfolding -- Afghan forces have taken heavy casualties and Taliban militants have retaken some territory since Dunford left. But the fragile political coalition formed after the election has held, and a recent meeting in Qatar between Afghan government and Taliban officials raised hopes for a peace process.
An Afghan Ministry of Defense official said Dunford had good a good relationship with Afghan security forces.
"We hope that he remains committed to supporting the Afghan security forces," he said.
During the Iraq War, Dunford earned the name "Fighting Joe" while leading the Marine Corps 5th Regiment and has been an infantry officer at all levels, according to his Marine Corps biography.
The Boston native holds a master's degree in government from Georgetown University and a master's in international relations from Tuft University's Fletcher School of Law and Diplomacy.
___
Stars and Stripes' Zubair Babakarkhail in Kabul, Travis Tritten in Washington and Jennifer Hlad in San Diego contributed to this report.druzin.heath@stripes.com Twitter: @Druzin_Stripes
---
---
---
---