Iwakuni's 'Mama-san' becomes Honorary Marine
by
Matthew M. Burke
November 9, 2011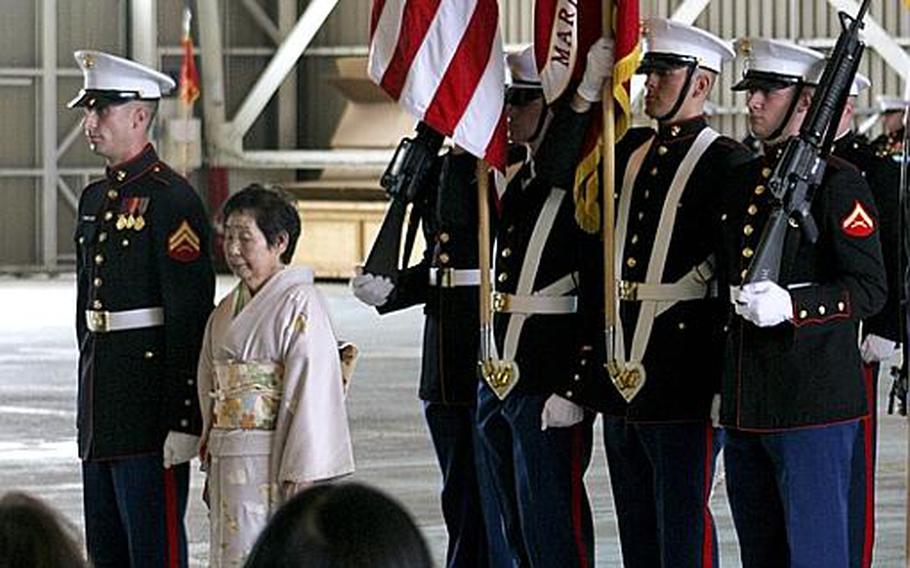 SASEBO NAVAL BASE, Japan — Machiko "Mama-san" Hamamoto, 82, now has something in common with Medal of Honor recipient Hawaii Sen. Daniel Inouye, actor Chuck Norris, and 72 politicians, doctors, judges, celebrities and terminally ill youth.
During a ceremony Tuesday afternoon at Marine Corps Air Station Iwakuni, Hamamoto became an Honorary Marine, the third civilian of Japanese descent ever to receive the honor, according to Iwakuni spokesman Gunnery Sgt. Bryce Piper.
Hamamoto was presented with a certificate signed by Commandant of the Marine Corps Gen. James Amos for a term of service to the Marines and sailors of Marine Aviation Logistics Squadron 12 that has spanned more than half her life. The award can only be bestowed by the commandant and recognizes civilians who have made extraordinary contributions to the Marine Corps, Piper said.
"It's like a dream," Hamamoto said last week of receiving the honor. "I have done nothing special to deserve this honor. I just did what needed to be done."
Hamamoto was born in January 1929 in the city of Osaka, Japan. She worked at the Asahi Newspaper Company until at age 29, met the man that would become her husband, Takakazu Hamamoto. After they wed, the couple moved to Iwakuni in 1968.
It was during the Vietnam War and the Marines were opening a coffee mess, Hamamoto said. She took the job, often staying up to provide support to Marines and sailors working a late shift.
It was not long before she was offering up her home and some hospitality to homesick Marines and sailors. The MALS-12 leadership took notice and began sending her servicemembers who were in need of a home-cooked meal and a tour of the community, she said. It's something that continues to this day.
Cpl. Marcie McWaters said that Hamamoto took her, a self-proclaimed "country girl," to a horse farm after she arrived at her first duty station in 2009 and discussed missing her horses back home.
"Mama-san definitely embodies unselfishness," McWaters said.
"She's like a mother figure to the Marines here," another Marine, Cpl. Matthew Doyle, added.
Over the years, Hamamoto's role changed from running coffee mess to community relations. She had always been involved in local charities, but began to integrate the Marines and sailors more in her work with the disabled and at orphanages as the years went on. She has also spurred the Marines into action to aid Japan's victims of disaster, from the Hokkaido earthquake in 1993 to the March 11 earthquake and tsunami earlier this year. She is tireless, Marines said, working 12 hour days organizing the collection of supplies and even the travel and logistics.
"She's the epitome of being a Marine," retired Gunnery Sgt. Jeffrey Fleming said.
For years, Marines have attempted to repay Hamamoto for all she has done for them in her 43 years of service to the Corps and the community by buying her a new bicycle a few years back when hers broke, or naming everything from their children to a community service award after her.
McWaters said that she gets calls from Marines and sailors who have long since left the base asking about Hamamoto or asking to speak with her. Over the years, Hamamoto's office on the base has become like a museum, filled with personal items and gifts from servicemembers.
"She's a very humble woman, never takes, but always gives," said retired Master Gunnery Sgt. Richard Reddick Sr. "We almost had to force her to take that bike by the way."